This Issue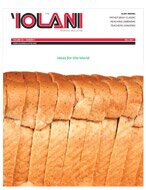 Ideas for the World
Read the full story »
Fall 2011 - Cover Story
Beauty & The Dream
O
ne of the first things one notices about
Emmaline Ranzman
'01 is that she's stunning, much like the fashionable handbags and accessories that she designs under her brand Emm Kuo (emmkuo.com).
Her long hair flows softly over her shoulders as she sits in a Manhattan restaurant overlooking Central Park. She sips coffee and chats with two young 'Iolani alumnae attending college in New York, talking openly about her career in the highly creative and competitive field of fashion design. A lunch date at the end of this past summer offers her a moment to pause from the whirlwind that is her busy life.
Today she is darting from appointment to appointment. She's in the midst of finalizing her spring 2012 collection and preparing for Fashion Week when buyers from around the world gather to discover hot new trends and ideas. Her first collection was spring 2011 and already her handbags have appeared in magazines such as
People
,
Glamour
,
Bullet
and
Vogue.com
. Boutiques such as
Intermix
,
Gito Stores
and
A Man And A Woman
in cities such as New York, Washington, D.C., Chicago and Atlanta are carrying her designs.
"Emm Kuo Handbags is only 7 months old, but it's already causing a commotion in the accessories world due to its exotic textiles and modern designs," wrote fashion blogger Joanna Clay after the launch of the spring 2011 season.
Appreciation for quality materials and a strong integrity of design and workmanship are the main principles behind the Emm Kuo line. The brand aims to create accessories that are a harmonious mix of style, sophistication and versatility. Each piece is treated like a work of art; intertwining only the most luxurious European leathers, exotic snake and eel skins and customized hardware in an intricate but understated way.
As true fashion and art aficionados understand, high quality designs come with high end price tags and the average cost of an Emm Kuo purse ranges near $1,500. Yet the designs are timeless and classic, stylish and chic, their look has a permanence that's sexy and unique.
"I was always interested in fashion and knew that was the direction I wanted to go towards," she says. "I think everything I was doing, like taking art classes and traveling, helped lead me to where I am now."
"I was always interested in fashion and knew that was the direction I wanted to go towards."
Before embarking on designing her collection, Ranzman does a lot of research. She checks out what women are wearing, where they are buying their clothes and accessories, what's hot and what's not. She also understands the important role the Internet and technology play in helping businesses succeed. Her creative process then begins with discovering the color palette.
The role 'Iolani played in preparing her for real life was crucial.
Ranzman smiles as she thinks back to her days as a student. A Daughter of 'Iolani, she admits spending weeks in detention during high school for violating the school's dress code. But wearing certain clothes was a way for her to express her youthful individuality. Her undeniable sense of fashion was already showing.
Ranzman was born in Taipei and was raised inbetween Hawai'i, New York and Hong Kong. She developed an early love of different cultures and traveling and always knew she wanted to head east for college.
She earned her bachelor's degree in design marketing and art history from New York University and completed a study abroad in London as a design assistant at LVMH. After graduating, she worked for Entertainment Media Works, one of the pioneers of the fashion dot-coms. She also worked as a fashion consultant in Shanghai and Hong Kong, building a portfolio that would help win her acceptance to Parson's New School of Design where she received a graduate degree.
She then went on to design for Catherine Malandrino and the legendary Stephen Burrows. She has visited more than 30 countries with long term stays in places such as France, Spain and the Middle East.
All of these experiences helped shape the woman she has become: someone who is creative, intelligent, motivated and blends right in with the dynamic lifestyle of the city that never sleeps. Yet she is also warm and considerate, with a down-to-earth ease that perhaps came from being a girl growing up in Hawai'i. 
Her exquisite designs have a bit of her personality folded into their exotic look. The Emm Kuo line is amazing. Just like their designer who is pursuing her dream in a way that she loves.