This Issue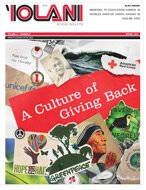 A Culture of Giving Back
Read the full story »
Spring 2010 - Feature
Webs of Intrigue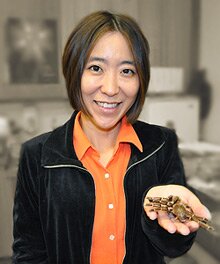 Dr. Cheryl Hayashi '85 holds the skin of a tarantula.
No longer are they seen simply as bugs. Dismissed is the notion that they are pests. The way students perceive spiders is forever changed. They have a greater appreciation after an inspiring two-week teaching residency by Keables Chairholder Dr.
Cheryl Hayashi
'85.
Hayashi is a spider silk biologist and an associate professor of biology at the University of California, Riverside.  In 2007, she received a MacArthur Foundation grant of $500,000 for her research on spider silks. It was the highest honor a researcher can achieve, said her former 'Iolani teacher
"Papa" Jack Kay
.
Spiders use their silks for safety lines, reproduction, protection and prey capture. There are 39,000 described species of spiders in the world and many more that have yet to be discovered.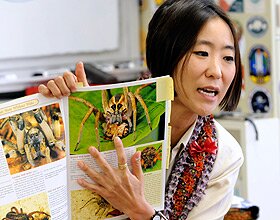 One perk of teaching kindergartners was receiving unconditional hugs after class.
At 'Iolani, Hayashi shared her joy of learning and her expertise on spiders with students from kindergarten to twelfth grade, faculty from a variety of disciplines, and the general public with a lecture. She spoke to students in chapel about finding her own passion for spider silk research.
"We are all pieces of a jigsaw puzzle, each of us contributing our own gifts and talents to the tapestry of life," she said.
A fan of show-and-tell then ask-and-discover, Hayashi also brought the skins of tarantulas to share with teacher
Kathe Warner
's '82 sixth grade science classes. Not to worry, she told the students. The real spiders are safe in her lab back at UC Riverside. She brought only the skins which were dark and furry and looked like real spiders. The students began passing them around. Suddenly, one student screamed!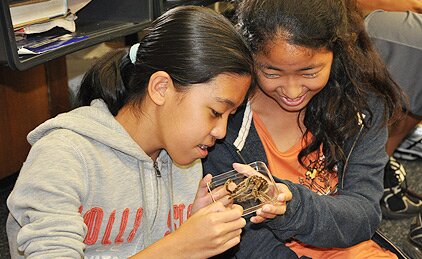 Two students feel a spider skin.
"Don't be afraid of them," Hayashi reassured. "They're not spiders. They're just skins. It's like being scared of a jacket."
Hayashi also partnered with English teacher
Theresa Falk
'86 to lead thoughtful discussions in the Women in Literature class. Hayashi talked about male and female stereotypes, gendered expectations, and male and female roles in academia.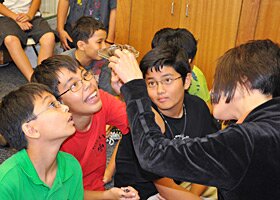 Dr. Cheryl Hayashi '85 holds up a tarantula skin for sixth graders.
After graduating from 'Iolani, Hayashi entered Yale University where a biology class triggered her passion for science. She answered a help wanted ad for someone to feed laboratory spiders. That experience introduced her to a whole new world.
Hayashi earned her B.S. from Yale in 1988 and a Ph.D. through a joint program with Yale and the American Museum of Natural History in 1996. She was a postdoctoral fellow from 1996 to 2001 at the University of Wyoming and in 2001 joined the faculty of UC Riverside.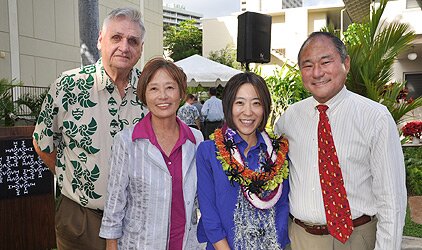 Returning to 'Iolani to serve as the Keables Chairholder was an unexpected honor, she told faculty at a reception celebrating her residency. Teaching in the classrooms where she was once a student spurred reflection, but the best part about serving as the Keables chair was getting unconditional hugs and, 'Thank yous,' from the kindergartners.
"You don't get those when you teach in college," she said, smiling.