This Issue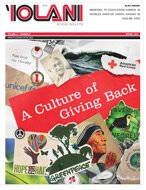 A Culture of Giving Back
Read the full story »
Spring 2010 - Feature
Students' Talent Shines in
Kiss Me, Kate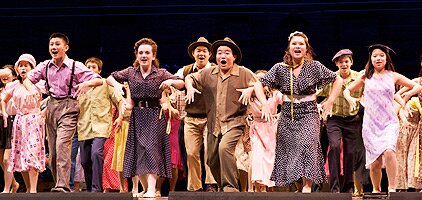 The company sang and danced. Photos by Sam Cropsey '84.  
See more photos »
'Iolani School's performing arts department wowed audiences with a production of the Cole Porter musical
Kiss Me, Kate
that rivaled theater performances across the state.
On February 25 to 17, Hawai'i Theatre became the venue for the school's annual spring musical. In
Kiss Me, Kate
, the plot centers around a stage cast in Baltimore opening a musical version of Shakespeare's
Taming of the Shrew
, yet the actors in
Shrew
comically and forlornly reveal their own backstage dramas. The Broadway musical won a Tony in 1999 or Best Revival of a Musical.
The 'Iolani production was directed by theater teacher
Rob Duval
and choreographed by dance teacher
Katherine Jones
'93, both Po'okela Award winners. Talented theater teacher
Manny Dayao
'97 served as musical director and conductor of the student orchestra.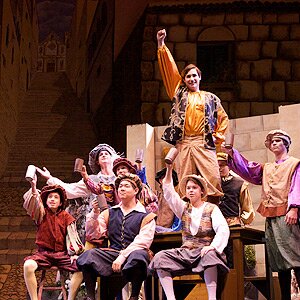 During The Taming of the Shrew scenes, the songs focused on the roles of men and women.
See more photos »
The cast featured more than 50 students, from seventh through twelfth grades, with
Claire Mosteller
'10 as assistant director,
Sarah Chang
'10 as stage manager and many other students serving as crew and technical heads.
Beautiful sets were designed by
Willie Sable
and the upstage curtain was the original used for the Broadway production and rented for 'Iolani's performances.
The 'Iolani musical production is an annual event that the entire community anticipates each spring. Bravo!