This Issue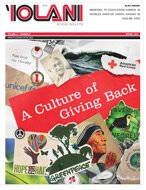 A Culture of Giving Back
Read the full story »
Spring 2010 - Feature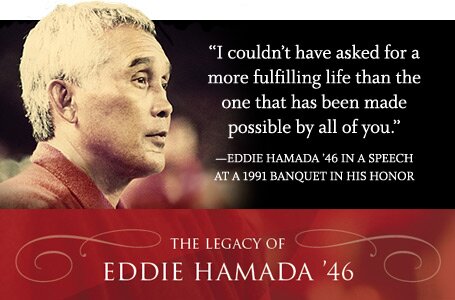 The world is a better place because of Eddie Hamada '46. Simply put but that is nonetheless the truth.
'Iolani School's legendary athletic director, coach, teacher, mentor, friend and graduate, Hamada had a lifelong association with the school. He died peacefully at his home on January 3, 2010 at the age of 81. Yet the positive impact he made at 'Iolani and beyond continues. The lessons he taught to players, colleagues, fellow coaches and teachers, family and friends are ingrained in their hearts and minds.
The legacy of Coach Hamada lives on.
"His zest for life made our lives richer, more meaningful, more joyful," said Headmaster Dr.
Val Iwashita
'67 at the memorial service on January 31 in St. Alban's Chapel.
Nearly 2,000 people attended the service with many traveling from both coasts and across the country to pay their respects. Former Raider teammates were reunited. Coaches and players from OIA, neighbor island, and other ILH schools turned out. St. Alban's was filled with beautiful wreaths and a large portrait of Hamada taken one year ago.
Cynthia Hamada
, his wife of 30 years, selected the photo herself.
At the front of the chapel, Cynthia Hamada took time to thank each visitor personally for their warm wishes, as did
Eddie Hamada, Jr
. '73 and
Tane Hamada
.
The Rev.
Daniel Leatherman
and The Rev.
Norio Sasaki
presided over the service which opened with the hymn Amazing Grace and concluded with the 'Iolani alma mater. In between, seven people (Headmaster Dr. Val Iwashita '67,
Larry Price
,
Larry Cundiff
'55, The Rev.
David P. Coon
, Dr.
Steven Dang
,
Dale W. Lee
'66, and Cynthia Hamada) shared remembrances, each conveying unique and special descriptions of a man beloved by so many.
Born on January 27, 1928, Hamada attended Ka'ahumanu Elementary School and eventually came to 'Iolani where he played football under Father
Kenneth A. Bray
who founded the school's athletic program and instilled the philosophy of One Team in Hamada, who eventually carried it on through his own way of life.
When he graduated from 'Iolani's campus  in 1946, no one could have known that he would eventually return to his alma mater to make a monumental impact on not only the athletic department, but on also the entire 'Iolani and Hawai'i communities as well.
Hamada attended Emporia State College and earned a teaching degree, then returned to 'Iolani as a math and typing teacher and coach in 1959. He became head football coach in 1960 and athletic director in 1963, carrying on the One Team legacy of discipline, teamwork, humility and respect.
Under Hamada, Iolani won ILH football championships in 1968, 1972 and 1980. He retired from coaching in 1988 and as athletic director in 1991. That year, the school named its track and field after him, and he uncomfortably accepted the honor as garnering individual recognition was never his goal. After his retirement, he continued to play an active and integral role at 'Iolani and in the high school sports community.
Hamada served as the boys basketball coordinator for the Hawaii High School Athletic Association, was a member of the voting board of the Hawaii Interscholastic Athletic Directors Association and served on the election committee for the Nissan (now HHSAA) Hall of Honor scholarship/awards program.
"Blessed are those who help others, and Eddie was so blessed," said Rev. Coon at the memorial service.
Hamada was survived by wife Cynthia; son Edward Hamada, Jr. '73; daughter Tane Hamada; four step-children; grandchildren
Mikaele "Buggy"
and
Connor
; 10 step-grandchildren; sister,
Alice Takeuchi
.
Donations are being made to the Edward Hamada Scholarship Fund at 'Iolani School.
Comments from Readers
Danny Ganiko

Very touching speech, Dale. You made the Class of '66 proud!

tanya nicholas

our thoughts and prayers go out to all family, he will be missed.