This Issue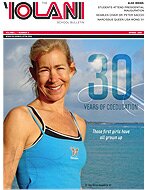 Life was different back then. George Ariyoshi presided as Governor. Kalapana recently released Many Classic Moments. Bobby McGee's was Waikiki's hot spot. And 'Iolani was a school for boys.
Read the full story »
Spring 2009 - Cover Story
Best Buds Since Birth
By Cathy Lee Chong


Cathy Chun '85, right, and Claire Chun '85 are twin sisters. "It's so much easier coming into a new environment when you have someone to connect with," Claire said.
For most people, being addressed by the wrong name is like being on the receiving end of an inadvertent affront, or a call for correction.
Not so for
Cathy Chun
'85 and
Claire Chun
'85.    
Cathy answers when someone calls her Claire. Likewise, Claire responds to her own name and to her twin sister's. They don't bother correcting acquaintances who botched their identities because they know what the mistaken one meant. They let it go, pleasantly, politely, and agreeably.
Cathy Chun

Class:
1985
Position:
Lead Analyst, Qwest Communications

Education:
Boston University, B.A. sociology (minor psychology)
Family:
Kevin Salsbury
Claire Chun

Class:
1985
Position:
Managing Editor, Ulysses Press

Education:
University of California, Berkeley, B.A. psychology
Family:
Curtis Gardner, daughter Keilani Gardner
Yet the Chun ladies are anything but passive.  They are twins with a resemblance close enough to be considered identical. They are also strong, independent, intelligent, funny and articulate.
They had to be as two of the first girls admitted to 'Iolani back in 1979.    
"I never felt intimidated by being a minority among the boys," Cathy said over the phone from Denver, Colorado. "It was kind of fun being different and being special. The boys were more like the deer in the headlights."    
Even 30 years ago, at their young age, they realized the significance of being among the ground-breaking sisterhood to finally crack the red, white and black ceiling. 'Iolani admitting girls for the first time was covered by the local newspapers and television stations. Special school assemblies were held to officially welcome females. The change gave the community something to talk about.    
"I remember there being so many boys," Claire recalled by phone from Oakland, California. "The ratio was overwhelming. Girls called the shots. If a girl liked a boy, you had 10 boys to choose from."


The Class of '85 was officially the third to graduate girls. Left to right, Gary Boone, Cathy Chun, Jennifer Knight, Chandra Seaman, Amy Dallum, Claire Chun, and Ben Ignacio.
Campus facilities had been quickly adapted to accommodate the new students. The girls' locker room was in what seemed like a previously used space for faculty.  There were leftover urinals in the girls' bathroom. And 'Iolani's young women early on discovered they were in demand for the school's first girls' sports teams and co-ed performing arts classes.    
Cathy and Claire had a home court advantage. While they had previously attended Pauoa Elementary School, their older brother,
Allan
'75, had graduated from 'Iolani a few years before they entered as seventh graders. Their father,
Herbert
'50, was an alumnus. Their mother,
Jeanne
, was a longtime Lower School teacher. Their older sister,
Carol
, had graduated from Roosevelt High School.    
The twins say the transition was a smooth one.  They had similar friends in school and always had someone to eat lunch with.    
They did not felt discriminated against by teachers or classmates. Being a new girl on campus did not mean being less competent.     
The sisters did notice the increased formality and structure at 'Iolani compared to their previous public school, but they were respectful of the school's demands. They both joined the first girls paddling team and Cathy landed the part of the little sister in the 'Iolani production of Our Town.    
"'Iolani helped you become an independent thinker," Claire said. "Even though Cal (Berkeley) was bigger than 'Iolani, I felt prepared and college was almost easy. 'Iolani gave you enough experience to help you think for yourself."    
"You graduate from 'Iolani with good critical thinking skills," Cathy added. "The biggest misperception is that 'Iolani people are all very brainy or one dimensional."


In May 1980, the Chun twins were confirmed at St. Alban's Chapel. Pictured, left to right, are Herbert Chun '50, Jeanne Chun, Cathy Chun '85, Carol Chun, Claire Chun '85, and Allan Chun '75.
Though close, the twins went their separate ways after 'Iolani.
Cathy went on to Boston University to earn a degree in sociology and a minor in psychology. She worked for a decade in Boston at the Wang Center for the Performing Arts (now the Citi Performing Arts Center) as an arts education administrator. With her boyfriend
Kevin Salsbury
, she now lives in Denver, Colorado, and works as a lead analyst for Qwest Communications.    
Claire graduated from the University of California at Berkeley with a degree in psychology. She is managing editor at Ulysses Press in Berkeley where she started more than 20 years ago. She and boyfriend
Curtis Gardner
have a daughter
Keilani Gardner
. Claire also belongs to a dragonboat paddling club, a pastime born from her days in Hawai'i.    
Cathy and Claire remain close and even make their trips back to Hawai'i on the same day. By joining Facebook, the popular Internet social network, they have reconnected with dozens of friends and classmates.    
One of the biggest sources of joy in Claire's life has been motherhood. Likewise, "aunty hood" is one of Cathy's. The birth of Keilani in December 2007 has been a happy adventure for all of the Chuns.     
Sure Claire and Cathy have many non-family best friends, but both confess they have been best buds since birth.     
Another title: They are also 'Iolani's first female twin students.    
What's their advice for those who find themselves in a situation that makes them different from the rest?    
"Stay true to yourself," Claire piped.    
"I was just going to say that," Cathy quipped.    
"Stay true to yourself, because everything catches up with you," Claire added.  
Comments from Readers
Elisabeth Trissel

Terrific story on the Chun sisters. Only one small error - the current picture at the top of the page mis-identifies them. Cathy is on the right, Claire is on the left. Otherwise, really fun to read.

Editor

The caption has now been corrected online. Thank you.

pupule2

When I saw the photo at the beginning, I knew that I was getting older. I remember Cathy with her glasses and Claire without. Now my eyes cannot tell the difference. However, even if I had no sight, I could probably tell them apart by their voice and by what they talked about.