This Issue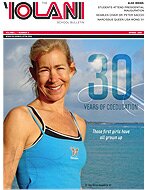 Life was different back then. George Ariyoshi presided as Governor. Kalapana recently released Many Classic Moments. Bobby McGee's was Waikiki's hot spot. And 'Iolani was a school for boys.
Read the full story »
Spring 2009 - Cover Story
The Face of Co-Education
To introduce the 'Iolani community to the concept of co-education, the
'Iolani School Bulletin
  included a story in the fall of 1978 and chose young
Michelle Brown
'84 as the cover girl.
"They needed a girl for the photo and there were no other girls on campus," recalls
Toni Brown
, her mother and a longtime member of 'Iolani's faculty and head of the audio visual department at that time.  Back then, Michelle was a student at La Pietra Hawaii School for Girls, but she happened to be sitting in her mother's office when she was approached to pose for the picture.
Nearly 30 years ago, Michelle entered 'Iolani as a ninth grader.   Leaving an all girls school for the newly co-ed 'Iolani in the fall of 1980 was a little intimidating, especially since the boys outnumbered the girls by 3 to 1; yet the experience was positive and exciting.  Michelle graduated in 1984 as part of the second class of graduating girls.
"It wasn't until I was out in the real world that I realized how much 'Iolani did to set a strong academic foundation for me and prepare me for the future," Michelle said from California. "Not only does `Iolani have unparalleled educational standards, but it also has numerous extracurricular activities for music, sports, arts and any areas of interest that appeal to the students.  What I liked best at the time was dancing and canoe paddling."
After 'Iolani, Michelle attended the University of Hawai`i for two year before transferring and graduating from the University of San Diego.   She worked for Abbott Laboratories in field sales in California before she advanced to a marketing position in their headquarters office in Chicago.  This gave her the opportunity to earn her MBA from the J.L. Kellogg Graduate School of Management at Northwestern University.
Today, Michelle is a sales manager for Centocor Ortho Biotech, managing sales reps in southern California and Nevada. She and
Frank Christensen
of Montana were married in 2007 and currently reside in Irvine.
"It is a privilege to be in one of the first co-ed classes," Michelle added. "Graduating from 'Iolani is one of the major factors contributing to my professional and academic accomplishments.  'Iolani produces everything from top scholars to Olympic athletes and I am proud to say I graduated from 'Iolani."
Comments from Readers
Barbara Beley Taber

Having worked closely w/Michelle at Abbott and becoming close friends, I agree that she is well-deserving of this recognition. A beautiful person inside and out [obviously!].