This Issue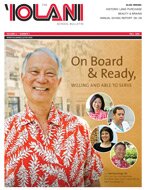 On Board & Ready, Willing and Able to Serve
Read the full story »
Fall 2009 - Feature
Cherry Blossom Queen Kristine Wada '02 Remains True to Herself


The newly crowned 57th Cherry Blossom Festival Court: Miss Congeniality Tanya Masunaga, Princess Kristen Chung, First Princess and Miss Popularity Traci-Ann Miwa, Queen Kristine Wada '02, Princess Janelle Uchida '04 and Princess Gina Maeda.
Cherry Blossom Queen
Kristine Wada
'02 applies the art form of the Japanese tea ceremony to other aspects in her life.
"There are all these very intricate steps to the tea ceremony," she says, "such as they way you turn the bowl, decorate the table, position yourself and your guests. It makes me think about the Japanese phrase
ichigo ichie
."
Ichigo Ichie
refers to the philosophical belief in one chance or one moment.
One has only single chance to experience certain aspects of life. With that in mind, Krisine tries to make the most of every day and every new experience, like participating in a pageant, learning more about one's culture, or challenging oneself.


Kristine Wada '02 received support from her family and friends. She is pictured with her brother, Scott Wada '07, mother Li Ann Wada and father Ronald Wada.
As a student at 'Iolani, Kristine was shy and reserved. She recalls staying out of the limelight because public speaking made her feel physically ill.
Now time has passed, and the quiet girl has blossomed into a queen.
Kristine earned her bachelor's degree in English and Japanese from the University of Hawai'i at Mānoa in 2006, taught for two years in Japan through the JETT program, and now writes for the Kapiolani Community College newspaper. She is also taking graduate courses in special education at UH Mānoa.
Living in Japan renewed her appreciation for her heritage and motivated her to get involved with cultural events and programs. To prepare for the pageant, contestants took classes in taiko drumming, making manju, the art of the tea ceremony and more.
As the 2009 Cherry Blossom Queen, Kristine represented Hawaii at festivals in San Francisco and Los Angeles and will later lead a goodwill tour with the Cherry Blossom Court to Hawai'i's sister cities in Japan. This past July, she also met Japanese Emperor Akihito and Empress Michiko during the royal couple's visit to Hawai'i.
"Whatever you do, be true to yourself and you'll be happy in the end."

Yet while Kristine has outgrown being shy, she is still as sweet and humble as when she was a young girl coming to school with her parents Ronald and
Li Ann Wada
(who teaches math at 'Iolani) and brother
Scott Wada
'07.
Kristine also continues to live by a message from Shakespeare's
Hamlet
, reflecting on her days as a founding member of the 'Iolani Shakespeare Club: To Thine Own Self Be True.
"Whatever you do, be true to yourself and you'll be happy in the end," she says.
Comments from Readers
Jill Stewart

We are thrilled that Kristine was awarded this honor. She will represent Hawaii perfectly. You deserved to win, Kristine, and we know this year will bring many rewards and adventures.