This Issue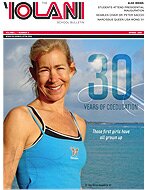 Life was different back then. George Ariyoshi presided as Governor. Kalapana recently released Many Classic Moments. Bobby McGee's was Waikiki's hot spot. And 'Iolani was a school for boys.
Read the full story »
Spring 2009 - Department
| Alumnus Profile
2009 Narcissus Festival Queen Lisa W. H. Wong Class of 2001


2009 Narcissus Queen Lisa Wong '01, center, stands with her court, Kacie Pang, Tina Ng, Wong, Dan Yuan, and Kristin Duong '05.
Lisa Wai Hah Wong

Profession:
Dental Assistant
Education:
Wellesley College, B.A. studio art
Family:
Parents Dr. Roger and Darlene Wong; brothers Grantley and Bradley; sister Erica
As one of eleven contestants in the 2009 Narcissus Festival Queen Pageant,
Lisa Wai Hah Wong
'01 was on a mission. Not necessarily to win the crown, but Wong wanted to demonstrate the creative process of an artist. The perfect venue would be her talent segment.
So on January 10, before an overflowing audience at Hawaii Theatre, Lisa's areas of expertise joined in a magnificent, unique staging of gung fu, dance, and painting and resulted with a breathtaking surprise.
Wong not only won the talent category, she took home the tiara as well, crowned the 60th Narcissus Festival Queen.
After she won, a video of her amazing talent performance was aired in a KHON Channel 2 newscast, and then replayed countless times on the Internet. The two-and-a-half minute blitz even grabbed the attention of
Ellen DeGeneres
who then invited Wong to perform on her nationally syndicated talk show that aired February 10 from Los Angeles.
Wearing a beautifully flowing Chinese dress, Wong stands in front of a large black canvas and, to the fast rhythm of high energy music, picks up a paint brush with each hand.
Like a kitten at a scratching post, she moves her hands in quick up and down movements. She layers white and nude shades of acrylic paint. Between brush strokes, she impresses with bold dance and gung fu moves. She turns her back to the canvas and paints upside down. Then she leans sideways and paints at a slant. Like a ballerina, she extends her leg so it touches her ear. She rotates the canvas and never misses a best.  
"What the heck is she doing?" runs through the heads of anyone watching.
Finally, she flips the easel right side up to reveal the larger-than-life portrait of Chinese American icon
Bruce Lee
. The crowd roars and applauds. Wong dances, kicks, and pirouettes, and moves like a top on the floor. Then with the final beat, she lands a yellow chop symbol on the painting's upper right corner. Voila! The audience again explodes in cheers. They have never seen anything like that before.
"The performance was celebrating the process of art," Wong said.    It was also the culmination of the two passions that Wong cultivated while at 'Iolani School: painting and dancing.


Lisa Wong '01 stands by a painting she created as an 'Iolani student. It's on display in the Nangaku Building lounge.
She had advanced in her painting classes under teacher
Judith Wigren-Slack
. During her senior year, she won the Best of Show Award in the First Congressional Art Competition which meant a trip for her and Wigren-Slack to Washington, D.C., to attend the National Arts Reception. Her painting was on display in at the U.S. Capitol for a year.  Wong also enrolled in dance through 'Iolani's after school program, specifically ballet from teacher
Grace Humerickhouse
.
From the age of seven, Wong had learned gung fu from her father, Dr.
Roger Wong
, a lifelong martial arts instructor. When she was little, she would attend Chinese cultural events as a member of the gung fu troupe and see the Narcissus Queen and her court from afar.
Wong went on to earn her degree in studio art at Wellesley College. While there, she also taught aerobics and cardio kick boxing. She eventually decided to take pre dental courses, following her father's footsteps to become a dentist.
She graduated in 2005 and returned to Hawaii to work in her father's office. One of her friends,
Kristie Sue-Ako
, from Wellesley was the 2006 Narcissus queen and encouraged Wong to run as well. Another one of her Wellesley classmates was a member of a recent Narcissus court.
"I'm not the type of person who would ever think of running in a beauty pageant, but I knew these women and they weren't the type either," Wong said. "But I really saw them grow and get a lot out of it, and they were able to give back to their community. So I thought, 'Okay, it must be a pretty good experience.'"
Thus far, the experience has also been a busy and fulfilling one. She formed close friendships with the ten other women running in the pageant. She was so inspired by their special qualities that following the pageant and before the coronation ball on January 17th, Wong spent three consecutive days painting a 4-foot tall and 12-foot long mural entitled 11 Chinese Lions that she dedicated to the 11 contestants. She donated this impressive piece to the Chinese Chamber.


Wong painted the mural 11 Chinese Lions.
Wong and the Narcissus Court will travel to China this June for a Goodwill Tour. She will also make appearances throughout the community until she passes on her crown to the 61st Narcissus Queen in January 2010.
After that, she plans on going to dental school to apply her artistic acumen towards patients' smiles.
"I feel like everything you do in life, all your experiences, you can use in the future," Wong noted. "Even if you didn't do so well in something, you can always apply it (later in life). Just don't be afraid to try new things."