This Issue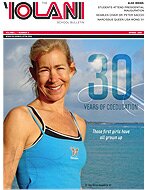 Life was different back then. George Ariyoshi presided as Governor. Kalapana recently released Many Classic Moments. Bobby McGee's was Waikiki's hot spot. And 'Iolani was a school for boys.
Read the full story »
Spring 2009 - Department
| School In Focus
The School In Focus
Students March on MLK Day


Marching in the Martin Luther King, Jr. Day parade were, left to right, Shantha McKinlay '09, Alana Calhoun '09, Lindsay Kosasa '09, Peter Greenhill, Ayesha Cooray '09 and Amila Cooray '09.
The club Students for Peace led by teacher
Peter Greenhill
, co-director of the 'Iolani Peace Institute, marched on January 19 through Waikiki in the Martin Luther King, Jr. Day Parade.    
"If ever there were a year when this event carried enormous meaning and positive feelings, this was the year," Greenhill said, "thanks to the election and inauguration of Barack Obama as the 44th president of the United States."    
The atmosphere during the march was joyous. Music by Stevie Wonder, Sister Sledge, the Staple Singers and others played along the parade route.
Taking on Real World Challenges
'Iolani was named the Hawai'i state champion in the first annual state competition of the U.S. Department of Energy's Real World Design Challenge on February 17. The team represented Hawaii at he national competition in Washington, D.C. in March. Another 'Iolani team finished second while Kalani High came in third.    
The first place included
Celia Ou
'09,
Amy Ko
'09,
Adeline Li
'09,
Julia Zhang
'09,
Anya Liao
'09, and
Jessica Lynn Saylors
'09. The second place members were
David Martorana
'09;
Rayfe Gaspar-Asaoka
'09,
Andrew Yu
'09,
Grant Iwamoto
'09,
Zachary Zimao
'09, and
Thanh Truong Vu
'09.


Governor Linda Lingle and representatives of the Real World Design competition congratulated members of 'Iolani's first place Real World Design team.
The Real World Design Challenge is a national learning program that challenges teams of teachers and students to develop innovative solutions to significant technical problems as defined by the aerospace industry.


'Iolani also took second place in the Real World Design competition.
For three months, 14 teams from nine high schools from across the state took part in the competition working with mentors at the Department of Energy's national energy laboratories, the Federal Aviation Administration, and aerospace companies nationwide to formulate their solution to the design challenge. Teachers supported the student teams and provided access to technical training and advanced engineering software. 'Iolani's faculty advisor was physics teacher Dr.
Carey Inouye
'66.    
Teams were challenged to balance competing forces of aerodynamics, propulsion, structures and controls, with each particular element of the redesign process being assigned to an individual team member. Success depended on strong science, technology, engineering and math skills, along with effective teamwork.
Robotics Teams Up With California School
A three team alliance – composed of 'Iolani School Team robotics and two teams from the California Academy of Math and Science Team – took top honors in the VEX Robotics Pan-Pacific Championship that ended on December 6 at the Hawai'i Convention Center. The three teams will advance to the VEX Robotics World Championship at the Dallas Convention Center and Arena from April 30 to May 2. At the championship, the teams will compete against top-ranked peers from other countries, including teams from the Asian Robotics League, South America and Europe.
Celebrating Chinese New Year


'Iolani grandparent and retired Dean of Students William Lee '53 spoke to the kindergarten class on Chinese New Year. He was assisted by his granddaughter, Courtney Lee '21.


Kai Hartman '21 and Amy Harada '21 prepare to march in the Chinese New Year parade.
Kindergartners held a cultural celebration in honor of Chinese New Year's on January 26. The holiday presented an opportunity for learning and activities as students painted Chinese lanterns, made noise makers, enjoyed a lion dance, and heard stories about the Lunar New Year from
William Lee
'53, retired 'Iolani dean of students. The students also marched through the Lower School. Some were dressed in traditional Chinese costumes.
Alyssa Alysson Ochiai '09 is Hawai'i Jr. Miss


Aly Aly Ochiai '09 will travel to Mobile, Alabama in June for the America Junior Miss competition.
'Iolani senior
Alyssa Alysson "Aly Aly" Ochiai
'09 was named the 2009 Hawai'i Junior Miss during the scholarship competition in early December at Kamehameha Schools. She received a $4,000 cash scholarship, a four-year scholarship to Hawai'i Pacific University, the Govenor's Trophy, and a trip to the America's Junior Miss competition in June in Mobile, Alabama.    
She also won the top talent award for piano performance of
Fantasy Impromptu
by
Frederic Chopin
. Ochiai has studied piano for 13 years. She competed in five categories: talent, interview, fitness, self-expression and academics. She has a 4.2 grade point average.    
Also representing 'Iolani was
Marissa Sakoda
'09 who was named second runner up and received a $2,000 scholarship.  Sakoda played the violin during the talent segment.
Campus Candids


The 'Iolani Debate Team won the sweepstakes trophy at the 'Iolani State Qualifying Debate Tournament on Friday 13 and 14 on campus. Several team members took home trophies and qualified for the state tournament in April. Pictured, bottom row, Thuy Ny Le '11, Ashlyn Koga '10, Jacqueline Mosteller '10, Kira Swope '10; middle row, Iris Kuo , Shayne Rasay '11, Julia Zhang '09, Serena Li '11, Adrian Catalan '10, Jesse Franklin-Murdock '10; back row, Lianne Ho '09, Crystal Cabrido '10, Iris Kuo '12, Alexa Hettwer '09, Lani Walker '09, Kevin Tanaka '09, Kaitrin Tobin '11, Jensen Wong '10 and Khati Hughes '09.



The annual 'Iolani Christmas Chapel was resplendent with a reenactment of the Nativity and second graders serving as narrators. The three Magi played by different faculty (Joan Kaneshiro, Lisa Lee Simon '88, and Kirk Uejio '96) are a pleasant surprise each year.



Left: Grandparents enjoyed a special kindergarten program and tea on December 12 in St. Alban's Chapel. Chloe Okimura '21 enjoyed showing her classroom to grandparents Stephanie Yokomichi, Samuel Yokomichi, Mildred Okimura and Charles Okimura. Right: On Grandparens Day, Neill Natori '21 received a special visit from grandparents Kiyoe Zukeran and Stanley Zukeran '51.
Comments from Readers
Gob

Woo! Go Kaitrin! That's my girl!