This Issue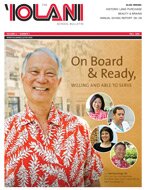 On Board & Ready, Willing and Able to Serve
Read the full story »
Fall 2009 - Feature
Brains & Beauty Times Four
In the 30th anniversary year of co-education at 'Iolani School, alumnae are proving that brains and beauty can go hand-in-hand. Alumnae were named as the reigning Miss Hawai'i, Cherry Blossom Queen, Narcissus Queen and Junior Miss. It was a quadruple crown year.


Miss Hawai'i Raeceen Woolford '03
Raeceen Woolford
'03, who recently graduated from the University of Hawai'i at Mānoa and was a Rainbow Wahine volleyball player, won the top prize at the Miss Hawai'i Scholarship Pageant on June 27. At 'Iolani, she was on the Headmaster's List and also played volleyball and basketball, participated in diving, track and field. Woolford will represent the state at the Miss America Scholarship Pageant in Las Vegas on January 30, 2010.


Junior Miss Alyssa Alysson Ochiai '09

Alyssa Alysson Ochiai
'09 was named the 2009 Hawai'i Junior Miss at the competition in early December 2008 at Kamehameha Schools. She  won a Talent Award of $1,000 for her piano performance of "Fantasie Impromptu" at the America's Junior Miss national competition on June 27, 2009, in Mobile, Alabama. Ochiai is now attending the University of California at Los Angeles.


Narcissus Queen Lisa Wong '01
Lisa Wai Hah Wong
'01 took home the tiare at the 2009 Narcissus Festival Queen Pageant on January 10. For the talent portion of the program, Wong did a speed painting of
Bruce Lee
by combining her artistic talent with her gung fu and dance backgrounds. After a video of Lisa appeared on the KHON Channel 2 website, celebrity Ellen DeGeneres invited her to perform on her nationally-televised talk show. Wong plans to go to dental school.


Cherry Blossom Queen Kristine Wada '02
Kristine Wada
'02 was the named the 2009 Cherry Blossom Queen on March 28. She represented Hawai'i at festivals in San Francisco and Los Angeles and will lead a goodwill tour with the Cherry Blossom Court to Hawai'i's sister cities in Japan. This past July, she also met the Japanese emperor and empress.