This Issue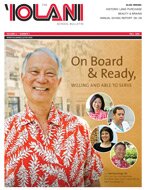 On Board & Ready, Willing and Able to Serve
Read the full story »
Fall 2009 - Department
| Alumni Association News
News from the 'Iolani Alumni Association
Wow! The summer went by so fast. It always seems like, though the days of summer are longer, they go by faster than we realize.  Perhaps that's because this summer was so busy.
The 'Iolani Alumni Association kicked off summer with its 19th Annual Golf Tournament on June 19.  This  wonderful occasion was hosted by the highly organized and efficient Class of 1978.  Under the leadership of co-chairs
Jimmy Kurata
'78 and
Mark Nishiyama
'78, the tournament went off smoothly, and all had a great day in the hot Ewa sun at the Hawaii Prince Golf Club.  Thanks  78ers for a terrific day for our alumni!
A little more than a week later, we hosted our annual summer concert in the courtyard at 'Iolani.  In the past, we've been fortunate enough to play host to some of Hawaii's top musicians at this event, and this summer was no different. We were treated to a free concert by the incomparable
Amy Hanaiali'i
.  Thanks to our summer concert committee for doing a wonderful job in organizing this terrific event. 
On August 1, the Class of 1990 sponsored the 14th Annual A Touch of 'Iolani: iLounge and the sellout crowd of more than 950 friends loved every minute of it.  Culinary delights, exciting silent auction items, and mellow jazz music made for a perfect backdrop to the reunion of old friends and the making of new ones.  Mahalo to the Class of 1990 and co-chairs
Shari Tapper
'90 and
Marcus Kawatachi
'90 for the hard work that went into making the event such a success.  Congratulations go to 2009 Alumni Service Award winner, Mark Yamakawa '74, who received a well-deserved honor that evening.
Also this summer, we bid farewell to longtime board members
Rand Totoki
'79 and
Neil Kuioka
'00, who completed their maximum six-year tenure on the board.  Both contributed immensely to the association's success over the years, heading up several committees and always helping out when needed.  We thank them for their committed service.  Filling in for Neil and Rand will be new members
Kevin McCrary
'79 and
Michael Ni
'00.  We are excited to have them on board and for their fresh ideas and perspectives. 
Visit our new and improved www.IolaniAlumni.org for more information about upcoming events, including our Children's Discovery Center Family Event in October, a cooking class, also in October, and a wine event in November.



Sherri Iha '84


President


Alumni Association


Mike Moses '93


Director of Alumni Relations