This Issue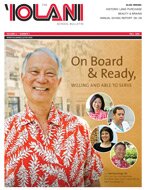 On Board & Ready, Willing and Able to Serve
Read the full story »
Fall 2009 - Other News
| Alumni
Alumni Week Ignites School Spirit


Enjoying the Alumni Week reception were, standing, Tammi Oyadomari-Chun, David Oyadomari '89, Kevin Herring, Dean Ishida; sitting, Brett Hitzeman, Amy Apisa Hitzeman '89 and Marcie Uehara Herring '89.
Headmaster Dr. Val '67 and Cynthia Iwashita hosted a celebration for all reunion classes at the Fourth Annual Alumni Weekend Kick-off Reception on July 30 on campus. Representing seven decades, more than 250 alumni enjoyed an evening under the stars while reminiscing about their past days at 'Iolani, surrounded by the beautiful, spacious campus of today.
Guests enjoyed a huge buffet dinner, an open bar, and live music from the group Beach 5 featuring
Christian Yrizzary
'94.  Many alumni who had not seen the campus recently marveled at the new buildings and landscaping while on tours led by young alumni
Ame Uyema
'06 and Josh Michaels '08.  In his welcome address, Dr.
Iwashita
reminded the audience that though 'Iolani has changed physically, the values and morals that 'Iolani stands for remain the same. Alumni play a vital role in keeping those traditions alive. 
Next year, 'Iolani will host the 5th Annual Alumni Week by inviting classes that graduated in a year ending in 5 or 0 back to campus.  For more information, please contact Director of Alumni Relations Mike Moses at 808-943-2309 or .