This Issue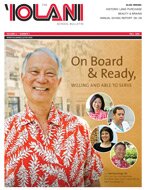 On Board & Ready, Willing and Able to Serve
Read the full story »
Fall 2009 - Other News
| Alumni
19th Annual Alumni Association Golf Tournament


Members of the Class of '78 organized a successful Alumni Association Golf Tournament. Pictured are, back row, Olson Okada, Anson Kimura, David Iwasaki, Kendall Hee, Ricky Sukita, Kevin Saito, Jeff Yamaguchi, Kevin Allen; front row, Alan Yugawa, Walter Kobayashi, Jack Tonaki, Bill Hannum, Jimmy Kurata, Robert Kagawa and Randy Matsumoto.
More than 220 golfers gathered at the Hawaii Prince Golf Club for the 19th Annual 'Iolani Alumni Association Golf Tournament on June 18  Organized by the Class of 1978 and led by co-chairs
Jimmy Kurata
'78 and
Mark Nishiyama
'78, the event was a fun day for all who participated.


Scott Miyagi '89, Randy Kawamura '89 and Blaine Alexander enjoyed the tournament.
Players were treated to a host of exciting prizes and great food and drink.  Each received a golf shirt and alumni golf cap, and team winners took home a bevy of golf-related prizes.  The big winners were champions
Ken Hayashida
'79,
Donn Ariyoshi
'79, and
Greg Cha
'79, who earned a net score of 53.35. Next year, the trio and their classmates will organize the tournament.
Congratulations to all of the winners and to the Class of 1978 Planning Committee for putting on such a successful event. Members of the committee were: Co-chairs Jimmy Kurata, and Mark Nishiyama, Kevin Allen, Curtis Ching, Bill Hannum, David Iwasaki, Robert Kagawa, Jay Kim, Walter Kobayashi, John Maruyama, Randy Matsumoto, Ryo Nakamoto, Olson Okada and Jack Tonaki.
Platinum Sponsor
Nan Inc.
Silver Sponsors
Accuity LLP – Cory Kubota '92
Nordic Construction – Glen Kaneshige '79
Pacific Architects, Inc.
Ushijima Architects, Inc – Shaun Ushijima '81
Tee Sponsors
AIG Hawaii Insurance Company
Aina Haina 76 – Chad Willing '89
American Savings Bank – Nelson Moku '91
Benn Pacific Group, Inc. – Trevor Benn '92
Carter Siu, Attorney-at-Law – Carter Siu '92
Chinen & Arinaga Financial Group – Lyle Uyeda '76
Datahouse, Inc. – Creighton Arita '79 and Rik Arita '97
Dennis Nagata DDS – Dennis Nagata '71
Dr. Gilbert Korenaga '72
Edward Enterprises, Inc – Sanford Morioka '85
ESPN 1420 – Randal Ikeda '80
First Insurance Company of Hawaii, Ltd. – Dean Ochiai '73
Kevin K. Saito DDS – Kevin Saito '78
Marcus & Associates, Inc – Dale Nishikawa '71
McCorriston Miller Mukai Mackinnon LLP – Shaun Mukai '90
N & K CPAs, Inc – Brian Isobe '77 and Alton Miyashiro '72
Ohana Daze – Scott Miyagi '89
Pedodontic Associates – Luke Teruya '77
SAN Construction, LLC – Sanford Ota '73
Securitas Security Services USA, Inc.
Swoish Produce – Chris Swoish '79
The Cookie Corner – Angus McKibbin '75 and Jim McArthur '75
UBS Financial Services, Inc. – Dan Shiu '87
Tee Signs
City Mill Co., Ltd. – Steven Ai '72
Engineers Surveyors Hawaii, Inc. – Kendall Hee '78
Kaya Odo & Loo, CPAs
Marc Okumura '91
Roy's Restaurant
Warren Ohira DDS, Inc. – Warren Ohira '77