This Issue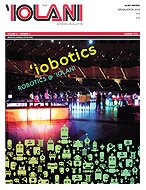 'Iobotics: The Roar of Scoreboards, the Flash of the Crowd
Read the full story »
Summer 2010 - Other News
| Alumni
'Iolani Alumni Events & Activities
ICAN Taking Alumni Service Worldwide: One Team, One Day Coming October 2
The 'Iolani Community Action Network (ICAN) is calling upon alumni around the world to unite for one day in the spirit of service. On October 2, 2010, ICAN will organize "One Day, One Team" aimed at bettering our global community. 
Groups of alumni in Hawaii, on the U.S. mainland and in Asia have organized service projects for that day to address needs in their particular communities. We encourage alumni to participate in these projects or to plan their own. It doesn't need to be a big project, or involve a lot of people; the point is to take action and get involved! 
Part of ICAN's mission is to become a collaborative tool for the 'Iolani community that will help to create stronger connections and empower active citizenship in their wider communities. One Day, One Team. will be a powerful way that alumni can make that connection.  
To learn more about ICAN and One Day, One Team., visit the alumni online community at www.iolanialumni.org or look for ICAN on Facebook at www.facebook.com/IolaniCan. There, you'll find information about projects that are planned in your area. If you have an interest in organizing your own event, the website also offers resources for planning and promoting your event to fellow alumni. 
For more information about
One Day. One Team
., contact
Brent Kakesako
'03 (),
Walden Au
'03 () or
Mike Moses
'93 ().   
Heath, Wellness & You


Dr. Lauren Dawson is on staff at the Barrow Neurological Institute in Arizona and at the Rehabilitation Hospital of the Pacific. revealed tips on how to reduce stress through breathing exercises and other relaxation techniques.
As a service to the 'Iolani community, the Alumni Association presented the free speaker panel "Health, Wellness & You" on March 3 in Seto Hall. Three doctors shared their specialized areas of expertise on how to enjoy life more while staying youthful in mind and body.
Clinical neuropsychologist Dr.
Lauren Dawson
specializes in the assessment and treatment of brain injury. She discussed how to keep the brain healthy and the mind well. Dawson's son
Andrew
'21 attends 'Iolani.


Dr.Elizabeth Ignacio '89 is in private practice and is also an assistant professor of surgery at the University of Hawaii John A. Richardson School of Medicine.
Orthopedic surgeon Dr.
Elizabeth Ignacio
'89 specializes in sports medicine and arthroscopic and reconstructive surgery. She discussed staying healthy and strong while exercising or participating in sports throughout life.


Dr. Terry Shintani has made significant contributions to the promotion of Hawaiian Healing Arts and founded the Integrrative Medicine Center at the Waianae Coast Comprehensive Health Center.
She is an alumna and a current parent with daughter
Grace
'22 completing her first year at 'Iolani.
Nutritionist Dr.
Terry Shintani
is the creator of the Eat More, Weigh Less and Shintani Diets. He talked about the health crisis cure.
The panel was moderated by 'Iolani Advanced Placement biology teacher
Jack Kay
and introduced by Alumni Association President
Sherri Iha
'84.