This Issue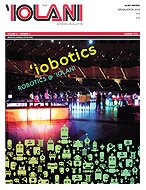 'Iobotics: The Roar of Scoreboards, the Flash of the Crowd
Read the full story »
Summer 2010 - Other News
Fun and Friendship at Alumni Golf Tournament
On a beautiful day at the Hawaii Prince Golf Club, more than 220 golfers took their hacks and enjoyed a great time on May 13 at the 'Iolani Alumni Association Golf Tournament. The 20th annual event, organized by the Class of 1979, was one that will be remembered for fun, friendship, great prizes, exciting contests, and wonderful food and drink.


Members of the Class of '79 celebrate a successful tournament at the Hawaii Prince Golf Course: Mike Moses '93, Donn Ariyoshi '79, Rand Totoki '79, Ken Hayashida '79, Greg Cha '79, Kevin McCrary '79, Troy Miyasato '79, Glen Kaneshige '79, Paul Kennedy '79, Kel Kado '79, Reese Nakamura '79, Cary Tanaka '79 and Stuart Okumura '79.
In addition to the chance of scoring a hole-in-one and  winning one of three motorcycles, one alumnus or alumna from each decade was randomly selected to win $2,500 by sinking a 60-foot putt. No one won, but the contest made for an exciting start to the day of golf. 
In the end, the team of
Myles Arakawa
'79,
Riki Ringor
'79, and
Blaine Umeda
'01 took home the first place prize. As the top ranking alumni team, the trio also won the tournament's perpetual alumni trophy.
For those who did not win team prizes, there was still plenty to enjoy, such as goodie bags that included an embroidered 'Iolani Alumni wind shirt, as well as hot-off- the-grill hamburgers and hot dogs, refreshing ice cream and cookies on the course, and plenty of other items to eat and drink.


Cory Kubota '92, Rand Totoki '79 and Ken Hayashida '79 sit atop the motorcycles that were hole-in-one prizes.
A big mahalo and congratulations go to the Class of 1979 Planning Committee led by Chair Greg Cha.  Members of the committee included
Armand Chong
,
Bruce Fong
,
Cary Tanaka
,
Chris Swoish
,
Donn Ariyoshi
,
Glen Kaneshige
,
Greg Cha
,
Kel Kado
,
Ken Hayashida
,
Kevin McCrary
,
Michael Shimoko
,
Paul Kennedy
,
Rand Totoki
,
Reese Nakamura
,
Ron Nishihara
, and
Troy Miyasato
. 
Many members of the class sponsored teams and made donations.  Collectively, they also made contributions of almost $7,000 directly to the 'Iolani Alumni Scholarship Fund, on top of the proceeds from the tournament. 
Mahalo to our sponsors:
Gold
Accuity LLP – Cory Kubota '92
King Street Properties – Rand Totoki '79
KSF, Inc. – David Fujiwara '80
Silver Sponsors
Construction R Us – Frank Felix '79
KAI Hawaii – Ken Hayashida '79
Kent Hironaka DDS LLC – Kent Hironaka '79
Michael Shimoko '79
Nordic PCL Construction – Glen Kaneshige '79
Pacific Architects
Swoish Produce, Inc. – Chris Swoish '79
The Team at Morgan Stanley Smith Barney – Donn Ariyoshi '79
Yamaguchi & Yamaguchi Inc. – Jon Yamaguchi '69
Tee Sponsors
American Savings Bank – Nelson Moku '91
Anbe Aruga & Ishizu Architects, Inc – Jon Aruga '79
Benn Pacific Group – Trevor Benn '92
Edward Enterprises – Sanford Morioka '85
First Insurance Company of Hawaii Ltd.
'Iolani Soccer Class of '79
Law Offices of Cary Tanaka – Cary Tanaka '79
Marcus & Associates – Kevin Nishikawa '88
McCorriston Miller Mukai MacKinnon LLP – Shaun Mukai '90
N & K CPAs Inc. – Brian Isobe '77
Pedodontic Associates – Luke Teruya '77
The Class of '92 – Cory Kubota '92
WSP LincolneScott Inc. – Scott Inatsuka '87
Tee Signs
Armand Kainoa Chong DDS Inc. – Armand Chong '79
LPL Financial - Bruce Fong '79
Christopher Chun '92
Class of 1988 – Scott Simon '88
Ferraro Choi and Associates Ltd. – Troy Miyasato '79
Warren H. Ohira DDS, Inc – Warren Ohira '77
'Iolani Alumni Association Scholarship Donors
Clyde Igarashi '79
Creighton Arita '79
Donald Hurter '79
Kenneth Chan '79
Michael Shimoko '79
Ron Nishihara '79
Troy Miyasato '79