This Issue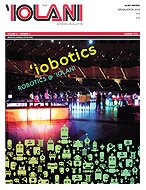 'Iobotics: The Roar of Scoreboards, the Flash of the Crowd
Read the full story »
Summer 2010 - Department
| Faculty & Staff File
Laurie White: A Rare Specimen of A Teacher


Laurie White sits in her kindergarten to third grade science classroom.
Laurie White
's kindergarten to third grade science room has been one of the most popular spots in Lower School for more than two decades.
Well, it's understandably so. Here, youngsters crank hand-held generators to illuminate light bulbs. Students test weights on a pulley or feel dry sea sponges and black fungus. Here, it's okay to let bugs out of their cages or pet salamanders and touch spiders.
"I think it's important for a science teacher to choose units she is passionate about," White says. "That is what I have done.  In this way, you are excited about teaching and learning about the subject, and the kids feed off of your enthusiasm."
Now after 26 years of inspiring curiosity at 'Iolani, White is retiring. She will be deeply missed by her fellow teachers, students and former students who still remember her hands-on lessons, experiments and projects. Yet they remained forever inspired by White's zest for teaching and learning, ability to let even the shyest children express curiosity, and her broad, visionary approach to science and the world.
Of course my philosophy of teaching science has evolved over the years. Please pick and choose what you want to include and feel free to edit:  1. 2. That's how Space Night started. I wondered how the kids could learn about space, when everything you need to look at is only visible at night! Lisa Simon and I also have collaborated on science/dance creative movement units, so that, for example, the students can "become" the lava in a volcano, thereby learning. 3.

She has organized beach clean ups and field trips so that students combine environmental studies with relevant lessons. She spearheaded the third grade space night camp which has brought in astronomers from the University of Hawai'i to speak with students. She also led the movement for sun safety in Lower School, while teaching students about the power of the sun's rays.
In recent years, she has partnered with science teachers in Upper School for an interdisciplinary approach. Her third graders met with Chemistry Honors classes to discover more about the nitrogen cycle growing organic vegetables in the Lower School's hydroponic garden. Her students have also partnered with 'Iolani seventh and eighth graders to learn about catapults or carbon dioxide. She collaborated with dance teacher Lisa Lee Simon '88 on a science and dance project for which students danced the way lava flows and learned kinesthetically.
Prior to teaching at 'Iolani, White taught at St. Andrew's Priory and a Montessori school. She was also a longtime substitute while her daughters were young. White graduated from Punahou School and later earned her B.A. in social sciences from the United States International University.


Along with administrator Joann Stepien, Laurie White helped bring a hydroponic garden to the Lower School courtyard where organic vegetables grow and students learn important aspects of science including the nitrogen cycle.
"I believe in teaching science as a process – doing science rather than just learning about science," White notes. "I like to instill curiosity, wonder, and an appreciation of all living things by modeling the behaviors." 
White's approach has led to her programs flourishing and evolving with the changing times throughout the years.  She is a rare, wonderful specimen of a teacher.