This Issue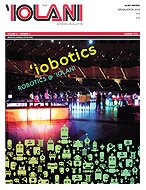 'Iobotics: The Roar of Scoreboards, the Flash of the Crowd
Read the full story »
Summer 2010 - Department
| Faculty & Staff File
Farewell and Mahalo to "Mr. O" Longtime Dean of Lower School retires


Fred Okumura '65 retired from his position as Dean of the Lower School after a 39-year career at 'Iolani. He is pictured with some Lower School faculty following the end-of-school-year faculty meeting: left to right, Cliff Lee '70, Dalton Sue, Addie Kim, Lynne Inouye, Joyce Ueda, Fred Okumura, Patsy Asato, Cynthia Chung, Deborah Wakahiro, Marilyn Naka and Catherine Fuller '84.
Frederick Takie Okumura '65


Family:


Wife Marilyn and son Matthew '96


Education:


University of Hawai'i, B.Ed., M.Ed.


Pastimes:


Reading, traveling, listening to music, collecting postcards from around the world

By Peter Okumura '70
At the end of June 2010, Fred Okumura's 39 year 'Iolani School career came to an end.  He began working at 'Iolani as one of the two counselors in the Upper School, and six years later Okumura '65 became Dean of the Lower School. Under his leadership and guidance, the Lower School has expereienced many tangible and intangible improvements.
While he was dean, girls were admitted to kindergarten for the first time, and in 1998 these girls graduated as the initial Daughters of 'Iolani. The Lower School has flourished since becoming fully co-educational.
The overall experience for the Lower School students and teachers has been enriched. The different curriculums have evolved by keeping current and by integrating different subjects. Examples of these interdisciplinary curriculums are the third grade mini-society and the sixth grade medieval unit and faire. Technology has entered the classrooms with the use of computers, ELMOs and Smartboards. The performing arts offerings have expanded with the addition of dance, musical theater, and orchestra ensemble.
Okumura oversaw additions to the physical plant to enhance the students' environment. The Ai Building, the computer lab, K-Leahi, the walkway coverings, the counseling offices, and the One Team Fieldhouse were constructed. The library, physical education facilities, the classrooms, and the lower school offices were renovated.  Air conditioning was added to the classrooms, and the cool and quiet areas facilitated better learning.
Under his guidance, the Tam & Young Visual and Performing Arts Chair was established in 1999 to further promote the arts at 'Iolani School. Thanks to the generosity of
Anthony
and
Anna Tam
along with their daughter and son-in-law,
Alan
and
Anne Young
, the Tam & Young Arts Chair has brought visiting artists to the school for the benefit of the kindergarteners through seniors.
During Okumura's years in the Lower School, the constants have been low class sizes, dedicated teachers, well-rounded students, high standards, and continuing improvements.
'Iolani salutes his many contributions and wish Fred and his wife Marilyn well in their new endeavors.
Peter Okumura '70 is an Upper School counselor and the brother of Fred Okumura '65.