This Issue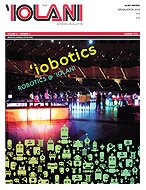 'Iobotics: The Roar of Scoreboards, the Flash of the Crowd
Read the full story »
Summer 2010 - Department
| Faculty & Staff File
Jane Romjue: Dedicated English Teacher and Goddess of Grammar
by Cathy Lee Chong
Jane Romjue's destiny was to become a teacher. At age six, she sat at her child-sized black board writing lessons for her younger brother who was still in diapers. Since then, her journey as an educator has been far-reaching and accomplished. Yet she remains focused on what she says matters most: the students.


Jane Romjue, right, served as the liaison to author Graham Salisbury, who spoke to students about his books which are on 'Iolani reading lists.
Jane earned her B.A. from Smith College and her M.A. from the University of Hawai'i, both degrees in English. She taught at Punahou for five years, Maryknoll for 19 years and at Hawaii Pacific College for eight which overlapped with Maryknoll. At the end of this year, she will retire after teaching for 20 years at 'Iolani.
She has served as the assistant editor of the 'Iolani School Bulletin since 1993. She was also a Humanities Scholar for the Teen Reading Festival at the University of Hawaii in 1999, 2000 and 2002. She presented scholarly papers at the Annual American Literature Conference in 1999 and at the Biennial Jack London Symposium in 2000 and 2002. During her sabbatical in 2002, she wrote "Jack London's Use of Hawaiian Mythology and Legends in 'The Water Baby,'" which was cited in a critical biography of Jack  London. She also coordinates the 'Iolani spelling bee and traveled to the national spelling bee with an 'Iolani student who represented Hawai'i.


Jane Romjue, right, and English teacher Jinny Hall will both be missed. Hall will be attending graduate school at Seattle University this fall.
To her students, she is a pillar of intelligence and leadership. To her colleagues, she is ever helpful, reliable and dependable. She will go out of her way to make sure students are recognized for their hard work.
Jane Romjue is someone whom I respect and admire. She is a Goddess of proper grammar and punctuation, a Super Hero of spelling and correct style and language usage. I am eternally thankful for all she has done to improve the '
Iolani School Bulletin
. She will be missed greatly as she retires from full time teaching. She will continue as assistant editor of the '
Iolani School Bulletin
which includes compiling and editing the popular Classnotes.
Comments from Readers
Rachel Won

Yes, indeed, her students will feel the loss of her as a teacher. Her high expectations for her students did more good for each of them than can be immediately realized. She is a gem of a person, the heart of teacherhood, and a humble, loving servant of us all, by virtue of faith. I still enjoy memories of classes, the Spelling Bee trip with her and my family, and our last conversation. I think she knows the many thanks that have gone her way, prayed or given directly to her, through the years.