This Issue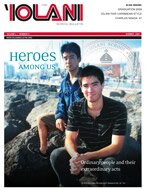 Ordinary people and their extraordinary acts
Read the full story »
Summer 2009 - Issue Main
Good 2 B Green Students: Saving the Planet One Bottle at a Time
Guthrie Angeles '12 cleans and sorts plastic bottles.
PHOTOS BY
CLAIRE MOSTELLER '10.
See more photos »

Wearing rubber gloves on his hands and a grimace on his face, ninth grader
Guthrie Angeles
'12 crouches  and sifts through a heap of sticky, smelly bottles which in a former life contained the beverages of strangers. Along with his classmates, he works to undo the caps from some bottles, unleashing the pungent aromas of sour milk or wilted Gatorade. The caps are thrown out (they are not reusable), but the precious bottles are sorted for recycling.
It's a dirty job, but the students in the Good 2 B Green club, like Guthrie, know it's the right thing to do.
"Recycling helps to keep things from going into landfills," he says. "That way we don't have garbage all over the place and we learn to reuse things so we can prevent waste and slow global warming."
"Before I joined the recycling club, I never used to recycle. Now I realize how much effort is put into recycling and how it can change the world."


– Sean Mitchell '12

Guthrie is one of more than a dozen students who volunteer for 'Iolani's Good 2B Green recycling club. On scheduled days, the students arrive at campus before the first bell rings to pick up bottles and cans left in bins across 'Iolani's 25-acre campus. They accept donations of bottles and cans from families at the school's drop off areas. They hope they're setting an example.
"I think we've encouraged a lot of kids to start recycling and it's made a really big difference at the school," said
Sarah Murayama
'12.
The campus-wide recycling campaign began as a challenge from two smart moms to their daughters back in 2007.
Then seventh graders Sarah and
Malia Brennan
'12 were in English teacher
Jane Romjue
's class which was assigned to write essays about Hawaii's environment. The essays were entered in the My Hawaii environmental writing contest sponsored by the Hawaii Conservation Alliance and The Pacific Writers' Connection. Of the 321 entries from across the state, Sarah's and Malia's essays were among the 25 selected as winners and published in the
My Hawaii Story Project 2007 anthology
.
"Everybody in Hawaii can make a difference in the world, even the keiki," wrote Brennan in her essay about a girl who discovers she can help prevent littering on  beaches.
"It's hard work because you've got to put all of the things in the bags and uncap all the bottles. But it's kind of rewarding afterwards and you feel really good about it."


– Allyson Ogata '12

"Pollution hurts so many living animals and makes everyone unhappy," Sarah wrote in her essay. She ended with, "It was time to make a difference, starting with two everyday kids."
Sarah's mother,
Norma Murayama
, and Malia's mother,
Nalani Blaisdell-Brennan
, tasked their daughters with putting words into action. Thus, the Good 2B Green club was born. Sarah designed the club's logo.  Litter and waste were no nos. Reduce, reuse and recycle became the ways to go.
From recycling refunds, the club raised more than enough money to pay for the 25 double-sided recycling containers placed around campus. The club also cleaned Kalihi Stream and Liliu'okalani Gardens. On Earth Day, this past April 22, they encouraged students and teachers to drink and eat with reusable containers rather than plastic cups and plates. 
"Global warming is such a big issue," Norma says. "If everyone did one thing to help, it would multiply and really make a difference. These kids may be doing something small, but they're still big heroes."
Comments from Readers
Cate Waidyatilleka

I'm so proud of the students and adults who are out there getting down and dirty for the betterment of the earth and our future. You guys are SO COOL! Love you!