This Issue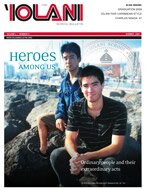 Ordinary people and their extraordinary acts
Read the full story »
Summer 2009 - Cover Story
Friends for Life
"The Fire Department can't rescue everyone. We rely on citizens to help save lives or minimize damage."


– Fire Chief Kenneth G. Silva, Honolulu Fire Department Commendation Ceremony, April 2, 2009



Peter Kagawa '09 and Roy Yamaguchi, Jr. '09 look towards the ocean just beyond Waikiki at a surf spot nicknamed Rock Piles.

It was August 21, 2008 or another beautiful day in paradise for five close 'Iolani School friends who had surfed together countless times.
They weren't just buddies at the beach, though. A few of them had been friends since kindergarten, and all of them had been close since seventh grade. They played on the same teams, studied the same courses, cruised around on weekends, went to proms, and journeyed through high school rites of passage together.
The young men had gone through childhood and adolescence and now summer was ending and the future was up for grabs. Soon they would follow separate paths.
That night,
Wrenn Okada
'08 would catch a flight to California where he would begin his freshman year at the University of San Francisco. In the next few weeks,
Reid Furukawa
'08 would enter the University of Santa Clara.
Yutaro Tsukikawa
'08 would head for the University of Southern California.
Peter Kagawa
'09 and
Roy Yamaguchi
, Jr., '09 still had a year left at 'Iolani.
"It was Wrenn's last day before he would've gone off to the University of San Francisco," said Yamaguchi. "So to celebrate it, we were going to go to a surf spot."
"We just wanted to get him to safety."

The boys joined up at a popular place surfers refer to as Rock Piles just off the Ilikai and Hawaii Prince hotels where the waters of Waikiki converge with the waves off Ala Moana. But what was intended as a
holo holo
day suddenly turned frightening. The friends found themselves propelled into a life threatening situation, one that forced them to push aside their boyish fun and follow adult instincts.
A former 'Iolani water polo player, Okada did what he had done countless times. He dove into the sea, but instead of surfacing, an eerie nothing happened. Then his body went limp. His friends thought he was playing a joke on them, until they saw blood flowing from his head. Okada managed one word, "Help."
"I was in the water and I couldn't move," Okada said.
Shocked and with their adrenaline rushing, Kagawa and Yamaguchi jumped into the water and swam over to their pal. Working quickly yet gently, they moved him on to his surfboard. They dragged him over the reef towards shore, careful not to further injure him. They had heard of surfer paralysis and how dangerous neck injuries could be. A stranger who had been surfing nearby stopped to help them drag Okada over the 75 yards of rocky shore to the beach.
"We knew if he stayed out in the ocean, he probably would've drowned," Kagawa said. "We just wanted to get him to safety."
Meanwhile, Furukawa and Tsukikawa had seen what happened and ran for help. Furukawa borrowed a cell phone from a passerby and called 911. Soon, Ocean Safety lifeguards, an ambulance and fire truck were on the scene.
Okada was rushed into surgery with a broken neck, numbness on the left side of his body and a deep head gash. Leaving for college that night was called off. Worried and scared, his friends waited at the hospital. Everything for all of them was unexpectedly put on hold.


Peter Kagawa '09, third from left, Roy Yamaguchi, Jr. '09, second from left, and Virginia and Leonard Furukawa (parents of Reid Furukawa '08), pose with officials (Fire Chief Kenneth G. Silva, Fire Commission Chair Elizabeth Ho and Deputy Fire Chief Alvin Tomita)  who presented certificates of commendation at the April 2 ceremony.
Okada spent six days in the hospital and was told he may not walk again. Doctors also said that had he not received help so rapidly, he may have suffered permanent paralysis or worse. His friends visited him every day.
"I couldn't go off to college unless I knew he was okay," Tsukikawa recalled.
Instead of beginning college, Okada spent months in physical therapy, relearning how to walk and use his arms and legs. It was a painful recovery, physically and emotionally, but he remained positive and regained his mobility.
Sometimes it's not easy for teenage boys to express themselves, but Okada wanted to thank his friends.
"You saved my life," he told them.
Okada delayed his entrance to the University of San Francisco until January 2009 and now plans on majoring in graphic design. College is "a lot of fun," he said, and he even wrote a speech about the accident for a class. Life has returned to normal, though his perspective has been forever changed.


PHOTO BY STACEY LEONG MILLS
"I look at everything differently now," Okada said. "I'm just thankful to be alive and that I have family and friends."
During spring break in March 2009, he visited Tuskikawa and Furukawa in Los Angeles  to carry on the friendship born at 'Iolani. When they are back home in Honolulu, they plan to surf together like always.
This past April 2, the Honolulu Fire Department and Fire Chief
Kenneth G. Silva
presented Certificates of Commendation to the four 'Iolani friends who rescued Okada. Kagawa and Yamaguchi were present at the ceremony at the Charles H. Thurston Training Center, while Tsukikawa and Furukawa were away at college and represented by family.
"The fire department can't rescue everyone," Silva said at the commendation ceremony. "We rely on citizens to help save lives or minimize damage. Your actions were exemplary."
Silva also called them "heroes."
Yet the young men shrug. They say they're not heroes, just lifelong friends who did what anyone would have done. Of all the experiences they've shared, that day at Rock Piles was like a crash course in growing up.
"We don't make a big deal about it," said Furukawa. "I know that if it was me in that situation, Wrenn, Yutaro, Peter and Roy would've done the same thing."