This Issue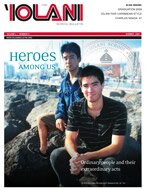 Ordinary people and their extraordinary acts
Read the full story »
Summer 2009 - Cover Story
Sharing Stories That Need To Be Told


Julia Cumes '90 spent time on the big island of Hawai`i this year to photograph paniolo.
To see the world through the eyes of
Julia Cumes
'90 is like unveiling the complexity of different people and places through powerful images. From South Africa's post-apartheid generation to the destructive force of a tsunami to the oppression of the Devadasi system in India, Cumes's photographs tell stories that beg to be told.
Cumes is an award-winning photojournalist (see www.juliacumesphoto.com) who has traveled the globe. Her work has appeared in the
New York Times, Boston Globe, Newsweek, USA Today
, and other respected publications. Her wedding photography also helps pay the bills and gives her enough freedom to do projects that feed her soul.
Beyond the assignments, Cumes believes in empathy, awareness and understanding.
"My goal is to create images that move and inform, that are beautiful and capture in a unique way this extraordinary and complex world we live in," Cumes says.
One day this past April, she stood in front of a classroom of 'Iolani students enrolled in the English elective Philosophical Literature. Her visit was sponsored by the
'
Iolani Peace Institute A Tribute to Dr. Berit Mexia. The class was taught by
Peter Greenhill
, who, coincidentally was Cumes' teacher when she took this course more than 20 years ago.
An older Devadasi woman begs at the entrance of the Yellamma Temple in Saundatti, India during the Yellamma Jatre (fesitval). Most Devadasis over the age of 44 either beg or act as a jogati, spreading the word of Yellamma.
See more photos by Julia Cumes '90 »

Cumes shared her documentary on the Devadasi system, a centuries-old tradition of religiously sanctioned prostitution in India. Stunning photographs, revealing poignancy and sadness yet also hope and beauty, were projected on to a screen. Devadasi literally means God's (Dev) female servant (Dasi). Young girls are married off or given away in matrimony to God or the temple, then forced to live as sex workers.
"I feel that these women had absolutely no voice," Cumes explains, "and they were so excited to talk to me. They are so used to people wanting something from them, whether it's sex or money or work. It was very empowering for them to share their story."
Cumes heard about the Devadasi system in 2007 before she left for India to shoot a project on rhinos and elephants for the International Fund for Animal Welfare. For two months that year and in 2008, she traveled to south India, spent time in villages and in red light districts, visited  temples, homes, schools, and help centers to tell the story of the Devadasi. She created an audio slideshow that in 2009 received a multi-media award from the National Press Photographers Association.
"It struck me as something I really cared about," she adds.
 Her compassion and desire to understand different ways of life was ingrained early on, as was her love for photography. At 13, she received her first camera from her parents.
First grade teacher, Johanna Mothabela, gives her students, who were part of South Africa's first post-apartheid generation, a bible lesson at Bathabile Elementary School. (2001)
See more photos by Julia Cumes '90 »
She and her sister,
Claudia Cumes
'89, were born and grew up in South Africa. In 1987, when she was 15, she and her sister immigrated to the United States after her psychologist parents, Dr.
Jeffrey Cumes
and Dr.
Heide Cumes
, decided to leave South Africa because of the apartheid system which, at the time, appeared would never be dismantled. They had stopped in Honolulu en route to Australia when they found their new home.
"They wanted my sister and I to grow up in a multi-racial community," Cumes says. "Here, there were inter-racial marriages, different cultures living together. They fell in love with Hawai`i."
Cumes and her sister enrolled in 'Iolani and lived with an American family in Honolulu because their parents were not able to join them until a year later.
Eventually, Cumes went on to earn a bachelor of arts degree from Brandeis University and a master of fine arts in writing from Cornell University and a masters in photojournalism from Syracuse University's Newhouse School. Her cameras' shutters have been busy ever since.
Among her projects, she traveled to New Orleans after Hurricane Katrina for the International Fund for Animal Welfare to document animal rescue efforts, returned to South Africa to capture images of the first post-apartheid generation, portrayed natural childbirth, and recorded relief efforts in a small village in Thailand after the devastating tsunami of 2004.
"It's important to do work that you really care about."

That year, she and her husband,
David Karam
, were scheduled to take a long-planned vacation to countries that included Vietnam, Thailand, Laos and Burma. Then the Indian Ocean earthquake caused a catastrophic tsunami in southern Asia on December 26, 2004. The horror and destruction were portrayed through the media.  An estimated 225,000 people in 11 countries lost their lives in one of the world's deadliest natural disasters. Many more lost their homes and livelihoods. She and Karam, an architectural designer and builder, abandoned their holiday plans.
Two boys play "Tsunami Tsunami" in a ditch in their village of Hua Laem on Koh Lanta island, Thailand, after the tsunami destroyed most of the village's fishing boats and many of its homes. Research shows that children often express their trauma through play by reenacting the experience. (2005)
See more photos by Julia Cumes '90 »
"How could we go on a vacation when there is a disaster going on?" she reflects.
Instead, they joined the Hua Laem Tsunami Relief Effort and traveled to Koh Lanta Island off southern Thailand to help rebuild a village in dire need of aid. She shot photographs and heightened awareness about a community that was being forgotten. Her husband assisted many villagers to  rebuild  their homes.
In February 2005, she and Karam, as the first lecturers for the 'Iolani Peace Institute, shared their stories with students at her alma mater.
In the official times she has spoken to students, Cumes's message has included the importance of finding  passion in life. Early on, she believed in photographing stories that need to be told.
"I've always felt passionate about giving voice to those who don't have a voice, or to those whose voices are disempowered," she says. "It's important to do work that you really care about."
Comments from Readers
Margaret Agustin

This is an amazing story. It is so great to read about an Iolani Alumni who has an amazing passion for life and has found a way to make a difference in this world. Way to go!!