This Issue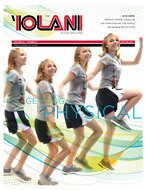 Let's Get Physical - The Importance of Play at 'Iolani
Read the full story »
Winter 2012 - Other News
| Scholarship Breakfast
18th Annual Named Scholarship Breakfast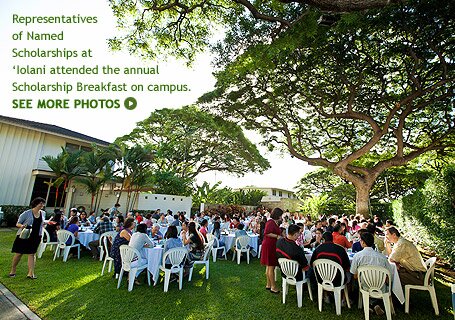 A
breakfast shared between students receiving named scholarships at 'Iolani and representatives of those scholarships provides both groups with the opportunity to meet in person. More than 300 people attended the 18th annual Named Scholarship Breakfast on September 9 on the lawn of the Headmaster's Residence.
Kitty Sullivan Wo, Carrie Ann Randolph '13, Kylie Maeda '12, Headmaster Dr. Val Iwashita '67
See more photos »
Students expressed to donors how thankful they are to attend 'Iolani as recipients of scholarships. Donors learned more about students' accomplishments and activities, while being back on campus bright and early before the first bell rang.
Headmaster Dr.
Val Iwashita
'67 and his wife
Cynthia
greeted guests, supported by the Institutional Advancement Office, school administrators, teachers and volunteers. Several members of the 'Iolani Board of Governors also attended.
Mahalo goes to all of 'Iolani's supporters and contributors. Scholarships make an 'Iolani education possible for so many students who may not be able to attend 'Iolani otherwise.
Programs Represented at the Named Scholarship Breakfast
ABC Stores Scholarship Endowment
Chung Kun Ai Scholarship
Dana Meulan Pua'ala Alama-Yap Scholarship
Peter F.C. Armstrong Scholarship
William E. Aull Family Scholarship
Auntie Scholarship
Bilingual Students Scholarship
Father Bray Scholarship
Han Y. and Myrna Ching Endowed Scholarship
Hung Wo & Elizabeth Lau Ching Scholarship
Dr. Jonathan Y. C. Ching and Mr. Frederick K. F. Ching '41 Scholarship
Roy K.P. '37 and Elizabeth Chong Scholarship
Christian Scholarship
Patrick K.C. Chun, M.D. '63 Family Scholarship
Theron Jon Chun Scholarship
Class of 1950 Scholarship
Class of 1951 Scholarship
Class of 1953 Scholarship
David P. Coon Scholarship
Richard Corris Scholarship
Wayne DeMello Scholarship
Bayard H. Dillingham Memorial Scholarship
Peter L. Firehock Memorial Scholarship
First Hawaiian Foundation Scholarship
Fujimoto Family Scholarship
Gabelli Funds Scholarship
Father Charles Halter Scholarship
Edward K. Hamada Scholarship
Gustav and Faiaso Hannemann Scholarship
Haruki Family Scholarship
Michael Hite/Van Darrow Scholarship
Honolulu Chinese Junior Chamber of Commerce Foundation Scholarship
'Iolani Alumni Association Scholarship
William P. Jenkins Scholarship
K.S. Scholarship
Tokuo Kaneshige Scholarship
Hajime Katayama Scholarship
Rex Kuwasaki Scholarship Endowment
Emily L. & Mabel C. Ladd Scholarship
William Y.S. Lee Scholarship




Chris Lee Scholarship
Koon Chew Lum and Ellen Young Lum Scholarship
Dr. Thomas Mar Scholarship
McInerny Foundation Scholarship
Thomas H. Miller Scholarship
Herbert & Margarita Mist Trust Scholarship
Ken & Aiko Mukai Scholarship
Oren Nagasako '90 Scholarship
Harry Y. and Hatsuyo Oda Scholarship
Richard T. Okinaka Family Scholarship
H.Q. and Minnie Pang Scholarship
Charles Lewis and Juanita Claflin Riggin Scholarship
Frances and Nellian Sen Scholarship
Lester Sen Memorial Scholarship
Anthony S.Y. Seto '55, M.D. Scholarship
Seto Family Scholarship
Nan Chul Shin Scholarship
Clifford and Aileen Shin Family Scholarship
Fred Shintaku Family Scholarship
Arthur G. Smith/Cades Schutte Fleming & Wright Scholarship
C.V. Starr Scholarship
Stone Scholarship
Sukamto Foundation, Inc.
Sullivan Family Scholarship
SYA Scholarship
The Tamotsu and Esther Tanaka Family Scholarship
Hugh C. Tennent Scholarship
Zhanna Vaysbeyn-Roytman Family Scholarship
Donna J. Walden Scholarship
Harry & Jeanette Weinberg Foundation Scholarship
G.N. Wilcox Trust Scholarship
Eli Witt Scholarship
Betty & Theodore Wong Scholarship
Harvey K. Wong Memorial Scholarship
Kai Wong Memorial Scholarship Endowment
Raymond W.C. Wong Family Scholarship
XTERRA Foundation Scholarship
C.Q. Yee Hop & Family Scholarship
John S.C. Yee Family Scholarship
Yuan Wong Gaylor Scholarship Endowment