This Issue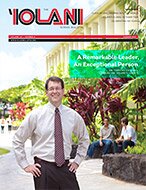 A Remarkable Leader, An Exceptional Person: Dr. Timothy Cottrell Carries on 'Iolani's Legacy
Read the full story »
Summer 2012 - Feature
| Class of 2012 Graduation
The Graduation of the Class of 2012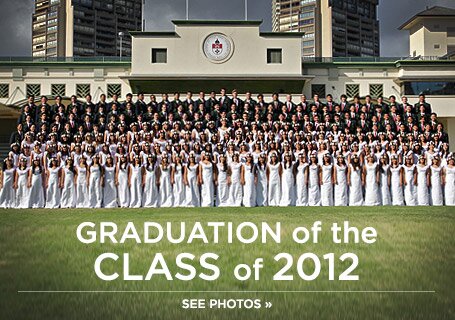 "
Just as Pooh promises Christopher Robin that he'll always be his friend as Christopher Robin is about to go to school, my father (
Sanford Goto
'74) received this timeless piece of advice his senior year: 'Always keep your door open for an alum.' We are ready for what's to come, ready to pursue our dreams, and we know that we have everyone's support, because that's what 'Iolani is, a community, a family, One Team."
- Valedictorian and Son of 'Iolani Stratford Goto '18
B
eneath clear skies and with a gentle trade wind blowing, the graduation ceremony for 233 members of the Class of 2012 took place on June 2 on the grassy lawn between symbolic St. Alban's Chapel and the lanai of the art building.
Magnificent, richly green monstera leaves, torch ginger and orchids, spreading like fans, adorned the beautifully decorated stage. Promenading into the ceremony grounds to "Pomp and Circumstance," women in the graduating class wore lovely long, white holoku gowns with haku lei atop their heads. The men dressed in dark blazers with green leaf lei draped around their shoulders.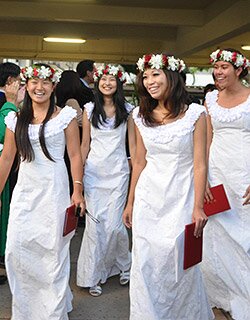 Marissa Chow '12, Eun Ah Cho '12, Catherine Chu '12 and Kirstin "Kamea" Chock '12 are newly minted alumnae.
See more photos »
Following the singing of the "Love Divine, All Loves Excelling," The Rev.
Daniel Leatherman
's invocation, and the 'Iolani School Prayer,
Steven James Si-Jun Yee
'12 addressed his classmates and hundreds of audience members for the final time as the senior class president. He was followed by valedictorians
Stratford Dean Goto
'12, who spoke about 'Iolani friendships, and Kirsten
Mari Peterson
'12, who described how and why 'Iolani shapes students into good people.
"Now, we are about to take new risks," Goto said. "We are going to unfamiliar places with unfamiliar rules and customs, and for some of us, we are going to be making new friends for the first time in a long while. College is a time to reach for our goals; it's a transition from being a child guided by parents at home and teachers at school to being a confident, responsible, and independent adult. Despite all these changes, however, there is one constant: no matter how far apart we are, we still are 'Iolani One Team. Our friendships and our bond as a class transcend distance and time."
For the final time, Dr.
Val Iwashita
'67 delivered a graduation speech and then congratulated each member of the senior class after they each received their diplomas from
Jenai S. Wall
, chair of the 'Iolani School Board of Governors.  The first diploma, however, was handed to "Val Tadashi Iwashita" who was named an honorary member of the Class of 2012 as he approached his retirement date of June 30, 2012.
...no matter how far apart we are, we still are 'Iolani One Team. Our friendships and our bond as a class transcend distance and time."
As each graduate stepped off the stage and moved towards his or her seat, it was as though they walked through a magic veil that transformed them from 'Iolani students into 'Iolani alumni. These men and women of the Class of 2012 represent everything that the 'Iolani community strives to produce: amazing, genuinely good, caring, intelligent and well-rounded individuals who will go out into the world to make a positive difference.
"Just as Pooh promises Christopher Robin that he'll always be his friend as Christopher Robin is about to go to school," Stratford Goto '18 continued in his speech, "my father (
Sanford Goto
'74) received this timeless piece of advice his senior year: 'Always keep your door open for an alum.' We are ready for what's to come, ready to pursue our dreams, and we know that we have everyone's support, because that's what 'Iolani is, a community, a family, One Team."
Congratulations, Class of 2012.
SCHOLARSHIP MEDALS
The winners of the Scholarship Medals, the 18 valedictorians of the Class of 2012, have from grades nine through twelve achieved the highest academic rank.
Ashlee Asada
Connor Buckland
Shanon Chau
Stratford Goto
Robyn Hamada
Andrew Hsu
Iris Kuo
Micah Lau
Erin Main

Scott Marison, Jr.
Aaron Nojima
Kirsten Peterson
Jen Samantha Rasay
John Sakamoto
Gabriel Vega
Cordelia Xie
Steven Yee
Nicole Yokoyama
ALUMNI MEDALS
The Alumni Medals are awarded to two members of the class who exemplify the healthy combination of excellence in academics and athletics.
Ashlee Asada
Gabriel Vega
BISHOP'S AWARD
The Bishop's Award goes to the senior who has given unselfish service to church, school and community and who demonstrates outstanding witness to faith in Christ and commitment to principle.
Sarah Carlile
HEADMASTER'S AWARD
The Headmaster's Award goes to a senior who has made exceptional contributions to 'Iolani School.
Iris Kuo
UNSUNG HEROES
The following members of the Class of 2012 were acknowledged by Dr. Iwashita as "Unsung Heros" who enrich 'Iolani School with their positive attitude and community spirit.
Katie Tom
Jordyn Sierra
Rebecca Ogi
Nani Taniguchi
Zach Masuda
Kaylen Okada
Dyllon Sue
Courtney Yang
Tyler Ushio
Lauren Chinen
Kenton Nakamura
Dane Arakawa