This Issue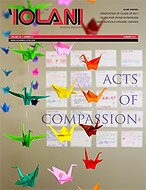 Acts of Compassion
Read the full story »
Summer 2011 - Feature
'Iolani Fair: Pā'ina in Paradise
As we say, 'Lucky we live Hawai'i.'
We're even luckier to belong to a school community that holds an annual fair each April. This year's theme "Pā'ina in Paradise" made the specialness of our Hawaiian culture extra fun, exciting, and respectful towards our island lifestyle.
Juniors in the Class of 2012 help out in the malasada booth: Kelsey Kato, Cordelia Xie, Adrienne Lee, Eun Ah Cho, Rachel Ki, and Christina Cutler.
See more photos »
The fair took place on April 15 and 16 and featured the usual tasty food, like Paniolo Pizza, Chee Hoo-li Beef and Kahuna Korean Plate. The signature dish this year was the original Pā'ina Dog, a hotdog smothered in kalua pig, chili, cheese and other goodies. The great games, awesome entertainment, amazing talent show, unbelievable bargains, crafts, marketplace, plants, produce, and more also made the fair one to remember. Other highlights included the futsal tournament, cake walk, eco-square, silent auction, student talent show, and great entertainment! This year marked the fair's 20th anniversary.
Nearly 35,000 people attended with 3,700 volunteers giving back to help make 'Iolani's biggest community event another success. Gross proceeds of the fair exceeded $700,000. Funds go towards educational programs, student activities and other aspects of school life. The fair also serves the community by providing a family-fun event for people of all ages to enjoy.
"The 'Iolani Fair is just like biting into the Pā'ina Dog," exclaimed
Dave "Jungle Bob" Roberts
, art department head. "It's something you just have to experience! It's big, loud and full of spice."
Fair chair Lois Lee, front, and volunteer Diane Kudo make sure all runs smoothly.
See more photos »
Fair coordinator
Amy Tomisato
and volunteer chair
Lois Lee
began working on Pā'ina in Paradise as soon as the previous year's fair shut down. They were supported by parents, alumni, students, teachers and friends who volunteered tirelessly to build games, bake cookies, donate goods, make jams and jellies, and provide other valuable services. Some alumni living away from Hawai'i travelled back to join their classmates by working in food booths and pitching in for old time's sake.
Now, the tents have been put away and the booths dismantled for storage. But the memories of that special time together linger. Volunteers have already begun preparing for next year's 21st annual fair.
Don't miss "Global Getaway" on April 20 and 21, 2012!