This Issue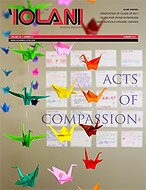 Acts of Compassion
Read the full story »
Summer 2011 - Feature
A Class Ring Comes Home
When Jillian Rowan '06 lost her 'Iolani School class ring nearly five years ago, she never thought she'd see it again. But thanks to a kind hearted stranger who had never heard of 'Iolani (and who lives an ocean and a continent away in Florida), the ring found its way home, back to 'Iolani, and back on to Jillian's hand.
The ring went missing during the summer between Jillian's junior and senior years at 'Iolani when she and her mother,
Kim Rowan
, took a trip to the east coast to check out college possibilities. They first stopped in Philadelphia to visit family and  catch a train to New York City. They checked their luggage with a train attendant. That was the last time they saw their bags.
"It was a terrible trip," Kim Rowan remembers. "Jillian and I had no luggage and the money we saved for theater tickets and entertainment, we ended up spending on clothes to wear."
Clothes were not all they lost. Jillian's 'Iolani class ring was packed in her suitcase, along with other items they didn't want to wear or carry aboard Amtrack.
The Rowans tried in vain to recover their bags, but their letters and calls left them empty handed.
"I was brought up to do what you can for others when you can," Kearney said. "The rewards of helping someone else are such a great and uplifting feeling."
Then five years later, in March 2011,
Kathy Kearney
of Sunrise, Florida, visited her friend who works for Amtrack. Her friend showed her a collection of unclaimed items from the lost and found of the Miami Amtrack station. One of the items was a dainty class ring with Jillian's name inscribed inside the band and 'Iolani School 2006 around the stone.
Seeing the ring struck an emotional chord for Kearney, who lost her own class ring years ago, found it, and has worn the sentimentally special jewel for 32 years since she graduated from high school in 1979.
"It was the first thing I bought and paid for all by myself," she said.
Kearney told her Amtrack friend that she would find the owner of the class ring and return it. Through the Internet, she located 'Iolani School and sent an email to on the web page. The school's director of communications replied to Kearney's email, heard the story, and began the process of getting the ring back to its rightful owner.  Jillian who had since graduated from the University of Southern California and now lives in Los Angeles. She was surprised and touched that Kearney would go to such lengths to return the ring.
Kearney insured and mailed the ring to 'Iolani. Jillian's mother, Kim, who lives in Honolulu, came to campus to pick up the ring. She smiled as she held it, expressing that she now believes the trip back in 2005 had a silver lining. Someone's good deed has made all the difference.
"I was brought up to do what you can for others when you can," Kearney said. "The rewards of helping someone else are such a great and uplifting feeling."
        - Cathy Lee Chong
Comments from Readers
Chris Jay

Very touching and a kind deed indeed...

Rachel Won

Thank you for your compassion, Kathy--it went a long way (and it always goes farther than one can imagine)!

We need these kind of stories on inter/national news; compassion is really what makes the world go 'round.