This Issue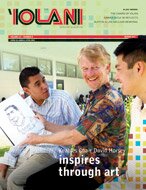 'Iolani's Endowed Chairs: Making a Great School Even Greater
Read the full story »
Spring 2011 - Features
Tsinghua High School and 'Iolani establish Exchange Program


'Iolani's Dr. Val Iwashita '67 and Wang Dianjun, principal of the High School Attached to Tsinghua University, formed an exchange program to begin in 2012 between their schools.
The opportunity to study and live in Beijing, China will be offered to 'Iolani students through a newly established educational partnership between 'Iolani and the High School Attached to Tsinghua University. Likewise, Tsinghua students will study at 'Iolani and stay with host families.
The mission of the program is to help prepare students for global citizenship by enhancing learning about different cultures and international relations.
The program begins in January 2012 with Tsinghua students attending classes at 'Iolani for one week and staying with host families. In June 2012, 'Iolani students will travel to Beijing to study at Tsinghua for one week. Each visiting group will include approximately 20 people, including two chaperones.


Representatives of 'Iolani School hosted a lunch in December 2010 on campus for representatives from Tsinghua.
Located in the Northern part of Tsinghua University campus, close by Yuan Ming Yuan palace, the school is surrounded by historic and cultural landmarks. All Tsinghua graduates enter college and institutes of higher learning, including Tsinghua University and Peking University. At the international middle school pupils' "Olympic" competitions of mathematics, physics, chemistry, biology and information science, Tsinghua students have won numerous prizes and medals.
The boys basketball team from Tsinghua also played in the 2010 'Iolani Classic Invitational basketball tournament.
Comments from Readers
No comments yet.
Be the first to share your thoughts!