This Issue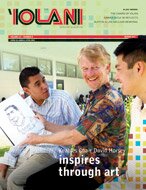 'Iolani's Endowed Chairs: Making a Great School Even Greater
Read the full story »
Spring 2011 - Features
'Iolani's Part in the Journey to the NCAA Championship
by Kawika Shoji '06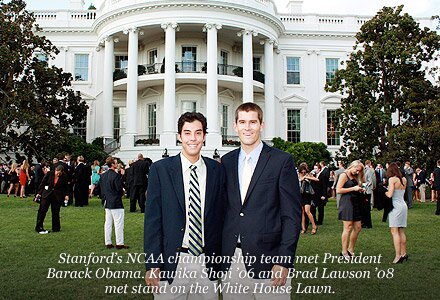 On May 8, 2010, Stanford University beat Penn State to win the NCAA mens volleyball championship. Stanford's journey to the top was called a story book ending. Here is the story from the perspective of Kawika Shoji, who in 2010 was honored as the AVCA and Volleyball Magazine National Player of the Year.
In
Mrs. Masters
' eighth grade English class, I had to write a goal-oriented essay detailing the exact path I wanted my life to follow for the rest of high school and into college. Among others, I remember my main aspirations were to make the 'Iolani Headmaster's List every quarter, win state championships, attend Stanford University, and win an NCAA volleyball title. Fortunately, I was blessed to have many of these dreams come true, but in no way did they come to fruition as I would have expected.
In the fall of my senior year at 'Iolani, when I finally had to choose where to attend college and play volleyball, I ironically discovered it was a very difficult decision. Stanford, of course, had been my dream, but all of a sudden their men's volleyball program was one of the worst in the country, and after being on successful 'Iolani teams, I was not ready to be a part of potentially losing ones for four years, despite receiving a top-notch education. I was too competitive. Nevertheless, after lots of prayer, family discussions, and soul searching, I embraced the challenge and went after my dream.
My 2007 freshman volleyball season at Stanford was a horrific, humiliating, and unfamiliar experience. In short, our team was terrible and deservedly finished in last place in the Mountain Pacific Sports Federation (MPSF) conference with a 3-25 record. If the games had been played to twenty-five points, we would probably have been 25-3, but we played to 30, and our inexperienced team was notorious for choking near the end of games. The season was painfully long as the defeats added up, but thankfully it provided some positive lessons as well. Not only did the season humble me as an individual, but it also enhanced my work ethic to improve for the following year and forced me to realize that I could not return the Stanford program to national prominence alone. I needed to learn to rely upon and trust my teammates more. I needed help.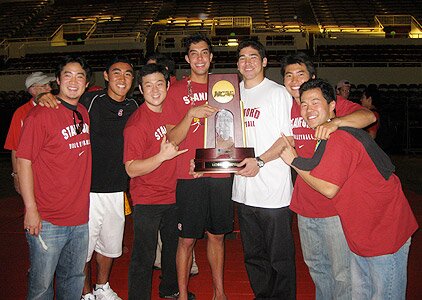 Friends from the Class of '06 cheered on their 'Iolani school mates in the NCAA championship match against Penn State in Stanford's Maples Pavilion. Pictured are, left to right, Spencer Shishido, Daniel Adachi, Eddie Huang, Kawika Shoji, Jon Takamura, Ethan Chang and Troy Tokuhama.
Thankfully, a lot of that help came from the Hawaiian Islands. In 2008, my friends Spencer McLachlin (Punahou '07), Max Halvorson (Punahou '07), and Jordan Inafuku (Kamehameha '07) joined me in Palo Alto and contributed mightily to our improved 17-11 record and sixth-place finish in the MPSF. Then in 2009, my brother Erik (Punahou '08) and former teammate, good friend, and fellow 'Iolani graduate Brad Lawson '08 arrived and helped spark a fourth-place conference finish with a 21-11 record. Although we hadn't reached our goal of a national championship, the Stanford 2009 team showed moments of brilliance and began to shape up quite nicely for the following season. Young players gained valuable experience, while young and old players, and Hawaii-born and mainland-born players, began finally to learn how to play together. At the time, the season ended without a championship. Months later, however, I realized that the 2009 season was, more importantly, a monumental step in helping produce a cohesive and experienced team ready for success in 2010.
If there is one word to describe the 2010 season, my final one as a collegiate volleyball player, it has to be "magical." Our team peaked at the conclusion of the regular season and won 15 of the last 16 sets played on the way to a 24-6 record, MPSF conference title, and the NCAA championship. Not only did we complete the "Worst to First" journey, after finishing last in 2007 and first in 2010, but we also did it in dramatic fashion at Stanford in front of 6,635 fans, mostly friends, family, and alumni of the program.
"Brad and I both agree that 'Iolani was a major contributor in building the student athletes and people we have become today."

In the championship match against Penn State, Brad Lawson produced one of the most phenomenal individual athletic performances I have ever seen, hitting .821 with 24 kills and only 1 error, en route to being named Co-Most Outstanding Player of the NCAA tournament. More impressive, however, was the way our team matured, adopted the "One Team" philosophy, and overcame adversity together throughout the season. On the court, we fought through inconsistent execution, scoring deficits, and physical fatigue, and off the court, we dealt with family deaths and the passing of a beloved and long-time assistant coach. Every team goes through struggles throughout the year, but 2010 presented some enormous obstacles to our program in particular. Our perseverance and final victory made the journey so much sweeter in the end.
At the conclusion of the regular season, Brad Lawson and I were fortunate to be named First Team All-Americans, Brad was named MPSF conference Player of the Year, and I was awarded the National Player of the Year accolade. It is a very rare occurrence that the MPSF Player of the Year and National Player of the Year are alumni of the same high school, and I am proud that two 'Iolani School graduates accomplished this feat.
Brad and I both agree that 'Iolani was a major contributor in building the student athletes and people we have become today. Besides offering students a first-class education in the classroom, 'Iolani also gives them opportunities to become passionate, hardworking leaders in other activities outside the classroom, such as the performing arts, athletics, and other extracurricular student groups. On top of this, the many lessons taught by the entire 'Iolani community, especially the "One Team" philosophy, crucially help produce selfless students ready to tackle life's endeavors after 'Iolani.
Obviously, 'Iolani gave Brad and me the tools to be able to balance the academic and athletic rigors at Stanford, but it also gave us the altruistic and compassionate qualities necessary amongst the players on a championship team. As I look back on the 2010 season, I realize how much 'Iolani really influenced my individual and our team success. I realize that, unlike many other players on our roster, I did not have to learn how to prioritize the team's goals before my own because this selfless quality was already engrained in me. Brad and I both were already prepared to help preach the One Team philosophy and lead a team before either of us stepped onto Stanford's campus. 'Iolani trained us well.
The most remarkable thing I witnessed as the magical season unfolded was how each member of our team adopted the 'Iolani One Team attitude. We did not always use the One Team terminology per se, but we constantly preached a team-first approach that ultimately won us a national championship. I am a firm believer that the only way a team of any sort can reach its potential and achieve greatness is if it adopts these unselfish and caring qualities. On top of this, these characteristics will make us all better individuals as well. It is no surprise then that 'Iolani School continues to generate successful teams in athletics, the performing arts, and other academic competitions, and considerate, generous, and kind individual students as well. The fact that the 'Iolani community has been able to entrench the "One Team" philosophy and all of its surrounding attributes firmly into the hearts of its students and their families is an enormous accomplishment. The philosophy was founded in the Father
Kenneth Bray
era, and I hope it will be perpetuated forever.
Another extremely important human quality, that the Stanford men's volleyball program emphasizes, is gratitude. Brad and I received countless phone calls, text messages, letters, emails, and Facebook messages throughout the season and after the championship match from members of the 'Iolani family. We would both like to express our gratitude to everyone for all of the support. We would also like to directly thank all of our individual teachers and coaches for giving us the invaluable instruction and guidance that helped us develop academically and athletically.
 Many 'Iolani alumni made the trip to Stanford for the NCAA Championships, including many of my close friends, and we would like to thank them as well. Not only did Brad and I love sharing the experience with our friends and family at Stanford, but we also frequently talked about how much we loved representing 'Iolani School on college volleyball's biggest stage. Furthermore, I hope that as you read this article you are easily able to recognize how thankful I am for all of my time at 'Iolani. It gave me all of the resources and opportunities necessary to become a successful student, athlete, and community leader, and I learned so many valuable lessons along the way.
Finally, I should probably thank Mrs. Masters and the rest of the eighth grade English teachers for forcing me to write down tangible goals that I could strive to achieve. That simple assignment went a long, long way. Go Raiders!
Kawika Shoji '06 was an 'Iolani senior prefect, four-year varsity letter winner in volleyball and golf, a three year varsity letter winner in basketball and now plays professional volleyball for the Isku Volley Club in Tampere, Finland. At Stanford, he majored in political science and minored in communication.
Comments from Readers
Nathan Moy c/o 1987

I was so proud of you guys when you won. I was a Volleyball player at 'Iolani and actually played with Andy, Mrs. Masters' son, way back in 1985 so there was definitely a connection to what you wrote. Congratulations!

Andrew masters

Yeah my mom ROCKS!