This Issue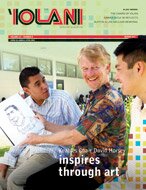 'Iolani's Endowed Chairs: Making a Great School Even Greater
Read the full story »
Spring 2011 - Features
Headmaster Selected as a Leader by U.S. - Japan Council


The 2011 Japanese American Leadership Delegation includes, left to right, top row: Mari Watanabe, Dr. Val Iwashita, Gary Oda, Gary Moriwaki, Bill Tsutsui, Erwin Furukawa; second row, Bill Imada, Genevieve Shiroma, Susan Muranishi, Kathryn Ibata-Arens, Kenneth Oye, Phyllis Campbell and Susan Morita.
'Iolani School Headmaster Dr. Val T. Iwashita '67 is one of 13 Japanese American leaders from across the nation selected to join the 2011 Japanese American Leadership Delegation (JALD). The delegation traveled to Japan from March 4 to 12, meeting with Japanese leaders in government, business, political, non-profit and cultural sectors.
Dr. Iwashita spoke at a symposium in Osaka, Japan about the American educational system and the general benefits of studying abroad. He was appointed Headmaster of 'Iolani School in 1995, is a past president of the National Association of Independent Schools, and served on its board for 11 years.  
"By sharing our ideas and philosophies about education, we can help each other through mutual support and increased cultural awareness," Dr. Iwashita said. "What we, as a country, do to help Japan will come back to benefit us as well."    
The delegation, led by U.S. - Japan Council President
Irene Hirano Inouye
, designed the trip to offer Japanese leaders the opportunity to gain a greater understanding about multicultural America through the experiences of a diverse group of Japanese Americans. Upon returning to the United States, delegation members have been working with former delegates, local Consulates, the U.S.-Japan Council and local and national community organizations to organize and participate in programs and activities related to building U.S.-Japan relations.
The Japanese Ministry of Foreign Affairs (MOFA) represented in the United States by the Japanese Embassy in Washington, D.C. and seventeen consulate general offices, and the Japan Foundation Center for Global Partnership are co-sponsors of the program. The U.S. - Japan Council provides administration and organization of the program.
The 2011 Delegation is comprised of Japanese American leaders who are at the foremost level of leadership in their professions, have had experience in U.S. - Japan relations, and are committed to furthering these relations upon their return. The members of the 2011 Japanese American Leadership Delegation include:
Phyllis Campbell, Chair of JPMorgan Chase & Co, Pacific Northwest in Seattle, Washington
Erwin Furukawa, Vice-president,  Customer Programs and Services, Southern California Edison in Los Angeles, California
Kathryn Ibata-Arens, Associate Professor, Department of Political Science, DePaul University in Chicago, Illinois
Bill Imada, Chairman and CEO, IW Group, Inc., in Los Angeles, California
Val Iwashita, Headmaster, 'Iolani School in Honolulu, Hawai'i
Susan Morita, Partner, Arnold & Porter, LLP in Washington, D.C.
Gary Moriwaki, Partner, Tax & Estates Department, Fox Rothschild LLP in New York, New York
Susan Muranishi, County Administrator, Alameda County in San Francisco, California
Gary Oda, President, Allied Builders System in Honolulu, Hawai'i
Kenneth Oye, Co-Director, Program on Emerging Technologies, Massachusetts Institute of Technology in Boston, Massachusetts
Genevieve Shiroma, Board Member, Agricultural Labor Relations Board, State of California in San Francisco, California
William Tsutsui, Dean and Professor or History, Dedman College of Humanities and Sciences Southern Methodist University in Houston, Texas
Mari Watanabe, Executive Director Nikkei Endowment in Portland, Oregon
The U.S.-Japan Council is an educational organization that seeks to encourage people-to-people connections that enhance the U.S. Japan relationship.
Comments from Readers
No comments yet.
Be the first to share your thoughts!