This Issue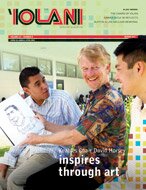 'Iolani's Endowed Chairs: Making a Great School Even Greater
Read the full story »
Spring 2011 - Features
Vision & Legacy Live On
The Reverend
Burton Allan MacLean
died on January 12, 2011 at the age of 94 at his residence in Pomfret, Connecticut. Reverend MacLean was born in Batavia, New York on April 13, 1916.
MacLean, the 23rd Headmaster in 'Iolani history, led the school at a critical juncture of its history from 1959 to 1970. He was instrumental in fundraising, capital improvements and elevating the school's profile in the community.
"Rev. MacLean was an extremely important figure in the development of our school," said 'Iolani Headmaster Dr. Val T. Iwashita, who was an 'Iolani student during MacLean's tenure. "He laid many of the underpinnings of the 'Iolani we know  today. We should never forget his many contributions."
In 1962, MacLean oversaw construction of 'Iolani School's physical education facilities, which included the gymnasium, swimming pool, tennis courts and improvements to the track. A year later, as the school celebrated its 100th anniversary, he announced the second phase of the "Ten - Year Century Development Plan," which focused on academic life and called for new Lower School buildings and additional construction in the Upper School.


Burton Allan MacLean, his wife Catharine, and their eight children arrived in Honolulu aboard the U.S.S. Lurline in 1959.
The Lower School's main two-story structure with 15 classrooms, library, administrative offices, locker room and recreation area were completed in 1966. That was followed by improvements to the Upper School, which included 10 new classrooms, the library complex, a language lab and a 154-seat amphitheater.
While at 'Iolani, MacLean established several aspects of school life that continue to this day, including the Rev. Albert H. Stone Scholarships, the
'Iolani School Bulletin
, the senior prefects system, membership in the Cum Laude honor society and many of the employment benefits offered to faculty. He also served as President of the Hawaii Association of Independent Schools.
"Twice in the several years Rev. MacLean came back to visit 'Iolani, he was impressed by how the school has continued to develop and the position it holds within the community," Iwashita said. "He was an incredibly articulate and engaging person, even at an advanced age."
MacLean is also credited for laying the groundwork for the Harold K. L. Castle Foundation's donation of land valued at $17.2 million to 'Iolani School. He was a friend of James C. Castle, son of Harold K. L. Castle.  They first met as freshmen at Yale in 1934 and were members of the university's rowing team.
Prior to the Castle donation, which was the largest single charitable gift in the history of modern Hawai'i at the time, MacLean spearheaded fundraising efforts that landed several landmark gifts benefitting 'Iolani. He identified fundraising as a key to maintaining a top-notch faculty and enhancing the school's physical appearance.
MacLean's 11 years at the helm of 'Iolani ended in 1970, when he resigned to accept an offer to be the Headmaster and CEO of the American School in Paris, a move he described as "an overwhelming opportunity, personally, as an educator."
Upon MacLean's leaving Hawai'i, The Reverend
David P. Coon
wrote a tribute that was published in the summer 1970 issue of the
'Iolani School Bulletin
. Coon had succeeded MacLean as headmaster.
"People will realize in time that whereas the buildings represent a visible and outward sign of what Burton MacLean did for 'Iolani School, his philosophical impact changed what was perhaps a dead-end direction and started us out on a path where we are truly open, where we are truly tolerant, and where we are truly rational," Coon wrote.
"Burton MacLean altered the direction of 'Iolani School in an intellectual and philosophical way, and perhaps in the final sense this is the most that a man can hope for from his service to a school."
A Lifetime Calling to Education
"Few of us have been privileged to endow institutions with civility, purpose and vision, as Burt and Kaki (Burton and Catharine) have done: at Princeton, Yale, 'Iolani School in Hawai'i, The American School in Paris, and finally, Pomfret  School. It is said that innovation in education takes a generation to be accepted, which is why those institutions whose lives he has touched will forever be indebted to him, long after his presence has receded in institutional memory."
- The Reverend William Reeves who spoke at the memorial service for Burton Allan MacLean on January 22 in Pomfret, Connecticutt.


Throughout his life, Burton Allan MacLean enjoyed spending time with his family at their river house on Tibbets Point in Cape Vincent, New York.
Burton Allan MacLean
was the fourth child of
Charles Chalmers
and Elizabeth Dreyfus MacLean. He graduated from Batavia High School in New York in 1933 and attended and graduated from The Taft School in 1934 where he was an undefeated member of the varsity wrestling team and a member of the varsity crew. He attended Yale University as a scholarship student where he earned a B.A. in English in 1938. As a student he was a member of the undergraduate Board of Deacons of Church of Christ, a member of the freshman football team, freshman and varsity crews, freshman and varsity Glee Club and his senior year President of the Glee Club, Whiffenpoofs, and served on the 1938 Class Council. In 1942 he earned is B.D. from Yale Divinity School.
The Charles MacLean family spent summers beginning in the 1920s on Murray Island in the Thousand Islands at the St. Lawrence River. It was at the "river" where Burton met the love of his life,
Catharine Corson
of Woranoco Island and Lockport, New York. After years of courtship he married Catharine on September 20 1939. They spent the next many decades raising eight children while sharing a career in the ministry and education.
After graduating from Yale Divinity School, MacLean served as an Industrial Missionary under the Board of National Missions of the Presbyterian Church in Detroit, Michigan. In 1944 through 1946, he served as a United States Army Chaplain in the 3rd Battalion, 303 Infantry and 97th Division serving both in the European and Pacific theatres of World War II. He also served as a captain in the United States Army Reserves until 1949. MacLean was appointed assistant dean of the Chapel at Princeton University in 1946. Yale University appointed him associate pastor, Church of Christ in 1949 where he was also contemporaneously Director of Undergraduate Religious Affairs and Associate University Chaplain. 
In 1959, the same year that Hawai'i became the 50th state, he was appointed headmaster of 'Iolani School. In 1970, he was named president of the American School of Paris and in 1977 he became headmaster of the Pomfret School in Connecticutt from which he retired in 1979. During his professional life, MacLean was a member of the Headmaster Association, the National Association of Secondary Schools, the National Association of Secondary Schools, and served as President of the Hawai'i Association of Independent Schools.
After retiring in 1979, Burton and Catharine continued to live in Pomfret, Connecticut in the winter and in the summers at their "River" stone house on Tibbets Point in Cape Vincent, New York which they loved to share with their grandchildren. Since 2000, they spent summers in Clayton, New York closer to the summer homes of two of their sons where they could visit with greater frequency their grandchildren and great-grandchildren. Burton and Catharine loved their children and greatly enjoyed life and succeeding generations. In their seventies they adopted a Labrador Retriever, Coco,with whom they took long walks. In their eighties they built a sailing pram and as avid sportspersons, enjoyed rowing, canoeing and sailing on their beloved "River." Once a Whiffenpoof always a performer, Burton sang and danced throughout his life both on and off the stage. Just hours before his death, he sang to his nurse, caregiver and family. He rode his bike until he was 85.
Burton was predeceased by
Catharine
in 2007 and was cared for in the last two years of his life by his attentive daughter
Mary Dexter MacLean
. Burton is survived by eight children,
Burton A. MacLean
, Jr. (and wife
Charlotte
) of Haverford, Pennsylvania and Wolfe Island, Ontario,
Katharine MacLean Crane
(and husband Philippe), of Chevy Chase, DC and Belmont, Vermont;
John Chalmers MacLean
(and wife
Polly
) of Ashfield, Massachusetts and Club Island, New York,
Mary D. MacLean
of Pomfret, Connecticut,
Thomas C. MacLean
of Frankfort, Kentucky,
Peter Charles MacLean
(and wife
Elizabeth
) of Oak Bluffs, Massachusetts,
Henry Phelps MacLean
of Milton, Massachusetts, and
Robert Sydney MacLean
of Oak Bluffs, Massachusetts. He is also survived by 15 grandchildren, and 18 great grandchildren.
A funeral service was held on January 22 at Christ Episcopal Church in Pomfret, Connecticut, attended by many former 'Iolani School colleagues and students. There will also be a memorial service in the summer of 2011 at the "River" in Clayton, New York.
Defending the Rights of Faculty
"(At 'Iolani), so far we have agreed to accept the disagreement among ourselves and in the personnel of 'Iolani. This is the mature realization of freedom.  Freedom would mean nothing if we were all to conform to the same view. Freedom means disagreement. Freedom is the courage to be true to one's self and at the same time to accept, tolerate and perhaps even learn from those with whom we disagree."
Quote from MacLean on the right of 'Iolani School faculty to conscientiously object to the Vietnam War,
Honolulu Star Bulletin
,  October 22, 1969
Humility, Courage and Understanding
"We of the administration and faculty of 'Iolani School believe that for the independent school, competence in one's field, character in one's life and compassion on one's spirit are the
sine qua non
.
Honesty quickly compels us to admit that these qualities of mind, person, and spirit are rarely achieved to the depths we desire. We search for them throughout life. With the years the mystery of competence, character, and compassion deepens.
Humility becomes a welcome companion even as courage befriends us in our search. And understanding, that most generous comrade of life, joins us in our pilgrimage of the years.
These three - humility, courage and understanding - become the freedom fighters in our lives that overcome the preoccupation with self, fears and biases that beset us all. They grant the freedom to make deeper probes into our own fields of interest, fuller discoveries of our own integrity, and broader borders of our compassion.
A measure of disciplined curiosity, dependability of person, and capacity to see with the eyes of another – these are the jewels prized beyond all others by those of us who give ourselves to teach youth."
- The Rev. Burton A. MacLean, Headmaster's Column,
'Iolani School Bulletin
, Summer 1968
A Headmaster Remembered
Colleagues and Lifelong Friends
We Keators - Marnie, infant sons William and Matthew, and I - arrived in July 1965 to Honolulu with great thanks to Headmaster The Rev. Burton MacLean who hired me during my graduate school year at Yale to teach Upper School English. Note: our third son Sam was born in Kapiolani Hospital in 1970.
I joined others from the mainland who were being mentored by Burt and his veteran teaching faculty and administrative team. 'Iolani launched the careers of many who remained at 563 Kamoku Street or were hijacked by numerous schools in the islands and across the mainland. We were all blessed by our years at 'Iolani.
Without the likes of Burton as headmaster, David P. Coon as assistant headmaster and dean of (a stellar!) faculty, and Eddie Hamada as director of athletics, my career never would have taken the path that it has. A most supportive and loving family obviously played an all-important role too. Burton's firm hand on the tiller steered 'Iolani on a steady course throughout his tenure. He stood for rigorous academics, arts, and athletics - the 3 A's. He preached "freedom with responsibility" or words vitally important as the decade of the '60s ran its tumultuous course. And he did this joyfully and with a sense of humor. Everyone from the senior members of the board of governors to the youngest in kindergarten thrived. We were then - and remain to this day - ONE TEAM!
I mention only Dave and Eddie, in addition to Burt, because, should I add just one more colleague, I would have to list the entire faculty, administration, and staff who served so faithfully during our '65-'72 school years. Burton and Iolani No-Ka-Oi!!
- Gerrit Keator, Gift Officer | Phillips Academy in Andover, Massachusetts
Greatest Gift was Vision
Burton did not hire me, Dave (David P. Coon) did, and Burton was off on sabbatical in the south of France for my first year at 'Iolani. As a lowly English peon, I rarely set foot in the Headmaster's office.
I do remember doing so once when I was puzzled by the 'Iolani/Punahou relationship. I just didn't get it. Burton chuckled and assured me that the two schools were on the best possible terms, and that John Fox (then Punahou president) was a dear, close friend of his. Butter would not melt in his mouth. He even made me believe it, at least until I had left his office. He had that knack of spinning one around until, dizzy, one departed thinking like him.
My greatest debt to him derives from his decision to name me English department head when Gerrit moved up to Director of Studies as it was called then. I have no idea what he saw that led him to take such a chance on an untried novice, but I am forever grateful. It made all the difference as I learned to see an academic universe beyond the classroom walls, an opportunity too few teachers ever have.
Speaking of seeing, I guess Burton's greatest gift to the school was his own vision for it. He saw Iolani in terms of other successful schools and set out on a course that would bring us into their company. He blazed the trail that Dave Coon followed. Had Burton and Dave not seen what Iolani could become and had they not done what they did to fulfill their vision, I certainly would not have stayed as long as I did. I bought into their passion and vision and do not regret it for a moment. We are a great school today, and it started with Burton.
– Charles Proctor, Retired  Assistant Headmaster 'Iolani School
'Establishment' to 'Cool Guy'
Reverend MacLean was the headmaster during my entire enrollment at 'Iolani from 1964 to 1970. It was at this exact, tumultuous period of time when the "youth revolution" was born and died. In the seventh grade, I was listening to the Beatles She Loves You. By the time I was a senior, I was listening to Lucy in the Sky with Diamonds. Toward the late sixties, the Vietnam War raged; hippies set the fashion trends, and social behavior; and college radicals warned not to trust anyone over the age of 30.
All of this fell on 'Iolani like an atom bomb. Even the young teachers, right out of Ivy League colleges, secretly were encouraging the battle cry, "Don't trust the government." Throughout all of this, there was Headmaster MacLean who was seen riding around the campus on his bicycle with his tweed jacket puffing his pipe. At the time, he seemed "uncool." He was the establishment.  
During my senior year, the students decided to forgo the senior prom, and instead throw and all-night, out-door party in a remote area in the country. The 'Iolani administration balked, but surprisingly Headmaster MacLean allowed it. (I think we are the only class in 'Iolani history not to have had a senior prom). It was our version of a "love-in" which was pretty ridiculous because no girls showed up. But the entire Class of 1970 showed up; from the football jocks to the geeky 4.0 students. Even the two 15-year-old, geniuses in our class were there. Well our love-in turned out to be more like something out of "Lord of the Flies" with all of us running around like idiots.
It was a bit scary.  There was no organization to the event, and people were acting, shall I say, extremely extroverted. However, Headmaster MacLean had arranged for three police cars with blue lights continuously on to park on a hill over-looking our site the whole night.  Actually, I was glad to see those blue lights because for some reason I truly believed that Headmaster MacLean had them there, not to bust us, but to protect us from ourselves. I am only guessing but to this day I believe Headmaster McLean was sitting in one of those police cars the whole night.
I think Headmaster MacLean took a lot of criticism for allowing the event. However, looking back, I think that he made the absolutely correct decision. Drug and alcohol experimentation had reached the high schools. That was no secret. I think Headmaster MacLean saw that it would be much safer to put us in a desolate field - no driving, no after prom hotel drinking parties, even no girls to corrupt. What better place to put your students than in a field in the middle of nowhere.  
I like to think of Headmaster MacLean's decision this way. Under his stuffy, Ivy League appearance was a man who was in touch with the times. And, maybe, he heard Bob Dylan's song The Times they are a Change'n. And, they did.  And, the change was not that much fun. And, maybe Headmaster MacLean wanted us to realize that for ourselves.  
Forty years later, the 'Iolani Class of 1970 is doing well - we are doctors, lawyers, engineers, businessmen, reverends, and scientists - not surprisingly no politicians. Now when I recall the image of Headmaster MacLean, riding his bicycle around campus with his tweed jacket, puffing on this pipe, I think to myself - what a cool guy.  
I think for any educator, the 60's was the most stressful time. But we all survived, including Headmaster MacLean. I am so glad to hear that Headmaster MacLean went on to live a long life to age 94, but I am nevertheless saddened by his passing.
– Eric Kim '70, Attorney | Honolulu, Hawai'i
A Bond With Students
As an alumnus of 'Iolani School, I was notified, along with many others of the passing of Headmaster MacLean. I offer my sincere condolences to his surviving family members and wish to share a memory of him.  
I was fortunate to have been a part of the 'Iolani 1968 ILH championship football team, the only undefeated varsity football team in school history (11-0-1). I remember after we had clinched the title by beating St. Louis School, 33-0, we came back to the school and there were hoards of people gathered outside of the locker room and around the swimming pool area congratulating us. It had been 18 years since our last championship, won by the legendary Father Bray and his team!  
To add to the festive occasion, Headmaster MacLean squeezed into the crowded locker room and huddled with the players and coaches. As we crammed around him, he made a few brief excited remarks, then cut up and gave each one of us a piece of his red striped 'Iolani tie! It was a fitting tribute by our headmaster to share that moment in celebrating and marking a significant achievement in 'Iolani school history. It was a great bonding experience and example of the 'Iolani One Team motto. And it is my favorite memory of my 'Iolani days of Headmaster MacLean.  
– Stan Sadowski '69, Account Manager | Provo, Utah
Comments from Readers
No comments yet.
Be the first to share your thoughts!