This Issue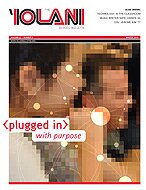 Winter 2010
Plugged In with Purpose
Read the full story »
Winter 2010 - Other News
| Alumni
Class of '89 Gathers for 20th Reunion
By David Oyadomari '89
Question: What has 204 legs, loves to golf and cosmic bowl, dance to 80s jams, and hasn't roamed the halls of 'Iolani School in 20 years?

Answer: The 102 classmates who attended the Class of 1989 20th Year Reunion.


Alumni enjoyed a day of golf.
Reunion activities kicked-off with golf on July 24 at Ewa Golf Club. In attendance were
Travis Armstrong
(Chicago),
Kevin Awaya
,
Mike Ching
,
Mark Cornish
(San Francisco),
Mike Inouye
,
Travis Kinoshita
,
Jason Masaki
,
Kenneth Matsuda
,
John Matsumoto
,
Jonah Miyahira
,
Garett Muranaka
,
James Ng
,
Jason Nishikawa
,
Mike Pila
,
Mike Plumb
(California),
George Pusins
,
Kevin Suehiro
,
Ryan Takata
, and
Kanoe Winchester
.
Mike Plumb
retained his Class of 1989 Reunion Low Gross Title, and
Kevin Suehiro
, who returned home from Osaka after selling his business, made a great showing. Rumor has it that George Pusins was able to pay for his round with his (ahem) handicap and "lucky" shots.
The next morning, July 25, a group of classmates led by
Vivian (Lee)  Arita
refurbished the class gift (two large planters) in front of the Father Bray Athletic Complex.


Julie (Umemoto) Konishi, Dean Ishida and Scott Oshiro.
Later on July 25, a group of classmates lead by
Colleen (Young)  Teramae
,
Chad Ito
, and
Jason Masaki
put together a family movie and game day for inpatient children and their families at the Kapiolani Medical Center for Women & Children. Kakimochi popcorn, drinks, candy, goodie bags, and amazing door prizes like a MP3 player were all part of the festivities. 'Iolani No Ka Oi!


Christine Yasunaga, Kirsten (Kibota) Dietrich, Lisa Ignacio.
After a long afternoon nap, the 89ers reconvened at Rumours Night Club for stag night with old friends and 80s music. Who said that stuff is "old school"?  Yes, there were rumors that people joined the 60-year-old blonde in the cages. Although for many of us, one hour into the evening (we started at 9 p.m.) it was already past our bed times, we relived the days when 12 a.m.


Tom McCreery, Jeff Sakai, Mike Plumb, Lara Feldhaus.
was just the beginning of the evening. Several of our classmates even closed down Rumours, and John Matsumoto still has a great story to tell about why his cab ended up at Hawai'i Kai Golf Course instead of his house after leaving Rumours!
For those who survived the previous night's activities, the "new" 'Iolani School campus welcomed us back for an afternoon get-together on July 26. The 20th Year Reunion slide show produced by
Dean Ishida
was the highlight of the afternoon. After the 16 minute slideshow/film, most people commented that they had trouble wiping the smiles off their faces.


Mike Ching, Mark Liebert, David Oyadomari.
And, for the diehards, the Headmaster's Reception on July 30 and the 14th Annual A Touch of Iolani on August 1 were fantastic ways to cap an amazing week of reconnecting with old friends. I mean literally "old" friends. We've now spent more of our lives out of 'Iolani than time spent in 'Iolani, and yet, there's that bond that goes way back.


Susan (Ray) Mauro, Cammie Tillet, Nicole Ho, James Choy, Yvette (Rino) Palau, Jodi (Shin) Yamamoto, Molly Stevens.
We'll be mailing out 20th Year Reunion DVDs, free of charge, to classmates who requested them.
Cy Ohta
put them together. Class photos will be uploaded for people to download and order online.  Check your e-mail and the class Facebook page for details. For more pictures, visit the class web page on the Iolani Alumni Web Page (www.IolaniAlumni.org) and Facebook (and there are many other pictures out there as well).
There's already talk about a 25th Year Reunion in Vegas. Stay tuned…


Bowling at Hickam Air Force Base was the perfect spot to talk story and bring the family. Nothing like putting on those "sweet smelling" rental shoes and trying to not pull a back muscle! Front row: Kitty (Yoshiyama) Wong, Lara Feldhaus, Rayna Say, Mike Ching, Vivian (Lee) Arita, Todd Cummings, Jenny (Taoka) Hilscher, Deidre (Yamabe) Garland, Christine Yasunaga, Stefanie (Taira) Takemoto; middle row: Brian Kim, Kevin Awaya, Jason Nishikawa, Cy Ohta, Paul Arita, Justin Potts, Marla (Matsuo) Nakashima; back row: John Matsumoto, Mike Minami, David Oyadomari, Jason Walthall, Jonah Miyahira, Dean Ishida, Roxane Oshiro.


The Class of '89 reunites. Front row: Ivan Suzuki, Brian Furuno, Russell Yanagawa, Dean Ishida, David Oyadomari, Cammie Tillet, Susan (Ray) Mauro, Nicole Ho, Molly Stevens, Sarah Rudinoff, Brigitte (MacNaughton)Egbert, Travis Armstrong, Mark Liebert, Kevin Chang; second row: Jay Von Brimer, Ryan Higa, Richie Monroe, Brandon Yamamoto, Kevin Suehiro, Colleen (Young) Teramae, Arlene (Cabacungcan) Seymour, James Choy, Stacie (Kikuchi) Tateyama, James Ng, Kyle Nakaya; third row: Mike Pila, John Matsumoto, Dennis Silva, Jason Walthall, Mike Minami, Kanoe Winchester, Jeff Newman, Angie Magliulo-Hager, Jared Kuroiwa, Sherman Wong, Justin Potts, Brian Kim; fourth row: Todd Cummings, Kevin Awaya, Mike Ching, Paul Arita, Vivian (Lee) Arita, Jeff Sakai, Lara Feldhaus, Mari (Ohara) Foucaultt, Roxann (Chun) Bulman, Dawn Larson-Lord, Nicole (Morry) Dierks, Michelle (Moses) Wells; fifth row: Jenny (Taoka) Hilscher, Kim (Morihara) Murakami, Deidre (Yamabe) Garland, Stefanie (Taira) Takemoto, Roxane Oshiro, Kathleen (Yoshiyama) Wong, Lynn (Katahara) Malinger, Michelle Clark, Lori Silva, Amy (Apisa) Hitzeman, Yvette (Rino) Palau, Rena (Duque) Winchester; sixth row: Leanne (Uyema) Watanabe, Mark Watanabe, Darren Ching, Christine Yasunaga, Julie (Umemoto) Konishi, Nicole (Hayashi) Rompasky, Raina Okimoto, Lisa Ignacio, Marnie (Koga) Hursty, Kirsten (Kibota) Dietrich, Rayna Say; top row: Travis Kinoshita, Cy Ohta, Wade Takenishi, Aaron Sherman, Mark Cornish, Mike Plumb, Tom McCreery
Comments from Readers
No comments yet.
Be the first to share your thoughts!