This Issue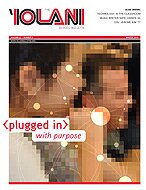 Winter 2010
Plugged In with Purpose
Read the full story »
Winter 2010 - Department
| Alumni Association News
News from the 'Iolani Alumni Association
The transition from fall to winter is such a wonderful time. With Homecoming, Halloween, Thanksgiving, and Christmas, it is a season full of special traditions.
My class celebrated its 25th reunion this past year, and the school is currently celebrating the 30th anniversary of co-education. Including girls at 'Iolani was one of the most significant changes in our school's history. We are a better school and community because of it.
This past year saw changes in the school's leadership with the addition of five new members of the Board of Governors and a new Chair of the Board. 'Iolani thrived under the past chairmanship of
James Kawashima
'60 and will continue to grow and thrive under the direction of new Chair
Jenai S. Wall
, the Board of Governors, and the current administration.
'Iolani School is a wonderful institution filled with pride and legacy carried on by its alumni. 'Iolani is not just a community, but a true 'Ohana in every sense of the word. On behalf of the 'Iolani Alumni Association, I would like to congratulate and thank Jenai and the rest of the members of the Board of Governors for taking on the challenges and responsibilities of leading 'Iolani, a place with a rich history of excellence and much potential for an even brighter future.
As we begin the new decade, I would like to thank all of you for your support and encourage you all to become more active with the 'Iolani Alumni Association.
Check out the new www.IolaniAlumni.org for more information about upcoming events and programs. Please contact
Mike Moses
'93 at or 808-943-2309 for the new Unique ID # you'll need to register.
We hope you'll join us at the 'Iolani Fair,
When in Rome
on April 16 to 17, and the 'Iolani Annual Alumni Association Golf Tournament on May 13.
Sincerely,
Sherri Iha '84
President
Alumni Association