This Issue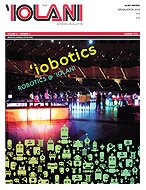 'Iobotics: The Roar of Scoreboards, the Flash of the Crowd
Read the full story »
Summer 2010 - Other News
| School
Dr. Carey S. Inouye '66 Understands Importance of 'Iolani's Role in the Future


Dr. Carey "Doc" Inouye '66 is 'Iolani's new Dean of Instruction.
Dr. Carey Inouye '66


Family:


Wife Iris, daughters Torrie '97 and Sara '01


Education:


Ripon College, A.B. in physics and mathematics; University of Hawai'i M.S. in physics and Ph.D in physics


Pastimes:


Golf


Most Recently Read Books:




Drive The Surprising Truth About What Motivates Us

by Daniel H. Pink

Dr. Carey "Doc" S. Inouye '66 is a familiar face on 'Iolani's campus. Not only is he an active alumnus and Raiders baseball coach, he began teaching physics at his alma mater back in 1977. He has received several awards over the years, including the 2005-06 Siemens Award for Advanced Placement teachers and as coach of the 2009 U.S. Department of Energy Real World Design Challenge National Championship team. He has served on the Advanced Placement Physics Test Development Committee and attended the Woodrow Wilson Institute on High School Physics at Princeton University. In 1988, he received the Presidential Award for Excellence in Science Teaching. He has been published in several journals.
Now, he enters a new chapter of his accomplished career as Dean of Instruction. His primary responsibilities are to encourage, support and train teachers with the implementation of instructional strategies and to design, implement, integrate and evaluate technology related mechanisms, services and programs. He will also work with the Dean of Upper School, Dean of Lower School and the Director of Special Programs to coordinate the design, implementation and evaluation of kindergarten through twelfth grade curriculum.
'Iolani School Bulletin: What is your background and why did you go into education?
After receiving my Ph.D. in 1976, I met with (then 'Iolani) Headmaster David P. Coon to share with him my gratitude for an educational foundation at 'Iolani that permitted me to achieve this goal. At the end of our talk he asked if I had given thought to teaching high school physics which I had not. He invited me to return to spend a day at 'Iolani. I was not aware that he was in search of a physics teacher to succeed my 'Iolani physics teacher
Richard Tillinghast
. I thoroughly enjoyed my day interacting with 'Iolani students and faculty and was offered a physics teaching position. I saw the position as a way to return to 'Iolani the many benefits I received as a student and intended to stay for a few years. Thirty-two years later I am still enjoying interacting with 'Iolani students and faculty.
'Iolani School Bulletin: What has made 'Iolani one of the best independent schools in the nation?
A strong commitment to a culture that strives for excellence in educating the "whole child," an amazingly creative, caring, and dedicated faculty, and our "One Team" mantra that truly guides us in whatever we undertake.
'Iolani School Bulletin: What is the biggest challenge educators face today? 
Driven by technology, the world in which we live is changing rapidly and dramatically. What our students need to compete in the 21st century and how we can best teach them are also changing. To adapt to these changes and to pioneer changes in education, while maintaining a sensitivity to the individual needs of our students, are challenges that we educators face today.
'Iolani School Bulletin: What will you bring to your new role as Dean of Instruction?
Thirty-two years of experience as an 'Iolani School teacher who embraced changes in the classroom and who challenged students to extend their boundaries
'Iolani School Bulletin: What does the future look like for 'Iolani?
Challenging but exciting! Education faces major challenges in the future, and we, at 'Iolani, are not exempt from these challenges. We are, however, blessed with support from administration, parents, alumni, community to help us through this change. Most importantly, we are blessed with a creative, caring and dedicated faculty to lead us through changes. The Center For Applied Studies which the Board recently moved forward on is just an example. I am truly honored to be a part of 'Iolani One Team now and in the future.
Comments from Readers
Jerry Veltmann

Congrats, Carey on your appointment. Wishing you and yours' the best. Aloha, Jerry