This Issue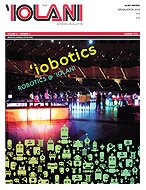 'Iobotics: The Roar of Scoreboards, the Flash of the Crowd
Read the full story »
Summer 2010 - Other News
| Alumni
ICAN: Respecting the Spiritual and Agricultural Resources of Kawainui
By Jon Nouchi, '93
United by their mission of positive change, members of the 'Iolani Community Action Network (ICAN) focused on the Windward side of Oahu for a spring 2010 service project at Kawainui Marsh.


Members of ICAN ('Iolani Community Action Network) gather at Kawainui Marsh to help preserve and restore the wetlands.
Armed with wheelbarrows, shovels, machetes and saws, the ICAN team assisted the stewardship group Ahahui Malama i ka Lokahi in the preservation and restoration of the vast Kawainui wetlands. They listened to leader
Chuck Burrows
explain the historic role of Kawainui as a spiritual and agricultural resource of the Windward region. Then, ICAN members gathered around Na Pohaku o Hauwahine (a significant rock formation representing the goddess and guardian of Kawainui) and learned how the region originated from a Koolau mountain landslide that shaped the physical geology of the area.
ICAN strives to build on 'Iolani's philosophy of fostering academic excellence and personal growth by providing avenues and opportunities for continued learning, social development, and active citizenship through action and service with the wider community.


'Iolani alumni cleaned and weeded terraces, cleared invasive brush and overgrowth, and maintained walking paths by spreading fresh mulch throughout Kawainui Marsh.
Kawainui's storied past includes fulfilling the cultural and sustenance needs of Hawai'i's people. Early Hawaiians relied upon fresh water in the area for fishponds and taro patches and constructed a number of heiau along its boundaries. More recently, the wetlands were used for rice farming by immigrant plantation workers. Presently, Kawainui provides home and shelter to endangered Hawaiian birds and other protected wildlife. 
In many ways, the story of Kawainui remains unchanged over time, perpetuating a tradition of shelter and growth. ICAN members were honored to give back to the legacy of Kawainui through hard work and stewardship, as Kawainui has sustained generations of people over time.
While enjoying the expansive views of Kailua and Kaneohe towns beyond Kawainui, ICAN volunteers cleaned and weeded terraces, cleared invasive brush and overgrowth, and maintained walking paths by spreading fresh mulch. Ahahui Malama i ka Lokahi's restoration of this wetland and the establishment of a park and cultural resource represents a positive step for the region, which lies in the shadows of one of O'ahu's most prominent landfills. 
The ICAN team ended the day at Kawainui on a gentle slope overlooking the vast expanse of the marsh. The members were pleased to look at the newly-restored sites and trails with a sense of pride that they made a difference.
ICAN is currently planning at least one service project each quarter.  For more information or to get involved, please contact
Brent Kakesako
'03 () or
Walden Au
'03 ().