This Issue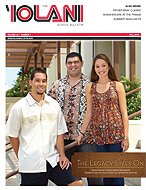 The Legacy Lives On - Eddie Hamada Scholarship Recipients Derrick Low '04, Issac Ickes '04, Leinani Keanini '08
Read the full story »
Fall 2010 - Other News
| School
Summer is for Exploring
This past summer, 'Iolani School provided the community with several special programs and activities. Here's a glimpse at some of the unique things that took place.
KA'I Program: A Partnership for 'Iolani and Jarrett


Demonstrating teamwork and creativity, Christina Chang, Brooklyn Mahiai, Dean Spencer, Fredrick Akau, Sonny Carroll and Phuong Nguyen build a structure out of only straws and support itself.
'Iolani School launched the KA'I (Kukulu Alaka'i 'Iolani) Program which stands for the creation of leaders. Thirteen seventh graders from Jarrett Intermediate enrolled this summer. They will return to KA'I next summer and continue to do so until they graduate. In addition, a new group of 12 Jarrett seventh graders will enter each summer as well. Along with community service coordinator
Allison Ishii
'02, 'Iolani teachers
Mel Phingsten
,
John Bickel
and
Reid Sagawa
'89 served taught lessons on team-building, goal-setting, integrity, Hawaiian studies, current events and leadership. In addition
Oli Fatongia
'99,
Gabby Perry
'11,
Mark Grozen-Smith
'11 and
Brian Freeman
'12 met with students for fun activities. Paddling Coach
Brian Yee
'80 took the class on a canoeing field trip. They heard from guest speakers, ventured on field trips, and experienced a summer filled with lifelong lessons.


Jarrett Intermediate students participate in a team-building exercise called Dragons as part of the KA'I curriculum.
Kay Fellowship: Chemistry of a Stream
'Iolani students
Mark Grozen-Smith
'11 and
Iris Kuo
'12 were the first recipients of the Jack and Violet Kay Summer Research Fellowship, a summer program that supports biology research while providing opportunities for 'Iolani students to investigate issues beyond their science classes. Under a partnership with the University of Hawai'i Center for Conservation Research & Training and 'Iolani School, the students researched the chemistry of Mānoa Stream from the Date Street Bridge to the Ala Wai Canal, establishing parameters for this ecosystem. The data is now being used by Advanced Placement biology students at 'Iolani for a special research project. They will present the data to public elementary and intermediate schools along the stream, sharing their findings with the community.


Mark Grozen-Smith '11, environmental research assistant Cory Yap of the University of Hawai'i at Mānoa, Iris Kuo '12 and Advanced Placement Biology teacher Jack Kay stand along the Ala Wai Canal next to campus.
Be An Entrepreneur


Shayna Mora '04 of Teach for America visited summer students enrolled in the Be An Entrepreneur class.
Self-motivation came alive in the summer course Be An Entreprenuer. Middle school students experienced working collaboratively, stretched their imaginations, took risks and developed problem-solving skills. They created innovative business plans that addressed concerns for Hawai'i's communities. They also worked directly with founders of local corporations. Some of the guest speakers included
Evan
and
Kari Leong
of Greater Good Radio,
Dean Okimoto
'72 of Nalo Farms,
Shayna Mora
'04 of Teach for America,
Darren Kimura
of Sopogy, and
Lane Muraoka
'80 of Big City Diner.
Dramatic Players at Edinburgh's Fringe
Taking 32 students to Scotland to perform in the world's largest theater festival was a brave move for theater teacher
Rob Duval
. Even more courageous was staging one of Shakespeare's oldest plays,
A Commedia of Errors
, in the native region of the bard's birth. Yet, the six performances by the 'Iolani Dramatic Players received great reviews at the Edinburgh Fringe Festival, while students experienced the trip of lifetime.


Under the leadership of theater teacher and actor Rob Duval, the 'Iolani Dramatic Playersperformed at the world's largest theater festival, Edinburgh's Fringe, in Scotland from August 4 to 10.
In addition to their performing arts contribution, students soaked up the culture and performances of the Fringe. They visited Edinburgh and Sterling castles, met and learned from thespians around the world, and also toured parts of England, including Stonehenge, Stratford Upon Avon, London and Bath. Performing at the Fringe was the culmination after a year of performances, rehearsals, and fundraising.