This Issue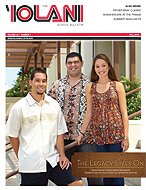 The Legacy Lives On - Eddie Hamada Scholarship Recipients Derrick Low '04, Issac Ickes '04, Leinani Keanini '08
Read the full story »
Fall 2010 - Feature
47th Annual Father Bray Football Classic
The shoe was once Bray's best known inspirational tool. When Seabiscuit, a small horse, beat the 1937 Triple Crown winner War Admiral, Bray cited Seabiscuit as an example of an underdog beating the odds. Bray to wrote to Charles S. Howard, Seabiscuit's owner, and asked for one of the shoes. It became a symbol for 'Iolani teams who kissed it for inspiration before games. The shoe is now kept in the 'Iolani archives, while a replica is on display in the athletic complex on campus.
Each fall, 'Iolani School hosts the annual Father Bray Football Classic, an event that pays tribute to alumni who carry on Bray's One Team legacy and features great football games between some Hawaii's best high school teams. The Classic, founded in 1962, is also another way the school remembers and reveres the coach, teacher, counselor and friend-in-need Father Kenneth Augustine Bray who established the traditions of sportsmanship, modesty and team unity for 'Iolani's athletic program.

So on August 14 at Aloha Stadium, pre-season prep football enjoyed a rousing start: Pac-Five played Kaiser followed by a game between 'Iolani and Waialua. A reception and half-time show also recognized five alumni for their lifelong accomplishments and One Team spirit.
Larry Cundiff, Sr. '55


Members of the Cundiff family gathered at the pre-game reception: left to right, Patti, Larry '55, Erin '15, Heidi, Travis '13, Rob '82 and Tyler '11.
Larry Cundiff, Sr.
'55 played football, basketball and baseball and was also on the track team at 'Iolani.  Earning a degree in packaging engineering, he attended Michigan State University on a football scholarship and was named to the All Big Ten Team and All America Team. He went on to play professional football for the Denver Broncos and Boston Patriots. He earned his master's of business administration from Stanford. He worked for Weyerhauser Company for 45 years, reaching the position of vice president of the western region. He also coached football for the 'Iolani junior varsity team, St. Louis varsity team and 'Iolani varsity as defensive coordinator under Eddie Hamada. Cundiff is now president of a business consulting firm, a state arbitrator and chairman of the board for the Hawaii Box & Packaging Company. He and his wife
Patti
have been married for 50 years and have a daughter,
Kimberly
, and three sons,
Larry Jr.
'78,
Randy
'80 and
Rob
'82. He also has 13 grandchildren of whom three attend 'Iolani:
Tyler
'11,
Travis
'13 and
Erin
'15.)


Headmaster Dr. Val Iwashita '67 congratulates the 2010 Father Bray Classic honorees: Alfred Wong '48, Ray Hatate '49, Larry Cundiff '55, Tommy Oye '55 and Ken Yonamine '55.
Ray Hatate '49
Ray Hatate
'49 is proof that a person's good deeds lead to rewards in life. After graduating from 'Iolani School where he played football under Coach
Father Bray
, he attended Huron College in South Dakota, yet didn't know what he wanted to major in. He saw a notice on a bulletin board posted by a stranger who was seeking blood donations for his father who needed a transfusion. Hatate answered the call and met the stranger named
Carl Edd
. Carl was a physical therapist who graduated from the University of Iowa. Meeting Carl Edd opened doors for Hatate who eventually transferred to the University of Iowa where he met his wife,
Lillian Ikeda
, and returned to Hawaii to become one of the first physical therapists here. He maintained a private practice for 31 years, and also was an athletic trainer at 'Iolani under Coach
Eddie Hamada
'46. He and Lillian have been married for 54 years and have a son,
Mark Hatate
'76, and a daughter,
Dana Matlin
, and five grandchildren.
Tommy Oye '55


Ramond Tanouye '55, left, catches up with classmate Tommy Oye '55.
Tommy Oye
'55 was a dream athlete, playing football, baseball and basketball at 'Iolani. He attended the University of Hawaii then joined the army. He enjoyed a 33-year career as a fire control planner with the Pearl Harbor Naval Shipyard. Now retired, he enjoys golfing and biking. He and wife Susan have three children, Suzette May,
Shelly Oye
'84 and
Timothy Oye
, and three grandchildren.
Alfred Wong '48
Alfred Wong
'48 stands with wife Laurie and grandson Erik Willis.
Alfred Wong '48 is committed to community service, belonging to a number of boards and receiving several awards. He graduated from Marquette University and the University of California, Hastings College of Law. He served as President and Managing Director of Takushi Funaki Wong & Stone from 1964 to 2002 and is presently an attorney of counsel with Takushi Wong Lee & Yee. Throughout his accomplished career, he has served as a member and as president of several commissions and boards including the William Richardson Law School, Girl Scout Council of Hawaii, and Maryknoll School.  He was also a member of the Board of Governors for the Hastings Alumni Association and is currently a trustee emeritus for the Hastings College of the Law. He received the Girl Scout Council of Hawaii Outstanding Service Award in 1978 and the Community Benefactor Award in 1992 as well as the Distinguish Service Award in 1987 from Hastings College of the Law.


Ben Almadova '51 greets friends at the Father Bray Classic reception.
In 1997, he was named the Alumnus of the Year, by the Hastings College of the Law. He is served as a member and past president of the board of directors of Waialae Country Club. He has been married to
Laurie Hong Wong
for 45 years and they have two children and four grandchildren
Ken Yonamine '55
As a student at 'Iolani,
Ken Yonamine
'55 played baseball and football.  He and his family have been involved with baseball ever since, returning to coach over the years. Yonamine graduated from the University of Hawaii with a degree in engineering and then served in the army and retired as a full colonel. He went on to a 38-year career with the Honolulu Board of Water Supply and retired as the Head of Land Division. He was an 'Iolani intermediate baseball head coach and also assisted his son,
Dean
'83, who was the previous 'Iolani varsity baseball head coach. Originally from Olowalu, Maui, Yonamine currently coaches his grandsons who play in the Manoa Baseball League. He and his wife
Helen
have two other sons,
Mark
'87 and
Todd
'88, and seven grandchildren.
Humble in Life
By Ray Hatate '49
I recently visited the National Memorial Cemetery at the Punchbowl and read the words on Father Bray's gravestone.
KENNETH A. BRAY
May 26, 1879 – January 9, 1953
Private, Foot Soldier
Hawaii National Guard

I played baseball and football under Father Bray, but there was not a word about his role as Coach Bray at 'Iolani School. I couldn't help but think, "Humble in life an humble in death." The plain marker reminded me that how an individual lives his life is the real monument he leaves behind.
In 1947, 'Iolani played Kapaa High School in a post-season football fame on the island of Kauai. The Raiders lost the game – 14 to 13. It was a tough loss. To add to the pain, we discovered someone had broken into the lockers at the stadium and cleaned out our wallets.
Coach Bray learned of the incident and called for a team meeting later that day. He told us to line up and he asked each person the same question.
"How much money did you lose?"
"Twenty dollars, sir," I said when my turn came.
Without hesitation, he pulled out a 20 dollar bill from his pocket and handed it to me. He reimbursed all 30 players in cash – no questions asked."
In 1948, I played baseball under Coach Bray. Back then, the school was on Judd Street and the team usually held its afternoon practices at Lanakila Park. We walked about a mile from Judd Street through Liliha to get to the park. After spending hours under the hot sun, we headed for a Quonset hut at the park where we stored our gloves and shoes for the next practice period. Then we shuffled back to 'Iolani.
One night, someone broke into the Quonset and stole our equipment. When Coach learned of the burglary, he called us together and told us to go to Honolulu Sporting Goods and replace whatever we had lost. He would foot the bill – no questions asked.
In the mid 40s and early 50s, eight teams (Farrington, 'Iolani, Kaimuki, Kamehameha, McKinley, Punahou, Roosevelt and St. Louis) formed the Interscholastic Football League.
In 1947, just before the St. Louis game, Father Bray, who served as a chaplain in the Army National Guard, assembled us in the stadium's locker room for the usual pre-game pep talk.
"Boys," he said, "I've been offered a promotion in rank to full colonel in the National Guard. If we beat St. Louis, I will accept this promotion. But if we lose this game, I'm not going to accept it. Now, go out there and play your hearts out!"
'Iolani lost 18 to 7.
To our relief, Coach did finally take the promotion. What a load off our shoulders.
The memory I will always hold in my heart came at the end of every body-aching late afternoon scrimmage. As I left for home, Father Bray never failed to say, "Good night, son."
Ray Hatate '49 is one of the 2010 Father Bray Honorees.
Comments from Readers
Stan Sadowski

Thank you for sharing insights from the life of a man I have never met, but whose influence I felt from the privilege of playing for his equal, Coach Eddie Hamada.