This Issue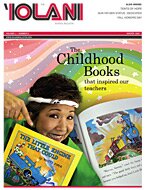 Once upon a time 'Iolani teachers were not teachers just yet. They were children and teenagers like the ones they now instruct. Find out which childhood books inspired our teachers.
Read the full story »
Winter 2009 - Department
| Scholarship Breakfast
'Iolani's 15th Annual Scholarship Breakfast Connects Students and Scholarship Sponsors
Pictured, left to right, Uyanga Tsedev '09, Arushi Dutt '10, Nestor Agbayani '10, Amy Ko '09, Xiaorong Fang '09, Graeme Freeman, teacher JeffreyHackler '71, Athina Taverner '10, Thuy Ny Le '11, and Shayne Janne Rasay '11.   
See more photos »
Headmaster Dr.
Val Iwashita
'67 and his wife
Cynthia
greeted and thanked guests for meeting with students and learning more about their interests and activities at the school.
'Iolani is grateful to the many donors and supporters whose generosity enriches students' lives and helps the school community reach its goals of developing liberally educated, well-rounded individuals who are well prepared for higher education and for responsible, moral citizenship.  
Programs Represented at the Scholarship Breakfast:
ABC Stores Scholarship Endowment
Chung Kun Ai Scholarship
Dana Meulan Pua'ala Alama-Yap Scholarship
Peter F.C. Armstrong Scholarship
Auntie Scholarship
Bilingual Students Scholarship
Father Bray Scholarship
Han Y. and Myrna Ching Endowed Scholarship
Hung Wo & Elizabeth Lau Ching Scholarship
Dr. Jonathan Y. C. Ching and Mr. Frederick K. F. Ching '41 Scholarship
Roy K.P. '37 and Elizabeth Chong Scholarship
Christian Scholarship
Patrick K.C. Chun, M.D. '63 Family Scholarship
Class of 1950 Scholarship
Class of 1951 Scholarship
David P. Coon Scholarship
Richard Corris Scholarship
Wayne DeMello Scholarship
Bayard H. Dillingham Memorial Scholarship
First Hawaiian Foundation Scholarship
Freeman Scholars Program
Fujimoto Family Scholarship
Gabelli Funds Scholarship
Father Charles Halter Scholarship
Edward K. Hamada Scholarship
Gustav and Faiaso Hannemann Scholarship
Haruki Family Scholarship
Michael Hite/Van Darrow Scholarship
Honolulu Chinese Junior Chamber of Commerce Foundation Scholarship
'Iolani Alumni Association Scholarship
K.S. Scholarship
Tokuo Kaneshige Scholarship
Hajime Katayama Scholarship
Emily L. & Mabel C. Ladd Scholarship
William Y.S. Lee Scholarship
Patrick and Debra Lim Family Scholarship
Dr. Thomas Mar Scholarship
McInerny Foundation Scholarship
Thomas H. Miller Scholarship
Herbert & Margarita Mist Trust Scholarship
Ken & Aiko Mukai Scholarship
Oren Nagasako '90 Scholarship
Harry Y. and Hatsuyo Oda Scholarship
Richard T. Okinaka Family Scholarship
H.Q. and Minnie Pang Scholarship
Frances and Nellian Sen Scholarship
Lester Sen Memorial Scholarship
Anthony S.Y. Seto '55, M.D. Scholarship
Seto Family Scholarship
Nan Chul Shin Scholarship
Clifford and Aileen Shin Family Scholarship
Fred Shintaku Family Scholarship
Arthur G. Smith/Cades Schutte Fleming & Wright Scholarship
Stone Scholarship
Sullivan Family Scholarship
SYA Scholarship
The Tamotsu and Esther Tanaka Family Scholarship
Hugh C. Tennent Scholarship
Donna J. Walden Scholarship
Harry & Jeanette Weinberg Foundation Scholarship
G.N. Wilcox Trust Scholarship
Betty & Theodore Wong Scholarship
Harvey K. Wong Memorial Scholarship
Kai Wong Memorial Scholarship Endowment
Raymond W.C. Wong Family Scholarship
XTERRA Foundation Scholarship
C.Q. Yee Hop & Family Scholarship
John S.C. Yee Family Scholarship
Yuan Wong Gaylor Scholarship Endowment
Aloha and gratitude were expressed at the 15th annual 'Iolani Scholarship Breakfast. The early morning event was held at the Headmaster's residence on September 12 as students met representatives of the named scholarships which help make their 'Iolani education possible.