This Issue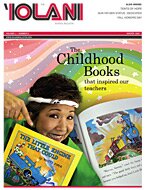 Once upon a time 'Iolani teachers were not teachers just yet. They were children and teenagers like the ones they now instruct. Find out which childhood books inspired our teachers.
Read the full story »
Winter 2009 - Cover Story
The Childhood Books That Inspired Our 'Iolani Teachers


By Cathy Lee Chong
Photos by Nash Witten '08

Once upon a time 'Iolani teachers were not teachers just yet. They were children and teenagers like the ones they now instruct.
   
As youths, teachers read books that opened their eyes, their minds and their hearts to new and different characters, neighborhoods, cultures and issues. As youngsters, they were likely introduced to these books by their own teachers, school librarians or parents.     
   
Some books made an impact, a connection, or an impression that would last, perhaps, a lifetime and be passed on to successive generations through these teachers' approaches to education or philosophies towards life.
   
The following pages contain profiles of seven different 'Iolani teachers and the childhood books that they say greatly influenced them.  Also listed are other teachers and their "favorites." For many, choosing only one was difficult after early on reading and loving so many books. Some teachers selected hardbacks because of the context in which it was read or the memories associated with the time. Others picked tomes that were precursors to their careers and passions.
   
Now 'Iolani teachers instill lessons that remain with their pupils long after the academic year ends or a diploma yellows from age. Teachers constantly set examples, strive to become even better at what they do, and rely upon their personal histories to lead and connect with their classes.
   
'Iolani is rich with educators who care about students, the community, and the world we live and learn in. Read on!


Nash Witten '08 lives on Oahu's North Shore and is a freshman at the University of Hawaii. While at 'Iolani, he was an award-winning photojournalist, photo editor of the student newspaper Imua, and a four-year recipient of the Stone Scholarship.


Comments from Readers
Anna Derby Blackwell

This is an absolutely charming story, and not just because one of the teachers is my sister-in-law! Wish this segment included the bio of Witten ...