This Issue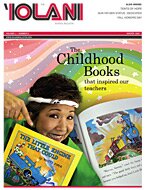 Once upon a time 'Iolani teachers were not teachers just yet. They were children and teenagers like the ones they now instruct. Find out which childhood books inspired our teachers.
Read the full story »
Winter 2009 - Department
| Faculty Profile
Faculty Profile
Tracy Kimura '87

Position:


Director of Counseling

Education:


Pomona College, B.A.; University of Hawaii, M.Ed.

Family:


Husband David, twin children Sophia and John

Pastimes:


Exercise, photography, reading






Director of Counseling Tracy Kimura '87 was once an 'Iolani student and now oversees counseling for seventh through eighth graders. Here, she teaches a life skills class to ninth graders.
By Peter Okumura
Her senior yearbook quote gives a hint of the diverse life and interests of
Tracy Kimura
'87.  As a mother of twins
Sophia
and
John
and as the 'Iolani Director of Counseling, Kimura leads a fulfilling life.        
As a student at 'Iolani, Kimura began the steps leading towards her adult role of helping others. She was an active participant as a Big Sister and tutor.  Her literary interests led her to becoming a contributing member of the
Mane O Ke Ola
, and her artistic curiosity led her to the art department and teacher
Dave Roberts
, head of the art department.
"Mrs. Kimura was dynamite," Roberts now says. "She was a breath of fresh air and had a natural talent for seeing and understanding form, shape, and design."     
Kimura's interest began with ceramics then transitioned to photography.  Roberts thought Kimura may have returned as an adult joining the art department staff.        
Other glimpses of Kimura as a student come from her classmates.  One classmate described her as "artsy and creative.  She was free-spirited and driven to succeed."        
Another classmate said, "She was really nice and friendly and always smiling.  Oh, she was smart."
"There is no end.  There is no beginning. There is only the infinite passion for life." 
- Federico Fellini, Italian Filmmaker

Kimura was also remembered as always carrying her camera around and taking pictures.  Some of the photos in her counseling office were taken on a photo shoot when she was a student.       
Roberts's prediction that Kimura would return to 'Iolani became true - twice.  Her love for art led her back to Iolani after earning a fine arts degree.  She taught photography during 'Iolani's summer school program.  After earning her master's degree, Kimura returned again as a counselor.           
Kimura's 'Iolani colleagues have nothing but praise for her.  They describe her as professional, articulate, diligent, thorough and humorous.  They applaud her dedication to 'Iolani School and to her students.        
Likewise, students appreciate Kimura.  They say she is always available to them and makes them feel comfortable.  All describe her as being nice and helpful.  Her students also say Kimura is able to connect with them in different ways such as through music.  She has a real understanding of what they are going through and thinks of great ways to help them.        
As a student, friend, counselor, or mom, Kimura's interest in the diversity of life and in helping others has no beginning or end.  There is just her infinite passion for life and for people.  
Peter Okumura '70  is a longtime 'Iolani counselor.