This Issue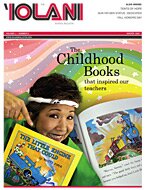 Once upon a time 'Iolani teachers were not teachers just yet. They were children and teenagers like the ones they now instruct. Find out which childhood books inspired our teachers.
Read the full story »
Winter 2009 - Department
| Alumnus Profile
Alumnus Profile
Wade Y. Ishimoto

Class:
1959
Position:
Special Assistant to the Deputy Under Secretary of the Navy, U.S. Special Forces, Intelligence and Terrorism Specialist,    Retired U.S. Army Special Forces Officer
Education:
University of Hawaii, B.A. in Asian Studies and Political Science; Webster University, M.A.
Family:
Wife Bobbi
Resides:
Northern Virginia
Wade Ishimoto
'59 is a Top Gun, one of the world's most revered experts in the fields of national security, special forces, intelligence and terrorism.   
He works in a Pentagon office three doors away from the Reflection Room, the exact spot where a terrorist-steered plane crashed and killed 125 people on September 11, 2001.    
Ishimoto serves as a part-time Special Assistant to the Deputy Under Secretary of the Navy. During the past year, he was a speaker at the Marine Corps Anniversary in Mobile, Alabama; the U.S. Army's Annual Anti-Terrorism Conference; the celebration of Asia Pacific Heritage Month at the United States Forces Command; and the annual Advanced Force Operations Conference.  His assignments have included teaching Swedish, Estonian, and Lithuanian special forces; U.S. Government interagency officials; and members of the U.S. Special Operations Command.


Once a rascal who grew up in Kuli'ou'ou, Wade Ishimoto '59 is now an international expert in anti-terrorism, special forces, and national security.
"My mission in life is to help others," he humbly says of his multi-faceted career. "That's one of the things that was imbued in me at 'Iolani."
Yet this renowned authority, who plans to fully retire in 2009, describes himself as once a "kolohe" boy growing up in the countryside of Kuli'ou'ou, the valley west of Hawaii Kai.    
Ishimoto's path to 'Iolani came after he was kicked out of his public school for fighting. He grew up amongst families with names like Reeves, Aiwohi, Correa, Ho, and Del Rosario. One of their neighbors was the Kaulukukui family.
Tommy Kaulukukui
was 'Iolani's head football coach from 1956 to 1959, and he got Ishimoto an interview for admission to the school on scholarship.    
Working in the school cafeteria back then, Ishimoto now confesses that he used to sneak cigarettes to class, but the watchful 'Iolani dining hall cooks (including retired Bishop
Richard Chang
's '59 mother) often deterred his naughtiness.
He also admits that one of his plans to extend his 'Iolani stay was thwarted by then HRT bus driver
Ben Almadova
'51. Ishimoto enjoyed playing football so much that he planned to purposely flunk out, repeat his senior year and, thus, have another season on the field. Ishimoto confided in Almadova who, in turn, told assistant football coach
Harold Han
'50 who, in turn, gave Ishimoto some "wall-to-wall" counseling. Han threw him against a wall.
Ishimoto did graduate from 'Iolani in 1959 and headed off to Lewis & Clark College in Oregon, but he continued his rebellious ways and dropped out after a professor called him "stupid" for not seeing the potential within himself.   
"It was a pivotal moment in my life," Ishimoto reflects.    
He joined the Army and later returned home to Hawaii to earn his undergraduate degree from the University of Hawaii, and he eventually received his masters degree from Webster University.    
Ishimoto was on his third tour in Vietnam when his hanai brother was killed in action. As an Army Special Forces Officer, he became a charter member of the nation's first dedicated counterterrorist force, pioneered innovative actions to counter terrorism, and was a Security Team leader and the Delta Force Intelligence Officer on the 1980 attempt to rescue 53 American hostages in Tehran.    
Since his retirement from the Army in 1982, he has worked in the private sector on intelligence and security matters, the Defense Threat Reduction Agency, the Department of Energy, and with Sandia National Laboratories.     
His accomplishments include leading national, interagency exercises against terrorism; leading a White House directed examination of security for the 1984 Olympics; assisting the Government of Canada in preparation for the 1988 Winter Olympics; creating organizational change and a training program for Nuclear Emergency Search Team key leaders; advising the Undersecretary of Treasury on the Branch Davidian incident review in 1993; serving as a senior member of the Khobar Towers bombing investigation in 1996; leading the creation of the Joint Chiefs of Staff Integrated Vulnerability Assessment teams; and being the Senior Advisor for three years to the Assistant Secretary of Defense for Special Operations and Low Intensity Conflict.    
"Most of my military career, I was going after terrorists," he says.    
In the aftermath of the 9/11 attacks, he made over 200 national media appearances commenting on terrorism and special operations.  He was the fourth winner of the General Doolittle Educator of the Year Award for what is now the Joint Special Operations University and is an adjunct professor at the University; the 2006 National Defense Industrial Association Rylander Award recipient for contributions to special operations and low intensity conflict; the winner of the most innovative Antiterrorist award in 1999 from the Chairman of the Joint Chiefs; and hesupported the creation of the Summer Workshop on Teaching Terrorism.    
Ishimoto knows his career has come a long way since his football playing days at 'Iolani. His life has been filled with stress and long hours. And he has made tremendous personal sacrifices in the interest of national security and, ultimately, put the needs of country and others first.    
What has kept him going is his belief in two Hs, he says: Humor and Humility.    
This past year, he cut back his work load and ventured into semi-retirement. Ishimoto enjoys teaching aikido and karate, and attends as many events with the IMARA ('Iolani Mid-Atlantic Regional Association) as possible.  He and his wife of  36 years, Bobbi, live in Northern Virginia.    
Still today, one of his favorite pastimes is playing the ukulele. Guess you can take the Top Gun out of Kuli'ou'ou, but you can't take the Hawaiian out of the Top Gun.