This Issue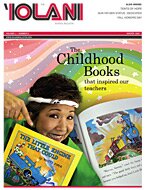 Once upon a time 'Iolani teachers were not teachers just yet. They were children and teenagers like the ones they now instruct. Find out which childhood books inspired our teachers.
Read the full story »
Winter 2009 - Department
| Faculty & Staff File
Faculty & Staff File
Accomplishments & Accolades
Math teacher
David Masunaga
'75 was one of four educators nationwide elected to serve a three-year term on the Board of Directors of the National Council of Teachers of Mathematics (NCTM). The three directors are college professors.    
Congratulations to the following teachers who received sabbatical awards from 'Iolani for the 2009-10 school year:    
In spring 2010, kindergarten language arts teacher
Boni Gravelle
will go on sabbatical for a number of projects such as publishing her poem "Hawaii: A Poem for the Children" and her fire safety song. She also plans on developing workbooks for writing, grammar and inventive spelling.    
Dr.
Mark Lindsay
has been awarded a sabbatical for spring 2010 to further his research of teaching physics and robotics, traveling beyond Hawaii to work with professors at Colorado State University.    
Lower School computer teacher
Dalton Sue
will study and review software programs for schools by attending conferences and webinars during the spring 2010 semester. He will also attend the MacWorld Conference to discover new ways to integrate Mac programs with classroom curriculum. 
Personal Notes  
Congratulations to science teacher
Katherine Takazawa
on the birth of her second child, a daughter
Alexi
, on November 9.


The Halloween spirit was almost as strong as their 'Iolani spirit. Members of 'Iolani's business office dressed as devils with Director of Finance Glenn Ching donning a white gown, wings and a halo. Left to right, Sherry Uyehara, Rene Totoki-Enomoto, Joilene Toyama-St. Sure, Michelle Sugihara, Glenn Ching, Carol Hirashima, Melanie Kimura, Vivian Todo and Wei Yonamine.