This Issue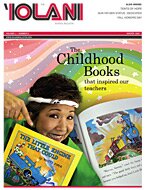 Once upon a time 'Iolani teachers were not teachers just yet. They were children and teenagers like the ones they now instruct. Find out which childhood books inspired our teachers.
Read the full story »
Winter 2009 - Department
| 'Ohana News
We Need Margins in Our Busy Lives
As an 'Iolani parent, I wanted to seize every opportunity and maximize it. I wanted my children to be all that they could be. Isn't that what all parents want? It sounds great - but is it? Last year I went through a six-week small group study "Take It to the Limit - How to Get the Most Out of Life" by Andy Stanley. At the end of the study, contrary to what most believe, the result was "less is more."
I have three boys who are all very different in personalities, learning styles, and talents. My goal was to discover the boys' talents and give them an opportunity to excel in it. The boys have been to baseball camps, golf camps, volleyball camps, tennis camps, soccer camps, and basketball camps. They had professional tennis lessons, professional golf lessons, and professional volleyball training. Over the years we have traveled to national tournaments across the country. The boys also attended an art studio, took piano lessons, ukulele lessons, and one of them drum lessons. One son was also in scouting until we moved back to Hawaii. Our lives were controlled by our calendar. It was full of activities and life was hectic. Our culture encourages us to fill our schedules or we will miss out, lose an opportunity, or be left behind.
This study teaches you to create a life with "margin" resulting in a more productive and enjoyable life. Margin is defined as "the space between our current performance and our limits, an amount available beyond what is actually needed; the extra; reserves." The margin (shoulder) on the side of the road is extra or reserves, used in case of emergency. The margin is the safety net. My schedule was an area in my life that had the least margin. Often times I was going from one activity to the next, cutting short one to get to the other on time. I didn't realize that relationships were built in the margins.
We are entertained by people testing their limits. We marveled as we watched
Michael Phelps
win eight gold medals at the 2008 Olympic Games and set new world records. We gasped at the X games "which takes all our childhood dares from the playground and molds them into professional sports." Then there are the "reality TV" shows where the mental and emotional limits of willing contestants are tested. It's exciting to watch people living on the edge - taking it to the limit. However when there are no margins there are consequences – stress levels go up, focus narrows, and relationships suffer. Don't let the things that are important to you get pushed aside. Take control and create a life of margin.
Mahalo,
Karen Llarenas
'Ohana President 2008-09