This Issue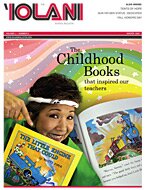 Once upon a time 'Iolani teachers were not teachers just yet. They were children and teenagers like the ones they now instruct. Find out which childhood books inspired our teachers.
Read the full story »
Winter 2009 - Department
| Alumni Association News
News from the 'Iolani Alumni Association
Race with us into 2009 at Box Car Racing in Kunia!  The 'Iolani Alumni Association has an exciting and fun-filled year planned for you all.  We start off 2009 with a bang at the Hawaii Box Car International Track in Kunia.  This event is planned for Sunday, February 15 from 3:00 to 6:00 p.m.  Space is limited so please go to www.iolanialumni.org to sign up.     
Then join "Cruisin' the Caribbean" at the 2009 'Iolani Family Fair.  Please check-in at our Alumni Tent at second base of the baseball field.  This is a great chance to get reconnected and "Jus' Cruise" with old friends.    The Alumni Association finished 2008 with three fantastic events.  We held our Annual Mahalo Dinner hosted by Dr.
Val Iwashita
'67 and
Cynthia Iwashita
to express our gratitude to the Class of '77 for their hard work on a successful golf tournament and the Class of '89 for their fabulous job on A Touch of 'Iolani. 
We followed with a Halloween Bowling Bash at Aiea Bowl.  Over 130 alumni and guests attended and the spirits were high.  We would like to congratulate our costume winners,
Mark
and
Melissa Ambler
, and our high bowlers,
Ryan Yasui
,
Stacey Kubota Takanishi
'84, and
David Ohara
'84.   The Alumni Association capped off our year with a sold out wine tasting social at the Amuse Wine Bar.  This event turned out to be a truly relaxing and enjoyable night for all. 
In 2009, we look forward to our signature events such as the Summer Concert Series, Alumni Golf Tournament and A Touch of 'Iolani.  The Alumni Association continues to work hard on reconnecting alumni through Pau Hana Socials, Mentoring Programs, Seminars, and Family Events. 
One of the challenges that the association faces is keeping our alumni informed of upcoming events in a timely fashion.  Please sign up to receive notices of upcoming events via the e-news letter. E-mail to update your information.  Please don't miss out on the excitement! 
If you have any suggestions or comments on the types of events the Alumni Association puts on please feel free to e-mail Sherri at or Mike at .  See you at the Alumni Booth at the 'Iolani Fair!



Sherri Iha '84
President
Alumni Association


Mike Moses '93
Director of Alumni Relations