This Issue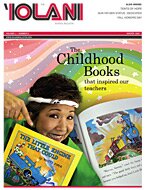 Once upon a time 'Iolani teachers were not teachers just yet. They were children and teenagers like the ones they now instruct. Find out which childhood books inspired our teachers.
Read the full story »
Winter 2009 - Department
| Editor's Note
Editor's Note
I am a cruel person. Others might opine down-right despicable.
Only someone truly mean would ask a teacher to pick only ONE favorite book from his or her childhood.    
That was the rule. Even though one might have had many first loves.    
"There were so many great books I loved as a kid," wrote English teacher
Dr. Peter Webb
in an e-mail.    
"Wow, that's a hard question," echoed science teacher
Dr. Lara Lee
.


Nash Witten '08 shot this self-portrait as a school assignment.
Yet photographer
Nash Witten
'08 and I were on a mission. We wanted to convey why the joy of reading during one's youth influences adults, specifically 'Iolani teachers, throughout life.
A love of books, however, does not come from an abundance of them.
English teacher
Suzanne Casart
was one of 12 children in a military family. Her father, a young Army officer, was forced to limit the weight of possessions the family moved from one post to the next every six months to a year while a new baby came along every one to two years, she recalled.
Her father, however, understood the value of reading and education. In spite of his modest pay check, he purchased a set of Childcraft Books with at least 12 volumes filled with poetry, stories and illustrations that increased in complexity from the first volume to the last. During reassignments, those volumes were not left behind.    
Casart adored those books, though she doesn't know what became of the set. She grew up and left home before the youngest of her siblings was born.    
"I owe a huge debt to my father for the sacrifices he made to launch us into the world, one that for me would be a much sadder place had I not, early in life, discovered the wonders that lie between the covers of books," she wrote in an e-mail.    
Like Casart's father, my dad early on affected my outlook. Perhaps one book that greatly influenced me later in life was
What Color is Love
by
Joan Walsh Anglund
. Before tucking me into bed, he read me this little hardback that crafted the power of diversity into a simple, innocent message with elegant and charming illustrations of children.    
I still possess that book. It's on my nightstand with the other 1960s children's stories by Anglund that dad read.        
We may grow up but we don't seem to outgrow our childhood books. The messages in most are profound. The memories of reading them are, hopefully, sweet.    
Don't take my word for it. The teacher profiles in this 'Iolani School Bulletin are testament. Their photos were taken by 19-year-old Nash Witten who is majoring in pre-medicine at the University of Hawaii at Manoa.    
Witten was born and raised in Haleiwa. He attended Sunset Beach Christian School until the eighth grade. He received his first film camera when he was seven and his first digital camera at age 12.    
He was awarded a Stone Scholarship to attend 'Iolani in the ninth grade. Leaving a tiny school on Oahu's North Shore for 'Iolani in the hub of Honolulu was quite a leap. Then one week before the first day of school in 2004, his father succumbed to cancer and died.     
"Had I not received this scholarship, I would not have been able to attend the school," Witten said.    
At 'Iolani, his talent behind the camera did not go unnoticed. He received the American Vision Award in the 2007 Scholastic Art and Writing Awards competition. Witten's work was also on display in Washington, D.C.. 'Iolani's student newspaper
Imua
won Best in State the year he was photo editor.    
Of his youth, he recollects most vividly his father reading him
Stuart Little
by
E.B. White
.    
"I just remember the little mouse going on adventures," noted Witten who still has that very book.    
Centered on a mouse born into a family of humans,
Stuart Little
is about leaving home, growing up and discovering oneself.    
Those universal themes apply to all stages of our lives, including childhood and beyond.  Thus, the cover story of this magazine hopefully reinforces the joy of reading, the love of learning, and the importance of teaching our children well.    
Thank you to all teachers who shared their favorite books. Even though picking just one was tough.