This Issue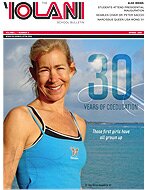 Life was different back then. George Ariyoshi presided as Governor. Kalapana recently released Many Classic Moments. Bobby McGee's was Waikiki's hot spot. And 'Iolani was a school for boys.
Read the full story »
Spring 2009 - Department
| Slice of Sports
Slice of Sports
Lorens Chan '12 described as Hawaii's newest golf phenom


While Lorens Chan '12 says his priority is school, he manages to practice golf and play 18 holes on weekends.


The Chan family at the Sony Open, left to right, Linda, Richard, Lorens '12 and Branden '08.
At age 14,
Lorens Chan
'12 was the youngest golfer to qualify to play in the Sony Open on January 15 at Waialae Country Club. He made the tournament by shooting 67 at Waialae in the amateur qualifier, then sinking a 6-foot birdie putt on the first playoff hole.
"It was a very good experience and everyone has been so supportive, including the 'Iolani community," said Linda Chan, Lorens's mother.
Lorens received heavy media attention leading up to and during the Sony Open which was televised on the Golf Channel, including being on the cover of
Midweek
.
Student athletes Sign Letters of Intent


On February 4, three students, accompanied by their families, signed letters of intent. Left to right, Scott Granger, Lorie Granger, Blaine Granger, Brock Granger '09, Kari Adams, Kirk Adams, Kirsten Adams '09, Camille Adams, Kirtus Adams '05, Walter Marciel, Kela Marciel '09 and Kathleen Marciel.
Accompanied by their families, three 'Iolani seniors each signed a national letter of intent to play sports for colleges on the mainland. The signings took place on February 4 in the Headmaster's Office.
Kirsten Adams '09 signed a letter of intent to play soccer at St. Mary's College of California this fall.
Brock Granger '09 will wear his soccer cleats at the University of Nevada at Las Vegas.
Kela Marciel '09 will suit up for the football team at Weber State University in Ogden, Utah.
The student-athletes joined Director of College Counseling
Todd Fleming
and Assistant Headmaster
Lily Driskill
at 7:00 a.m. Also present were  'Iolani athletic directors, coaches, teachers and staff members. Dozens of students crowded into the office and waited in the hall to bestow lei and good wishes.
Congratulations to these college-bound seniors and to their families.
Who turned 25? The 'Iolani Classic!
The 'Iolani Prep Classic celebrated its 25th anniversary this past December 17 to 22 as boys schools from the mainland and Hawaii competed in exciting rounds and match-ups. Five of the teams were ranked in USA Today's Super 25 and one was in ESPN's Rise's Top 12.


'Iolani basketball players experienced a cultural exchange with players from Tsinghua High School in Beijing, China. Here they pose with the statue of Dr. Sun Yat-Sen on campus.
The boys division I winner was Oak Hill of Virgina while Montrose of Maryland came in second. For division II, Roosevelt came in first over second place Kalani.
The girls tournament ran from December 11 to 13 and included eight teams. The winner was Long Beach Poly of California, which beat Sacred Heart of California in the final.


Left: Andrew Skalman '10 steals the ball during the 'Iolani Classic. Right: Kylie Maeda '12 play strong defense during the 'Iolani Classic. PHOTOS BY AL LINSKY
Action off the court included sales of the original Nike 'Iolani Classic 25th Anniversary commemorative shoe. Shoes were snatched up by basketball enthusiasts and collectors at the tournament and Nike Town in Waikiki.
A highlight for tournament participants was the cultural exchange with the team from Tsinghua High School in Beijing, China. The Chinese players visited 'Iolani Mandarin classes, toured the islands, and dined with 'Iolani players.
Boys Soccer Wins State Title
The 'Iolani boys soccer team, under head coach
Chris Lee
'88, won the state championship after defeating Mililani High School 5 – 2 in the final on February 14 at Waipio Peninsula Soccer Stadium. It was the team's first state title since 2000. Last year, the team finished second in the state against Kamehameha.


Left: Nick Goo '10 scored two goals and was named the state tournament's Most Valuable Player. Top Right: Captain Brock Granger '09 was named to the all tournament team. Bottom: The 'Iolani boys soccer team hoists their trophy. PHOTOS BY AL LINSKY
Comments from Readers
mckleong

What about Brock Granger State Soccer Player of the Year by BOTH Honolulu newspapers? And what about Reid Sakamoto being named Top Defender in the State?

Come on now......