This Issue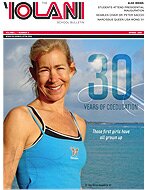 Life was different back then. George Ariyoshi presided as Governor. Kalapana recently released Many Classic Moments. Bobby McGee's was Waikiki's hot spot. And 'Iolani was a school for boys.
Read the full story »
Spring 2009 - Department
| 'Ohana News
Thanking Parent Volunteers
As 'Iolani 'Ohana President, I would like to take this opportunity to express my gratitude to the 'Iolani 'Ohana Council members and the faculty and staff who have carved out time from their busy lives to support our programs.  Many of you, like my self, stepped out of your comfort zone to serve.  I hope this experience has added significance to your life as it has for me. 
Highlights for this year have been the launch of our paperless newsletter, the
'Elele
, on which editor
Jayne Hirata-Epstein
, does an awesome job. 
Andrea Ching
is another special person who graciously stepped into the vacant public relations position to promote our parent organization and works closely with the Institutional Advancement office lending support whenever needed.  Our sewing project to recyle/hem  football jerseys headed by our secretary,
Lori Okimoto
, saved the school  from having to purchase new jerseys.  Our newly formed Parent Interest Group has added opportunities for parents to get acquainted in various settings.  The co-chairs,
Phyllis Muraoka
and
Kyle Sakumoto
, this year have organized a magazine swap, an Academy of Art Tour, and paddle board lessons.  The Community Service Projects organized by co-chairs,
Shari Gulledge
and
Rita Sele
, this year included the Children's Alliance, Hawaii Foodbank, and the Honolulu Zoo.   The 'Ohana Speaker Series chaired by Elizabeth McFarlane has sought out our featured speaker Dr.
James Maas,
who will lectured on "Power Sleep and Peak Athletic Performance" on March 17. Also a big mahalo goes to our faculty speakers,
David Masunaga
'75,
Karin Swanson
, Rev.
Daniel Leatherman
, and
Alison Uyehara-Ngo
'87 who have taken the time to share their knowledge, talents, and insights to enrich our lives.
Listed below are the members of the 'Iolani 'Ohana Council's executive committee.  Along with the grade level representatives, they are the heartbeat of this parent organization.  They have all devoted a portion of their lives to serve 'Iolani School.  Together they have made a difference. Please join me in extending to them a big MAHALO.
Aloha,
Karen Llarenas
'Iolani 'Ohana President 2008-09
President-Elect


Barbara Watanabe



Immediate Past-President   


Kyle Sakumoto



Treasurer

       
Sandee Moriki-Shiu



Treasurer-Elect


Claire Aniya



Secretary


Lori Okamoto

Secretary-Elect  
Susan Weber
   


'Iolani 'Ohana Website


Lester Salazar



E-mail News Bulletin


Alan Kogami



'Elele Newsletter


Jayne Hirata-Epstein



Public Relations


Cheri Gentry, Jo-Lynne Natori



Nominations


Sandra Ching, Carin Lim


Kindergarten New Parent Orientation


Wendy Ching



Grade 6 New Student/Parent Orientation


Andrea Ching, Cheryl Kim


Chair-Elects


Ruth Ko, Jo-Lynne Natori



Upper School Parent Meetings


Phyllis Muraoka


Chair-Elect


Robyn Chun



New Parents Welcome Reception


Sandra Ching, Carin Lim



Lower & Upper School Open Houses


Doris Morisaki


Chair-Elect


Elaine Ylarde



'Ohana Speaker Series


Elizabeth McFarlane


Chair-Elects


Sheila Kagawa, Melanie Kosaka



Community Service Projects


Shari Gulledge, Rita Sele



Parent Interest Groups


Phyllis Muraoka, Kyle Sakumoto


Chair-Elect


Natalie Haggerty



Admission's Receptions


Luana McArthur



College Life After 'Iolani


Eva Ardo, Lori Takeyama-Goshi


Chair-Elects


Daisy Catalan, Madlyn Finger



Career Shadows


Donna Kawano,  Amy Young


Chair-Elect


Cathy Makishima