This Issue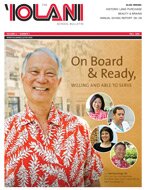 On Board & Ready, Willing and Able to Serve
Read the full story »
Fall 2009 - Other News
| Alumni
Class of '84 Celebrates 25th Reunion
By Patti Garrett and Rebecca Roy


First row, Andrea Carson, Yvette (Yuen) Maskrey, Rebecca (Lu) Roy, Patti (Nakaji) Garrett, Jann (Furusho) Hara, Kurt Hara, Larry Brough; second row, Nancy (Pochinski) Derego, Lisa (Menor) Miller, Daphne (Chamberlain) Luna, Roland Ruff, Ango Li, Wayne Kimi, Mickey Tan; third row, Sam Cropsey, Carl Vanderbush, Chris Yokogawa, Mark Inab
Many memorable events marked the 25th reunion year for the Class of 1984. The celebration began during the July 24 weekend in Las Vegas, where Raiders from across the country gathered for an unforgettable time. They included
Larry Brough
,
Andrea Carson
,
Sam Cropsey
,
Nancy (Pochinski) Derego
,
Yumi (Benedicto) Dugger
,
Patti (Nakaji) Garrett
,
Jann (Furusho)
and
Kurt Hara
,
Mark Inaba
,
Corine (Hayashi) Watanabe
,
Wayne Kimi
,
Ango Li
,
Daphne (Chamberlain) Luna
,
Yvette (Yuen) Maskrey
,
Lisa (Menor) Miller
,
Rebecca (Lu) Roy
,
Roland Ruff
,
Mickey Tan
, and
Carl Vanderbush
,
Walter Yim
, and
Chris Yokogawa
.


Daphne (Chamberlain) Luna, Carl Vanderbush, Yvette Maskrey and Rebecca Roy
The first evening, Chris ("host with the most") threw a cocktail party at a posh suite at the Flamingo. Over a "few" drinks, everyone took a walk down memory lane and shared nostalgic stories from a quarter century ago. Not wanting the party to end, several classmates joined together at Caesars Palace for a late night supper, where the laughter and good times continued.
The official reunion dinner was held the next evening at the Rio's All American Bar & Grille, where Chris reserved a private


Yumi (Benedicto) Dugger, Andrea Carson, Nancy (Pochinski) Derego, Corine (Hayashi) Watanabe, Lisa (Menor) Miller, Daphne (Chamberlain) Luna.
dining room and put together an exquisite menu. After a delicious dinner (and again a "few" drinks), the group relived their Point After days at the Venetian's V-Bar, a hip bar and dance spot with wall-to-wall video screens. Everyone showed off their best '80s dance moves, to classics by Michael Jackson, Prince, Journey and Vanilla Ice, well into the wee morning hours.
None of this could have been possible without Chris' efforts, so kudos to him for organizing a fabulous event. Of course, there were a few more stories that could have been shared, but you know what they say about Vegas…


Andrea Carson, Lisa Miller, Nancy DeRego, Patti Garrett, Rebecca Roy, Yvette Maskrey and Daphne (Chamberlain) Luna gathered for a ladies photo.
A local celebration continued the following week. On July 30, a special all-class reception was held at the 'Iolani campus.
Roxanne (Kuroda) Yanke
attended the event with sister
Melody
('94). Roxanne was pleasantly surprised to see many classmates not seen since graduation:
Joe Rosenberg
and
Monica Lee
, who flew in from California,
Irene Kawakami
,
Donna (Tanigawa) Matsumoto
,
Liesl Eng
,
Stacy (Miyamoto)
and
Garrett Lau
, and
Stacy Kubota
, all living in Hawaii.
A golf tournament was held the following day at the Pearl Country Club. Golfers/hackers included
Mike Fujita
,
Scott Fujita
,
Jimmy Miyamoto
,
Wesley Sakamoto
,
Brent Shimokawa
,
Alan Suzuki
,
Brett Tanaka
,
Paul Uehara
,
Daryl Yamaguchi
,
Todd Yamanaka
,
Walter Yim
, and
Rick Yokogawa
. Although the weather was less than desirable with some passing mauka showers, everyone had a blast playing their own respective games and trying to hit the ball the farthest. Walter's "almost" hole-in-one by mere micro-inches was the highlight of the round. Fellow golfers attributed Walter's finesse (or was it luck?) to his one-of-a-kind two-tone golf shoes.


At the Class of '84 reunion golf tournament were Paul Uehara, Wesley Sakamoto, Todd Yamanaka, Scott Fujita, Daryl Yamaguchi, Brent Shimokawa, Walter Yim, Jimmy Miyamoto, Rick Yokogawa, Mike Fujita, Brett Tanaka, Alan Suzuki
Later that evening, golfers and other classmates gathered for a 19th hole pau hana party at Scott Fujita's restaurant and bar, Hanagasa Inn.  Ono food and Xtra Reserved spirits were enjoyed by all.
Syin Chao
,
Sherri (Chun) Iha
, Mike Fujita, Scott Fujita, Patti Garrett, Jann and Kurt Hara, Monica Lee, Jimmy Miyamoto, Phillip Osako (visiting from California), Wesley Sakamoto, Brent Shimokawa, Alan Suzuki, Brett Tanaka, Paul Uehara, Daryl Yamaguchi, Todd Yamanaka,  Roxanne Yanke, and Walter Yim had a great time catching up with each other.  Mahalo to Scott for generously hosting the event.


Enjoying great food at Hanagasa were Brett Tanaka, Paul Uehara, Syin Chao, Patti Garrett, Scott Fujita, Jann Hara, Kurt Hara, Roxanne Yanke, Wesley Sakamoto, Jimmy Miyamoto, Mike Fujita, Phillip Osako, Todd Yamanaka, Walter Yim, Brent Shimokawa (not pictured Daryl Yamaguchi, Sheri Chun, Monica Lee
Reunion events culminated with A Touch of 'Iolani on August 1. In attendance were Darin Chinen, Dennis Chongkee, Mike Fujita, Patti Garrett, Gary Gaspar, Kurt Hara,
Sherri Iha
, Stacy Kubota, Monica Lee, Stacy and Garrett Lau, Yvette Maskrey, Kurt Matsuzaki, Jimmy Miyamoto, Rebecca Roy, Scott Settle,
Nancy Shang
(visiting from California with husband
Scott Shibayama
'83), Brent Shimokawa, Daryl Yamaguchi, Rick Yokogawa, and
Debbie (Malilay) Yoshino
. Superb food and wine, special reserve seating, and great company were a perfect setting for our 25th year reunion finale.
And to those who weren't able to attend, we missed you; we'll be sure to catch you at the 30th.
Contributors to this article included Brett Tanaka and Roxanne Yanke.