This Issue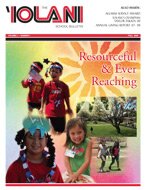 Resourceful & Ever Reaching: There is no such thing as a sleepy summer at 'Iolani School. At least there was none for the approximately 2,862 students from Hawaii and around the world who enrolled in various classes this recent summer.
Read the full story »
Fall 2008 - Cover Story
Resourceful & Ever Reaching
by Jayne Hirata-Epstein
There is no such thing as a sleepy summer at 'Iolani School.  At least there was none for the approximately 2,862 students from Hawaii and around the world who enrolled in various classes this recent summer. 
Courses range from
Paws, Fur and Fuzziness
(kindergartners and first graders learn how to take care of four-legged or feathered friends) to the traditional
PSAT/SAT I Prep
course ( for students wanting to boost those important test scores) to Road to the White House (students get a broad view of the political process).
During the summer, 'Iolani's campus becomes a hub of excitement and exchange. While many 'Iolani students supplement their regular school year with summer courses, more students from other private or public schools sign up, surpassing the percentage of 'Iolani attendees in recent years.
'Iolani Director of Special Programs
Ann Yoneshige
estimates that since 2003, approximately 52 to 53 percent of summer school students are non-'Iolani students while 47 to 48 percent are from 'Iolani.
 International students, who are included in the non-'Iolani numbers, make up about 4 percent of the total summer student population.   Of the non-'Iolani students, 37 percent are regularly enrolled in a Hawaii public school, 53 percent attend other private schools in Hawaii, 8.5 percent are from the mainland or abroad, and the remaining 1.5 percent attend home schools, charter schools or others. 
Yoneshige explained that due to large number of students enrolled in summer school, 'Iolani is able to offer a vast selection of courses in the full six week curriculum. The 2008 program ran from June 12 to July 23.
Summer's Flagship Event
Robert Arakaki
was nervous as he looked out at the crowd filling 'Iolani's Kozuki Stadium bleachers.  He had been in this situation before and had practiced all morning but the butterflies still fluttered in his stomach.    He heard the sounds of the band warming up and knew that it was time for him to take the field.
"I'm ready," he said.
Brushing off his clean white uniform, Arakaki charged onto the track - riding on a golf cart transformed into a red, white and blue float and driven by 'Iolani fifth grade teacher
David Chun '80
.
A roar of applause and cheers erupted as Arakaki also known as the day's Grand Marshall, decorated war veteran and President of the 100th Infantry Battalion WWII Veterans Association, kicked off the 20th Annual 'Iolani School Fourth of July Parade.
The patriotic promenade has evolved into the summer's flagship event with dozens of classes in Lower School creating homemade decorations and walking side-by-side, a marching band playing Independence Day tunes, and hundreds of parents and onlookers coming to watch. The pint-sized marchers circled the track and held a performance on a stage at the stadium.
Amongst those cheering on Arakaki was
Pam Funai
who had met him at several
Nisei
veteran events around town.  Funai was not there in her official capacity as the Hawaii Regional Director of the Go For Broke National Education Center but was there on "mom duty" and to support her daughter, a Noelani Elementary student, who was participating in the parade and attending 'Iolani summer school.
For Funai, seeing Arakaki being honored was a pleasant surprise and an unexpected benefit of attending summer school.  "I didn't even know about the Fourth of July Parade when we signed up," she said. "It's just great!"    
How Summer School Began
While students dressed as Uncle Sam and Lady Liberty have been making July fourth appearances at 'Iolani since 1998, the earliest record of a summer program at 'Iolani is a 1946 auditor's report which includes a notation for "summer school income" discovered by school archivist
Rosemarie Panko
.
Classes in Lower School made homemade decorations, waved flags and banners and marched around the track in the annual 'Iolani Fourth of July Parade.
See more photos »
The first mention of non-Iolani students being welcomed to campus for the summer occurred in 1956 when a course called The Select 30:
A New Approach for Summer School
was offered.  For $550 (with an additional $275 for round-trip airfare from San Francisco), 30 male high school students from the Mainland spent six weeks at  'Iolani  "living Hawaiian style".  They were housed in the campus dorms, enjoyed "special Oriental meals and luaus" in the cafeteria, studied the history of the Pacific, sailed on catamarans and traveled to the Big Island.  The highlight of the course was an authentic local style BBQ on campus, cooked by the students themselves.
A year later, for the first time in history, girls were allowed to enroll at 'Iolani – albeit only for summer school.   
Brochures from the 1960s reveal that summer school was now open to boys and girls from schools other than 'Iolani but parents were warned to carefully consider whether this was the best course of study for their children.  A 1964 brochure cautioned parents that summer school was not for the "scholastic drudge" and that it may be "better for a boy to spend his summer in wholesome recreation rather than staying in the grind of continued study".  A 1968 brochure encouraged parents to carefully review their child's strengths and weaknesses as "Summer School should not be used by average students to lighten the academic load in the future."       
Curriculum Now Bigger and More Varied
Nowadays, for many parents with children who attend other public and private educational institutions during the regular school year, the decision to come to 'Iolani for the summer is largely based on the variety of unique educational opportunities for students of all ages.
"We are sending our kids to 'Iolani because they had a great offering of enrichment classes for both my daughter (in Lower School) and my son (at Upper School)," commented Funai. "Classes like
Mythology and Explorations
in Science weren't offered at my son's school.  The Feasting on Literature class is unique in that they incorporate food and cooking into the curriculum so my daughter enjoys reading and learning a lot more than if she were in a conventional reading course.  We also like the
Afternoon Adventures
for her.   She's been learning board games like backgammon and going on interesting field trips as well."  
Since the summer of 1964, the youngest incoming 'Iolani students could enroll in an innovative
Entering Kindergarten
course to help ease their transition to life on campus.  However, despite the demands of their parents, no comparable course was offered for children who would be attending other public or private schools.  Recognizing the unmet needs of this group, Lower School Assistant Dean and Lower School Summer Director
JoAnn Stepien
decided that an enrichment class geared towards non-'Iolani students would be added to the 2008 Summer School lineup.
The 15 happy students in 'Iolani Kindergarten teacher
Lauree Sakaida
's
Paws, Fur and Fuzziness
course did not know that they were academic pioneers whose presence on campus had historical significance.  All they cared about was getting their visiting instructor, a greyhound named
Mr. Blaze
, to fetch tennis balls. Their giggles of delight turned to cries of "EEEWWW" when Mr. Blaze's fellow volunteers from the Hawaii Dog Foundation,
Donna Forst
and
Andrea O'Connor
,  told them that it is important not only to provide your pet with a lot of exercise but also to clean up after him when he poops.       
While none of the four to seven year old children in the Paws course will be at 'Iolani in the fall of 2008 (one will return to Japan, one to Costa Rica and 13 to schools across Oahu), Sakaida's intention was to provide them with a true and total 'Iolani experience. 
Summer students were expected to maintain the same standards of classroom behavior that Sakaida's 'Iolani kindergartners would adhere to during the regular school year, including using "happy talk," having an "Oh Boy" attitude, and adopting the "One Team Spirit." The developmentally appropriate curriculum reflected the Lower School's emphasis on character education and community-based hands-on service learning.  For the first three weeks, the focus was on how humans can help animals.  The students baked biscuits for dogs housed at the Hawaiian Humane Society, made toys for kittens at part of Adopt-a-Cat month, and gathered towels, toys and other items for an animal welfare organization's wish list.  For the last three weeks, the focus shifted to how animals can help humans.  Students learned how to properly interact with Monty the Therapy Dog and met the cutest member of the USDA staff, a beagle who sniffs out alien species at the airport. 
Sakaida stated that the biggest challenges she faced in developing the course were lining up in-class presentations by community organizations that were interesting and age appropriate as well as arranging for field trips that not only illustrated the theme of humane education but also worked with the Summer School daily schedule.   
However, as word of the new course spread across campus, it soon became a "pet" project of the larger 'Iolani community.  Four legged visitors to the Paws class included Assistant Chaplain Reverend
Diane Martinson-Koyama
's bunny, Upper School English teacher
Jane Romjue
's domesticated rats and Executive Secretary to the Dean of Lower School
Faye Korenaga
's cat.  A behind-the-scenes tour of the Honolulu Zoo was arranged by a former 'Iolani parent who is a specialist in animal eye care.  A fifth grade family became foster caretakers for newly hatched chicks.
Death, Taxes and the PSAT/SAT I
While the youngsters in Paws, Fur and Fuzziness interacted with four legged friends, teenagers in the 'Iolani PSAT/SAT I Prep class were learning how to battle the beast of high school's standardized tests.
Under the guidance of 17 'Iolani Upper School instructors, including 20-year prep course veteran Latin Instructor and Department Head
Christopher Strawn
, the students prepared to battle the questions on the PSAT or SAT I.   These students were seasoned warriors, having survived the fierce competition for one of the 600 highly-desired spots in the program.
The 'Iolani PSAT/SAT Prep program was developed by Upper School math instructor and senior master
David Masunaga
and recently retired Assistant Headmaster and English teacher
Charlie Proctor
in the early 1980s to "coach" college bound 'Iolani students for two standardized tests.  While regularly enrolled 'Iolani students have access to the program year round, students from other private and public schools can only enroll in the course during the summer.   In summer 2008, course enrollment tilted overwhelmingly to the non-'Iolani side – 470 students compared to 170 from 'Iolani.  A proven track record of success (over 200 National Merit Scholars amongst its 5,000-plus alumni), a reputation as Hawaii's most thorough and comprehensive preparation course, and an affordable tuition fee ($515 for the six week summer session or about one-third of the average fee charged by other private institutions) are just a few of the reasons  students from other schools opt  to spend their summer at 'Iolani.  
Emily Gelber
, a 2008 Punahou graduate, who will began at Wesleyan University in the fall, spoke about her experiences at 'Iolani.
"I decided to enroll in an SAT preparation course at 'Iolani (during the summer of 2006) because I had heard 'Iolani does an excellent job in preparing students for the SAT, its class hours matched my and my family's schedule, and my sister had taken the course at 'Iolani and (her scores) had improved," Gelber said. "I was aware that Punahou and other schools or tutoring companies also have great programs but knew more about 'Iolani's because of my sister…Being a non-'Iolani student on the 'Iolani campus was not uncomfortable in any way.  The campus is easy to navigate and the two teachers I had – one for math and one for verbal, critical reading and the essay – were incredibly friendly, approachable, and made the test material, which can be both intimidating and tedious, seem 'conquerable.'"
PSAT/SAT I expert Strawn shook his head when he spoke about the unfounded rumors that 'Iolani students are segregated from other students or receive preferential treatment from teachers, as the interaction between the non-'Iolani and 'Iolani students is invaluable.   
"The kids find out quickly that everybody is in the same boat," Strawn said.  "Everyone must take the SAT if they are planning to go to college.  The SAT is like taxes in that everyone has the same burden and can't escape it." 
Success depends on individual responsibility rather than school affiliation.
"Like baseball, you have to practice in order to improve," he added. "You must be proactive and try things out, nothing works by just watching.  There are no tricks.  You must have a positive attitude and be interested in the question.  Don't get bored."   
Strawn commented that he will always remember a student from Kaimuki High School who scored an extremely low 320 in his first verbal practice examination.  Rather than get discouraged, the student took the course philosophy to heart and "got it." In the last two examinations, the student scored 680 – more than doubling his initial results. 
The commitment to the P/SAT course of study often goes beyond the classroom as many students endure a long journey by land, air or even sea to come to the 'Iolani campus.   It is not uncommon to have Mainland high schoolers or to have International students (one from Brazil and one from Japan in 2008) enrolled in the program.  
Lisa Kubota,
now a general assignment reporter with KGMB 9 News, in 1992 was an 'Iolani summer student who commuted from Maui to Honolulu on weekdays to take the 'Iolani PSAT/SAT Prep Course.   Traveling interisland was nothing new to Kubota as her mother, a professor at Hawaii Pacific University, had been commuting to Oahu for about 25 years.
"I had just finished my sophomore year at Baldwin High School on Maui," Kubota recalled.  "I was one of five public school students who qualified to take the class for free based on our sophomore year PSAT scores.  Two students were from Oahu.  The one from the Big Island stayed on Oahu for the summer.  The student from Kauai flew in every morning.  Her mom also flew in to drive her to and from the airport.  Once I found out they were commuting I caught a ride with them.  After the class finished each day, we would head to the airport and fly back to our respective islands…I actually enjoyed commuting."   
Technology Opens Doors to eSchool
Like Kubota, 16 of the 17 students registered in the recent summer 2008 'Iolani eSchool
PSAT/SAT 1 Prep
class were regularly enrolled students from high schools other than 'Iolani.   However, unlike the arduous airplane and automobile journeys faced by Kubota and her fellow Neighbor Island travelers, the eSchool students simply had to log on to their computers to "commute" to class.   The only time eSchoolers had to set an actual and not virtual foot on campus was for an orientation meeting in May 2008.
The eSchool alternative to the traditional
PSAT/SAT 1 Prep
class was offered for the first time in the summer of 2008.  Although utilizing the same textbook and practice examinations as the traditional classroom course, every aspect of the new eSchool course had to be developed by eSchool instructors
Cindy Scheinert
, a fifth grade language arts teacher, and
Amy Yonashiro
, an Upper School pre-calculus and AP Calculus AB teacher.
Students who opted for the eSchool Prep course were expected to fulfill the same academic commitments as their classroom bound counterparts. 
As eSchool instructors, Yonashiro (who teaches the math portion of the course) and Scheinert (who covers the verbal portion) not only had to deal with the normal day-to-day commitments facing every PSAT/SAT I Prep instructor such as correcting practice exams and essays but also were responsible for operating and maintaining the technology that was integral to the delivery of the course material.  While a the computer would grade the online answer sheet for practice PSAT or SAT I exams, Scheinert and Yonashiro carefully reviewed each form to insure the score was accurate and to provide detailed feedback to the students on the examination results.    
Essays e-mailed from students would have to be "cut and pasted" onto a computer tablet so teachers could write notes and other corrections directly on the paper.  The teachers were also responsible for monitoring the various online communication tools at the course website including the electronic teachers forum, resource links and the student lounge and responding to students' postings.  If a student needed more information or clarification, he or she could make an appointment to "speak" with Scheinert or Yonashiro during their virtual office hours.  
Each teacher was also responsible for conducting weekly interactive conferences known as Class Live which utilized a myriad of technological advances including web-microphones, instant messages with text, Power Point presentations of documents, and an online chalkboard known as a "white board" to interact with their students.  
The Class Live sessions were the highlight of the course for many, including 'Iolani Director of College Counseling
Todd Fleming
who received a round of enthusiastic (but silent) applause from the eSchool students or, more accurately, their hand-clapping icons for his Class Live presentation on Getting Started in the College Puzzle. As he removed his headset, Fleming couldn't help but exclaim, "That is so awesome.  That is so cool.  I felt like I was playing a video game."       
An unforeseen perk of 'Iolani eSchool, aside from the fun of working with new technology, was an increase in the quality and quantity of class participation.  As members of the MySpace generation, students quickly adapted to the format of the course since communicating "in class" via instant-message texts, posting comments at forums such as the virtual Student Lounge, logging into real-time chats were second nature.  The teachers discovered that students were more at ease in working in cyberspace than they were in the traditional classroom.  
"The eSchool students ask questions since they do not have the negative peer pressure that they may face in a regular classroom," Yonashiro said.   "The anonymity gives them the freedom to be inquisitive.  Because they are not afraid of the reaction of others, they not only ask more questions but are open to sharing more about themselves."    
The most obvious benefit of eSchool is that it allowed students who couldn't take the traditional 'Iolani
PSAT/SAT I Prep
course an opportunity to participate in the program.   
No Geographic Bounds
It doesn't take eSchool or a computer, however, to keep Florida resident and former regular 'Iolani student
Anika Wikramanayake
connected to the summer program here. On the last day of third grade in May 2007, the Class of 2016 bid a tearful goodbye to Anika and her parents
Athula Wikramanayake
and
Tongyu Cao
as they prepared to relocate to Miami. 
In her farewell speech to her classmates, Anika promised she would e-mail everyone and return soon, hopefully at 'Iolani Summer School. Anika kept the first of her promises by writing letters and e-mailing her classmates, including
Kylie Sakoda
'16, to tell them about her new life in Florida.  She kept the second of her promises by returning to the 'Iolani campus in 2008 for summer school.
At a welcome back picnic planned by Kylie's parents,
Eileen
and
Keith Sakoda
'76, Wikramanayake explained that they decided to return to 'Iolani for summer school not just because of the variety of classes and great facilities but because of the warm bonds they had formed with other 'Iolani families. 
Helena Jung , Alex Song and Derek Min all of Seoul, Korea enrolled in the recreation program during the summer.
See more photos »
"Even though we have adjusted to life in Florida and Anika is at a good school," Wikramanayake added, "there is no place like 'Iolani."  
Later in the evening as they posed for photos at the picnic, Anika announced to her classmates that she hopes to come back to 'Iolani for summer school every year until their graduation in 2016.
Although many non-Iolani families may be drawn to the 'Iolani Summer School program for academic reasons, the time spent on Kamoku Street often results in treasured personal experiences that may be short and sweet or deep and lifelong. 
For Anika and Athula Wikramanayake, it was reconnecting with old friends and realizing that Miami isn't that far from Honolulu after all.  
For Lisa Kubota, it was achieving academic success and forging new friendships.
"I received a National Merit Scholarship which helped pay for my education at Claremont McKenna College in California," Kubota stated, "The student from Kauai (who also flew in every day) ended up attending the same school (Claremont McKenna).  We're best friends now thanks to the PSAT class at 'Iolani more than 15 years ago. I'm still in touch with my former teacher, Charlie Proctor."
For Robert Arakaki, it was realizing that the "Go For Broke" spirit of the World War II Nisei veterans exists in the hearts of the youngsters who enthusiastically and joyously marched behind him in the hot July sun. 
For Lauree Sakaida's kindergartners, it was receiving a sloppy kiss from a dog named Mr. Blaze. 
"Want to know the things my kids rave about the most?  They love the lunches!" says Pam Funai.  
Jayne Hirata-Epstein is the editor of the 'Iolani  parent newsletter Elele and the mother of Taja '16 and Dante '16.