This Issue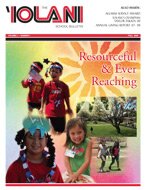 Resourceful & Ever Reaching: There is no such thing as a sleepy summer at 'Iolani School. At least there was none for the approximately 2,862 students from Hawaii and around the world who enrolled in various classes this recent summer.
Read the full story »
Fall 2008 - Feature
A Sabbatical to South America turns into lessons about culture and life
By Guia Melo
Simplicity in daily living is not so bad. That was a lesson I learned as I traveled through South America for part of my spring 2008 sabbatical.  One small bag and an open mind was all I needed.
My trip included meeting and interviewing indigenous people of Colombia, Ecuador and Peru with the goal of bringing firsthand experiences to my classroom so that students could experience different Hispanic cultures and discover the similarities and differences between cultures a world away and our own. While my students weren't there with me, they would experience my journey through my photos, videos and interviews.    
My first stop was Cartagena, Colombia.  The beautiful colonial architecture of and vivid colors of the fort, homes and stores in the old city were stunning.  I saw the home of my favorite author,
Gabriel García Márquez
, and the works of one of my favorite artists,
Fernando Botero
.     
The Sacred Valley of Peru was filled with colors, sounds and smells.
See more photos »
Later, I visited Villa de Leyva, a small laid back colonial town, where many flower-filled courtyards of homes converted into hostels or restaurants lined the tidy streets.  During the ride to Villa de Leyva, there were picturesque mountains, valleys, lush vegetation and fields, along with native children in school uniforms walking along the roads.  In other small towns, elementary school-age children sold candies or sodas in the streets to supplement their families' income.    
In Bogota, a very modern city, an international theater festival was taking place.  I attended a Peruvian play, visited many museums and saw more works by Botero.  After a funicular ride to the top of Monserrate, I enjoyed a panoramic vista of Bogota.
Andean music and seeing llamas and alpacas inspired me to see Ecuador and Peru.  It was almost Easter when I arrived in Quito, Ecuador where I seemed to be always walking uphill.  Internet cafes were everywhere. Indigenous people were dressed in traditional clothing and modern business attire. I saw many beautiful churches and plazas.  Many children were earning a living by shining shoes.  I visited "la Mitad del Mundo," a place the equator line runs through.    
I spent Easter weekend in the town of Otavalo amidst friendly and accommodating people, many of whom still wear traditional clothing.  Different markets were awash with colors and scents, especially the farm animal market.  At the textile market, I met a well-spoken
otavaleña
selling clothing to help her male siblings get through school.  Her own dream was to become a lawyer or a politician. Before leaving Ecuador, I tasted the best
ceviche
and tried fried
cuy
(guinea pig) at the insistence of a local.     
Traveling to Peru was also a very moving experience.  I marveled at the beautiful architecture, fountains and the cathedral surrounding the Plaza Mayor of both Cuzco and Lima.  In the upscale area of Miraflores, in Lima, I saw a small stretch of beach called Waikiki.     
On my way to Machu Picchu, I stayed in an orphanage in the Sacred Valley which 30 children, some from the jungles of Peru, called home.  The area surrounding the home was tranquil, and the only noise I heard were the calls of parrots flying overhead.  After school in the afternoon, the children washed their socks and underwear then started assignments. As a volunteer, I helped the children with homework, as well as washed dishes.  Before dinner the older boys would play guitars and the rest of the children would sing.  After dinner, it was more homework until 10 or 11.    
The pièce de résistance
of my trip was, of course, Machu Picchu.  It was exhilarating to view the magnificent ruins of an advanced civilization.  I could have sat there all day marveling at this spectacular Incan city.  All along the train ride from Ollantaytambo to Aguas Calientes (the starting point for Machu Picchu), I was fascinated by the terraces and walls built without modern tools.      
My journey ended with a visit to some of the floating islands of the Uros tribe on Lake Titicaca.  I stayed overnight with a family who only spoke Quechua on Amantani Island.  They lived in a mud house with no electricity or plumbing.     
Each of the three countries I visited was unique.  I met people from all over the world and interviewed people from all walks of life.  The memories that I will cherish most about this trip were the simplicity and warmth of the people, the music, the food, the animals, nature and the tranquility of the Andes.     
I hope my students will also appreciate and understand these experiences and cultures as I share them during this exciting school year.
Guia Melo has taught Spanish at 'Iolani School for 18 years.