This Issue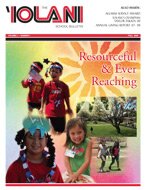 Resourceful & Ever Reaching: There is no such thing as a sleepy summer at 'Iolani School. At least there was none for the approximately 2,862 students from Hawaii and around the world who enrolled in various classes this recent summer.
Read the full story »
Fall 2008 - Feature
Introducing 'Iolani's New Faces
Welcoming new faculty and staff to the 'Iolani community
Nancy Adams – English
Nancy Adams received her bachelor of science degree from the University of Wisconsin - Madison in dance and her master's degree in English literature from the University of Hawai'i - Manoa.  She taught English for eight years at ASSETS School in Honolulu.  Adams was raised in New England and has lived in Hawaii for the past 24 years.  In her spare time, she enjoys yoga, walking, gardening, and reading.   She and her husband, Jonathan, have two grown children, Hunter and Micaela.


Thomas Robinson – Religion
Thomas (Tom) Robinson earned his bachelor of arts degree in philosophy and religion from Flagler College in St Augustine, Florida, and his master of arts degree in religious studies from Florida State University.  He also studied and worked in Germany and Austria before moving to the islands.  For the past 14 years, he has taught a variety of social studies classes at La Pietra School in Honolulu.  His other interests include traveling, surfing, and collecting and restoring vintage surfboards.  He and his wife, Donna, have a seven-year-old son, Bud.


Mark Brasher – History
Mark Brasher earned his bachelor's, master's and doctoral degrees in philosophy at the University of Louvain in Louvain, Belgium. He grew up in Hawaii and has been teaching humanities courses at Chaminade University and TransPacific Hawaii College for the past ten years.  An avid traveler, Brasher has explored Europe and parts of Asia. He has also been active in the community, serving as a commissioner on the Hawaii State Ethics Commission.  In addition to his interest in world history and culture, he is a computer and Internet enthusiast, designing websites and teaching courses online.  Technology still takes second place to books, though; Brashers's house contains more books than some smaller libraries. He also played the trumpet with a jazz ensemble in college and now also kayaks.


Reid Sagawa '89 – Health Education
Reid Sagawa '89 earned a bachelor's degree in physical education from Whittier College and a master's degree in educational administration from the University of Hawaii – Manoa.  He has been a teacher with the state Department of Education for 13 years, a state P.E. resource teacher, a temporary assignment vice-principal, and assistant athletic director. His recent position was  P.E./weight training teacher at Kalani High School, where he was also a basketball and volleyball coach. Sagawa has been a girls basketball coach at 'Iolani for 10 years. He and his wife, Melanie, have a daughter, Madisyn, 5,  and a son, Brody, 1 ½. He enjoys family outings and exercising.


Luz Marina Barnard – Spanish
A native of Bogotá, Columbia, Luz Marina Barnard received a bachelor of arts in education with a double major in English and French from the Universidad Pedagógica Nacional in Bogotá. She later received her master of arts degree in Spanish from the University of Hawaii – Manoa and then continued there as a Spanish instructor for over 15 years.  In 2001, she received the Hawaii Association of Language Teachers (HALT) Award . She also taught Spanish at Weber State University in Ogden, Utah.  She enjoys traveling to learn about other cultures, and is interested in current events around the world.


Rodney Lum – Upper School Counselor
Rodney Lum received his bachelor of arts degree in psychology from the University of Hawai'i at Manoa and his master of science degree in counseling psychology, emphasis school counseling, from Chaminade University of Honolulu. He was born and raised in Honolulu and is an alumnus of Damien Memorial High School. Prior to school counseling, he worked with at-risk adolescents for two years at the Queen's Medical Center's Family Treatment Center. For the past four years, he was a school counselor at Kaimuki High School where he also served as class advisor, graduation advisor for the Class of 2008, and committee chairperson for the Parent/Community FOL (Focus on Learning) group.


Shannon Yonamine – Director of Health Services
Shannon Yonamine received her bachelor of science degree in nursing from Hawaii Pacific University. For the past 14 years, she was the permanent charge nurse on a medical-surgical unit at The Queen's Medical Center.    She has also worked as a home care nurse in a nursing home. Yonamine enjoys reading, watching movies and going for long walks.  She and husband, Todd '88, have been married for 12 years and have known each other since 1989.  They have two children, Kaitlyn '15 and Micah '19.