This Issue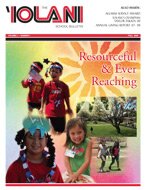 Resourceful & Ever Reaching: There is no such thing as a sleepy summer at 'Iolani School. At least there was none for the approximately 2,862 students from Hawaii and around the world who enrolled in various classes this recent summer.
Read the full story »
Fall 2008 - Feature
'Iolani's Part in Olympics
Eight years of triumph and tragedy pushed Taylor Takata '00 to the Olympic stage
By Cindy Luis
To understand the roots, the beginning, one needs to take the walk. Down the narrow driveway marked "Private," past the barking dogs and the occasional clucking chicken.
Follow the footsteps of those who came before. The path that is only paved three-quarters of the way, the last quarter a walk of dust and pebbles and humility.
The Shobukan dojo is not easy to find.
The judo club is one of the oldest in the country. It will celebrate its 100th anniversary this fall, having survived the prejudices of World War II and the building of H-1.
Want to take the easy way? Sneak through the back gate of the School Street Pizza Hut parking lot in Liliha.
"The sport is both physical and mental. Besides working out, I do my mental training each day. I see me fighting in the Olympics. I can prepare for it in my mind all I want but there's no way to replicate what the expereience will be. I just want to do my best."

Taylor Takata
Hawaii's Olympic judokan
But champions don't take shortcuts.
Taylor Takata
'00 didn't.
Since he was 10 years old, when he had surpassed what the Mililani YMCA had to offer, Takata has been with Shobukan. And, eight years later, he had gone beyond the humble wooden walls of the Kunawai Lane dojo.
Eight years of highs and heartbreak have propelled Takata onto the world's largest mat. On August 10, the 'Iolani School graduate represented the U.S. in the 66kg division, becoming just the fifth judoka from Hawaii to earn a spot on the Olympic team. (
Keith Nakasone
in 1980, silver medalist
Kevin Asano
in 1988,
Clifton Sunada
in 1996 and
Amy Tong
in 2000 are the others).
Takata spent some time at home in July, giving back to the sport with clinics. He also recharged and refocused, with beach time at the family cottage in Waialua – "I'd like to be surfing but I have priorities" – and training at Shobukan. His family and friends also organized a fundraiser in his honor at the 'Iolani School student center on July 20. More than 400 people attended.
"It's such an honor to represent not only my country but also Hawaii," the 26-year-old Takata said. "We're such a small place. To be from Hawaii at the Olympics is such an honor.
"I don't see myself as a cocky person but you have to have self-confidence. Be strong on the outside, humble on the inside."
Such is the dichotomy of the sport and why the simple dojo in Kalihi has produced countless national champions.
It wasn't easy nor cheap for the Takata 'ohana. Judo is not fully funded by the national judo organization and Taylor's expenses were largely underwritten by his family.
Full name: Taylor Sunao Takata '00
Graduating Class: 2000
Hometown: Wahiawa
Family: Parents Gary and Mae Takata, sisters Summer '02 and Tobi '05
Career highlights: Competed at the Junior and Senior World Championships as well as winning the National Championship, Pan American and U.S. Open titles at 60kg. In 2004, he moved up to the 66kg division and has won gold at FEDOJUDO International Cup, USAJ Senior Nationals (twice) and the New York Open ... Seven-time national junior champion ... Two-time state and three-time ILH wrestling champion at 'Iolani.
His inspiration came from them. When sister
Summer
'02 was killed in a car accident in 2003, Takata said he did some soul-searching.
That, combined with a disappointing loss in the 2004 Olympic Trials when he had to move up a weight class (the U.S. initially didn't qualify for his 60kg spot), he wondered if he should continue. Instead, he memorialized Summer with a tattoo on his left shoulder and looked to his tattoo on his right side – the kanji representing kokorazashi (ambition or will) – for mental strength.
"I didn't want to continue but my sister wouldn't have wanted me to stop what I was doing, feel sorry for myself," he said. "That's what made me keep going. And my parents have been so instrumental in so many ways, always supportive of what I've chosen to do.
"The sport is both physical and mental. Besides working out, I do my mental training each day. I see me fighting in the Olympics. I can prepare for it in my mind all I want but there's no way to replicate what the experience will be. I just want to do my best."


In July, Taylor Takata '00 thanked Headmaster Dr. Val Iwashita for 'Iolani School's support of his Olympic dream.
His work ethic and training regimen, described as insane and ridiculous, earned him the respect of peers and foes. Training partner
Jeff Sato
is in awe.
"If you're OK with being like everyone else, then you do what everyone else does," Sato said. "But if you want to be the best, then you do the extra.
"The training is creative, stuff you've never seen before, like walking on your fingertips up and down the mat, doing a bear crawl with a guy hanging on underneath you. And then there's the positiveness. You have to believe you are the best."
Sato is a believer. After losing at last month's Olympic Trials at Takata's former weight (60kg), "I wasn't handling it well," he said. "Taylor invited me to come to Hawaii, said he wanted help with his camps and training.
"I'm lucky to have had him as such a positive influence. Every second I spend with him makes me a better person. Every day I know I'm training with the best."


In the Headmaster's Office, left to right, Danieska Carrion, Tobi Takata '05, Taylor Takata '00, Dr. Val Iwashita '67, Nicholas Lee '99, Gary Takata and Director of Alumni Relations Mike Moses '93.
Takata is ranked No. 1 in his class nationally.
"I go into every match wanting to do my best," the former two-time state wrestling champ at 'Iolani said. "My goal is to win. I'm hoping that my best performance will come in Beijing. We'll see what happens, you never know.
"Judo is not a glamour sport in the U.S., but it is the second-most practiced sport in the world, behind soccer. It's cool that the world will be watching us in Beijing."


Lifelong friends Taylor Takata '00 and Nicholas Lee '99 have been through a lot together. Lee served as Takata's manager and accompanied the Takata family to Beijing.
In Beijing, Takata won his first two matches at the Beijing Science and Technology University Gymnasium, both going to Golden Score (overtime). He threw four-time World Cup Medalist
Tariel Zintirdis
of Greece and then defeated seven-time World Club medalist
Dex Elmont
of the Netherlands. In the quarter-finals, he lost to
Yordanis Arencibia
of Cuba who is a four-time World and 2004 Olympic medalist and then to
Aheen El Hady
of Egypt in the repechage.
He left Beijing ranked ninth in his division with a 2-2 record.
As for the future? Takata had put his life on hold pretty much the past eight years. One option is to resume his college education at the University of Colorado.
"I have a lot of knowledge that I would like to pass on," he said. "I want to give back because judo has given so much to me."  
Cindy Luis is a reporter with the Honolulu Star Bulletin in which this article originally appeared. She is also the mother of Christopher Wells '04.
Hongzhe Sun '03 qualified for 2008 Olympic swim trials
Hongzhe Sun
'03 was a multiple state record-breaking member of the 'Iolani School swim team and the 2001 and 2003 state Athlete of the Year.  Then he went on to be an All American and Pacific-10 Champion for Stanford University.
This past June, Sun qualified for a spot in the semi-finals of the 100-meter backstroke at the U.S. Olympic Team Trials in Omaha, Nebraska.


An international and national competitor, Hong Zhe Sun '03 holds several Hawaii state swimming records, Pacific-10 Championships, Stanford University records, and All-American honors.
On July 1, he finished 11th in the semi-finals with a personal best time of 54.47, 1.38 seconds off of first place and .29 seconds behind the final eighth qualifier.    
While at Stanford, Sun was a member of the U.S. team that competed at the 2007 World University Games in Bangkok, Thailand. He also competed in the 100 and 200 meter backstroke at the Pan Pacific Championship last year. He  competed in the 2004 Olympic Trails where he placed seventh in the 200 back and 10th in the 100 back.